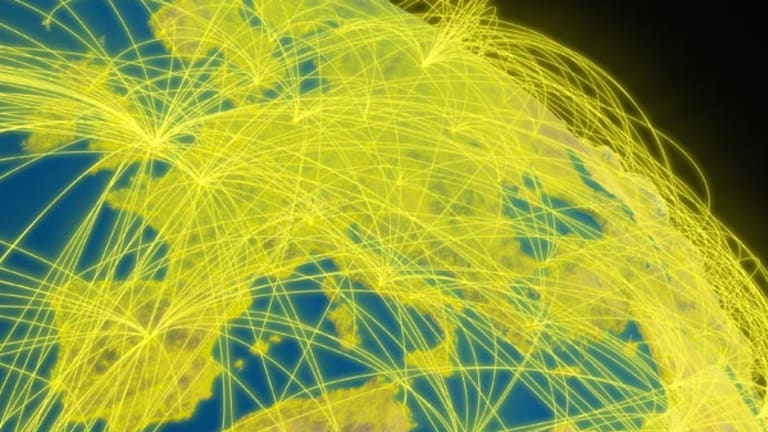 NEW YORK (TheStreet) -- Intel (INTC) - Get Intel Corporation (INTC) Report has been known traditionally as the world's largest chipmaker but it's trying to move into new areas. The company's messaging app, Pocket Avatars, is one of its many new initiatives.
In an interview with TheStreet, Mike Bell, Intel's vice president and general manager, New Devices Group, said Intel has more technology inside Intel Labs that could be a start-up than any other company he's ever seen.
"We wanted to experiment with a messaging service, and show that we're not just a chip company," Bell said on the phone. "We have an amazing software experience, and a chance to showcase the innovation that comes out of the Labs that's not just chips or hardware, and let people have a bit of fun along the way."
Available for both iOS and Android, Pocket Avatar is the first over-the-top (OTT) messaging app that will use animated 3-D facial recognition technology. Built by 18 people in different countries working nearly around the clock, the app will allow users to create and send personalized video animated messages with 45 different characters at launch (25 are free and 20 cost 99 cents) to their friends. Despite the app just being released, Intel is working hard to create awareness about it, given the size of the messaging service, and the service's revenue possibilities.
According to Portio Research, by the end of 2017 there will be more than 2.5 billion people using OTT messaging apps, and over $45 billion in revenue generated from these, as traffic from OTT messaging apps eclipses traditional SMS traffic. In 2014 alone, there are expected to be more than 20 trillion OTT messages sent.
This comes as companies such as WhatsApp are being purchased by Facebook (FB) - Get Facebook, Inc. Class A Report for $19 billion in cash and stock. Snapchat, another OTT messaging app, reportedly turned down an offer from Facebook to the tune of $3 billion, and an offer perhaps as much as $4 billion from Google (GOOG) - Get Alphabet Inc. Class C Report. Facebook also recently announced its Snapchat competitor, Slingshot, as it seeks to continue to capitalize on the messaging boom.
Snapchat: A Race For Retinas, Not Revenue
Intel Surges: What Wall Street's Saying
Santa Clara, Calif.-based Intel recently boosted its second-quarter revenue outlook, noting higher PC unit volume as the primary reason. It now expects second-quarter revenue to be $13.7 billion, plus or minus $300 million. That's up from a prior outlook of $13 billion, plus or minus $500 million. The company also boosted its gross margin outlook, a closely watched level for Intel, to 64%, plus or minus a couple of percentage points, up from a prior outlook of 63%.
Bell wouldn't comment on the revenue opportunity from Pocket Avatar, but noted that Intel is looking to move away from its past as just a semiconductor company. "My group has been charged with getting Intel into non-traditional spaces, and so, we're doing something unique. We want to create new categories, and this is one of the first items you'll see regarding moving Intel into non traditional spaces."
With Pocket Avatar, Intel was able to take what it has learned in more than 40 years of building semiconductors, hardware and software, to create a new kind of OTT messaging app fairly quickly. Though the app is going to be catered toward consumers initially, the opportunity is there for brands to use it as virtual advertisements and thus create a new revenue stream.
Users will be able to download the app via the Apple (AAPL) - Get Apple Inc. (AAPL) Report App Store or Google Play Store. From there, users can record mouth movements and 17 different facial expressions (blinks, sticking out a tongue, kissing, winking to name a few) that then get fused onto the avatar (Mr. Bill, Gumby, Pokey, LEGO to name a few), and then send the message to friends, either those already using the Pocket Avatar app, or traditional SMS message or email. It also can be shared on Facebook and Twitter (TWTR) - Get Twitter, Inc. Report.
To build awareness of the app and get it into the hands of its core demographic, Intel is working with its partners who have established user bases to grow the app. The company will be doing some nontraditional advertising of the app, such as blog posts and social networking to spread awareness, as will its partners. Intel also will be doing a revenue share from the sale of the premium, licensed avatars.
As Intel seeks to get the message out that it's not just a semiconductor company, we can expect to hear more projects like this in the coming months.
"We're really hoping people are surprised with this," Bell said. "If people understood understood the breath of the technology we have inside Intel, they would be shocked. This is a fun way to get the message out and we hope it resonates really well with people."
-- Written by Chris Ciaccia in New York
>Contact by Email.