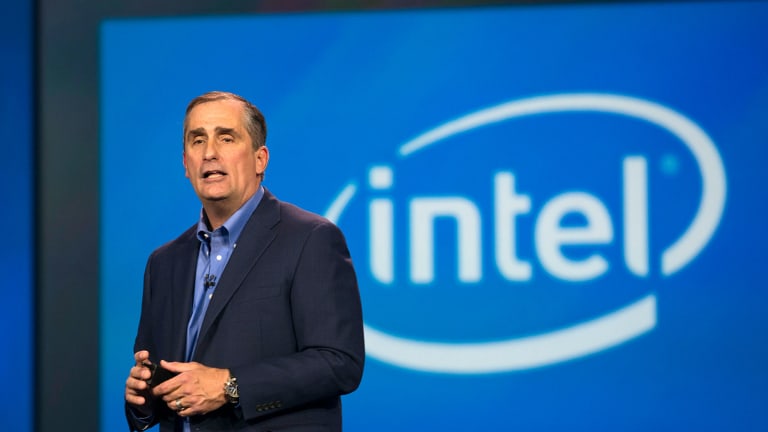 How Intel and Micron Are Trying to Help Make Sense of the World's Data
Being able to access large sets of data at quick speeds is now more important than ever. Intel and Micron have gotten past the current limitations with 3D XPoint.
NEW YORK (TheStreet) -- As the world becomes awash in data, the ability to access large sets of data at quick speeds is becoming more important than ever. Intel (INTC) - Get Intel Corporation Report and Micron (MU) - Get Micron Technology, Inc. Report on Tuesday unveiled a way that not only aims to get past the current limitations of tapping into large data sets but is also designed to analyze the data faster.
The two companies debuted the next iteration of memory, 3D XPoint. It marks the first new category of memory since NAND was introduced in 1987. Santa Clara, Calif.-based Intel and Boise, Idaho-based Micron say 3D XPoint will allow for the delivery of speed that is 1,000 times faster than the current version of memory and offer 1,000 times more endurance than NAND, making for a smoother interaction between accumulating data and getting use out of it.
"For decades, the industry has searched for ways to reduce the lag time between the processor and data to allow much faster analysis," said Rob Crooke, senior vice president and general manager of Intel's Non-Volatile Memory Solutions Group. "This new class of non-volatile memory achieves this goal and brings game-changing performance to memory and storage solutions."
The world is expected to surpass 44 zetabytes in digital data by 2020, up from 4.4 zetabytes in 2013, making not only speed but power crucial in helping understand the world's data.
"One of the most significant hurdles in modern computing is the time it takes the processor to reach data on long-term storage," said Mark Adams, president of Micron. "This new class of non-volatile memory is a revolutionary technology that allows for quick access to enormous data sets and enables entirely new applications."
3D XPoint technology could also allow consumers to interact with social media and have a better gaming experience, thanks in part to the extra power and speed. Retailers could also use the new technology to identify fraudulent patterns, making their theft protection processes safer.
Though no pricing details were unveiled, the two companies said samples of the technology would come later this year, with products based off the technology to follow.