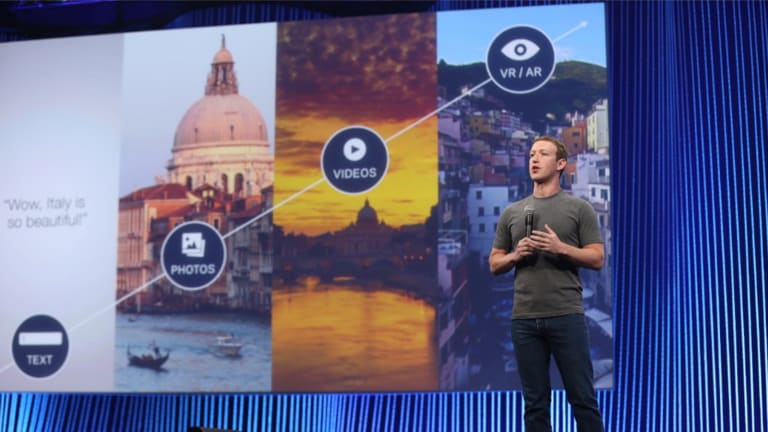 SAN DIEGO (TheStreet) -- Facebook (FB) - Get Facebook, Inc. Class A Report acquisitions of Instagram and WhatsApp are likely to be the gifts that keep on giving for years to come, a fact Wall Street is starting to come around to.
Citigroup analyst Mark May said Facebook's revenue will grow revenue by 33% annually over the next three years, as he upped his advertising revenue projections for 2016 and 2017 based on confidence in the social network's ability to grow its audience, serve more ads at better prices, and profit from its burgeoning offshoot apps Instagram and WhatsApp. He also raised its 12-month target for shares to $97, up from $91.
Facebook shares were trading up half a percent at $82.06 on Thursday, further adding to its 2015 gains. Though shares are off their 52-week high of $86.07 set last month, shares have appreciated approximately 5% since the start of the year, besting the 3.2% gain in the NASDAQ. 
"Based on our new analysis, we feel confident that core Facebook can maintain ad revenue growth well above 20% through at least 2017 and see potential that our estimates could in fact prove to be conservative if initiatives such as video ads provide a large boost to CPMs or new product features drive higher engagement, and thus more ads served," May wrote in a note.
Facebook's annual revenue growth rate over the next three years improves to 33% when including its photo social network Instagram and its popular messaging app WhatsApp, May said. Instagram now has a monthly audience of 300 million people and shows photo and video ads to users in the feed. WhatsApp charges $1 per year after the first year and has a monthly audience of 700 people. 
Though neither service will prove to be an immediate cash cow, the potential is certainly there.
Citi believes Instagram, which it values at a $35 billion on its own, can bring in $400 million in revenue this year and $1.4 billion in 2016. WhatsApp, meanwhile, will be take longer to monetize but will add a $1 billion in revenue to Facebook's business by 2017, according to Citi's projections.
Facebook Messenger, the social network's other popular messaging app, is evolving from a hobby chat app to an actual business, as evidenced at Facebook's F8 developer conference. "We believe the success of WeChat and Line can serve as a framework for how Messenger will be monetized," May said. "We see monetization of Messenger as a source of large value optionality for Facebook."
Citi's bullish new-business estimates echo those of other firms such as SunTrust Robinson and Humphrey, which earlier in the year outlined how the social could grow revenue by $4 billion a year. Still, Citi has the most faith in Facebook's original big, blue app, or "core Facebook," and is, like other firms, eyeing video ads and e-commerce initiatives as potential money-makers in the years to come.
It's still early days for Facebook on the e-commerce front, but the company is experimenting.
It recently introduced "Buy Buttons" for buying products in News Feed, and SunTrust has theorized that it could tack on $900 million in annual revenue if just 2% of Facebook users spend an average of $25 per year. The social network is also ramping up its collection of consumers' debit card information through a friend-to-friend money transfer feature recently added to Facebook Messenger.
Facebook Premium Video Ads, meanwhile, launched in limited release a year ago, are 15-second, TV-style units that auto-play in News Feed and expand into a full-screen view with sound on click. SunTrust analyst Robert Peck said previously that Facebook can make a $1 billion a year if it sells 50 billion video impressions.