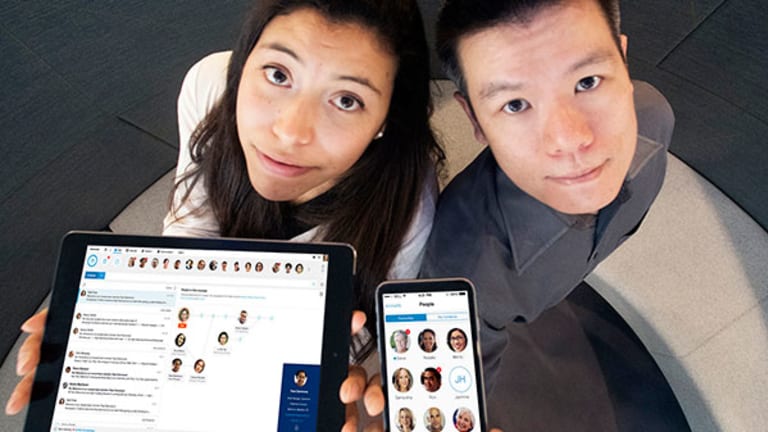 How IBM Intends to Reinvent Work E-Mail for the 21st Century
IBM is trying to reinvent work email, using its analytics and data prowess to give employees a new way to converse more efficiently at work, going after Google and Microsoft.
NEW YORK (TheStreet) –– IBM (IBM) - Get International Business Machines (IBM) Report is trying to reinvent work e-mail, using its analytics and data prowess to give employees a new way to converse more efficiently at work, and by extension, targeting Google (GOOGL) - Get Alphabet Inc. Class A Report and Microsoft considerable hold on the  (MSFT) - Get Microsoft Corporation (MSFT) Report market.
Unveiling a new suite of offerings called Verse, IBM is attempting to focus on design innovation, having spent $100 million on this initiative, bringing together its cloud and analytics as well as social and security platforms. The scope is certainly broad: email, meetings, calendars, instant messages, video chats, file sharing in one piece of software. IBM also noted that Verse is the first messaging system to feature 'faceted search,' which allows users to retrieve a specific piece of information from every facet of content inside their inbox.
It's estimated that 108 billion work emails are sent each day with employees checking their inbox 36 times an hour, something IBM hopes to cut down on with Verse.
The software, which is available in beta today, will be rolled out in the first quarter of 2015 as a freemium version available on both desktop as well as an app on iOS and Android. IBM seeks to take a larger share of the $4.7 billion market for enterprise email, as forecast by IDC. IBM, which already has Lotus Notes, is one of the main players in this space, one that has traditionally been dominated by Microsoft's Outlook. Google has attempted to make inroads with Gmail for business, offering its office suite for the enterprise.
"The convergence of analytics, cloud, social and mobile technologies is not just impacting our personal lives, it's profoundly changing how we work," said Bob Picciano, Senior Vice President, IBM Information and Analytics Group in a press release.  "These forces are reshaping how people make decisions, create and share new ideas and collaborate across teams to get work done. With IBM Verse, we challenged our design teams to use analytics to completely reimagine the social collaboration experience to focus on engaging people and driving outcomes, not managing messages and inboxes."
IBM hopes that in addition to using its cloud, analytics and social data, it hopes to attract new clients by using Watson into the environment, the company's cognitive computing platform. Users can ask Watson a question on any particular topic and then get a direct replay with a number of answers, ranked by degree of confidence. In September, IBM announced Watson Analytics, which allows users to gain access to Watson's predictive and analytics tools wherever they are.
The announcement touches upon several new initiatives for the enterprise that IBM has announced recently as it attempts to shake off its otherwise stagnant revenue growth. In addition to the aforementioned Watson Analytics announcement, the company announced a partnership with Apple (AAPL) - Get Apple Inc. (AAPL) Report to bring new enterprise apps for the iPhone and iPad in July 2015. Last month, IBM launched Navigator, which allows users to edit and share business documents securely. Recently, IBM also announced a partnership with Twitter (TWTR) - Get Twitter, Inc. Report to take Twitter data and allow businesses to understand their customers and markets better.
-- Written by Chris Ciaccia in New York
>Contact by Email.