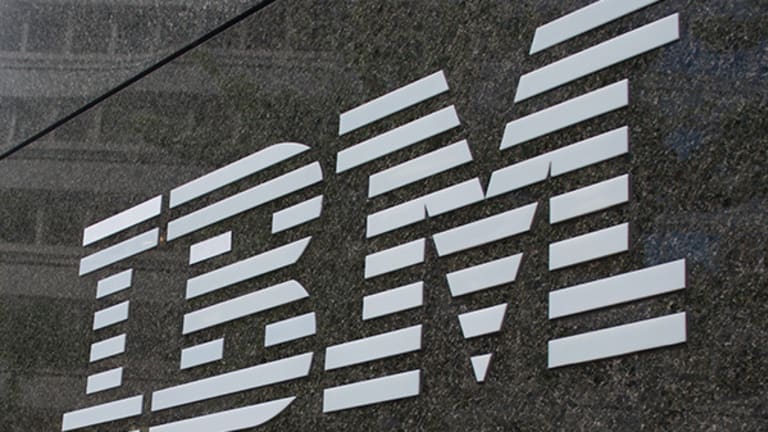 How IBM Continues to Rise in the Cloud as It Seeks to Boost Adoption
As IBM continues to push its clients towards the cloud, it announced new technologies and investments in its hybrid cloud offerings to help boost IBM's cloud-based revenue.
NEW YORK (TheStreet) –– As IBM (IBM) - Get Free Report  pushes its clients toward cloud computing, the software and services provider announced new investments Monday in its hybrid cloud offerings to boost revenue in a fast-expanding part of its business.
"Today, we are launching a new class of cloud innovations that extend open standards capabilities for the enterprise," said IBM SVP Robert LeBlanc in a statement. "Data location across an ever growing number of clouds is an increasing concern for customers and we are unveiling new portability and developer services to make this easier to manage." 
By doing so, IBM's customers will be able to move their software, platforms and information-technology systems to the hybrid cloud, which allows clients to manage some resources internally and others on IBM's platform. The dual cloud platform is intended to make it easier to adopt and update a client's IT needs.
IBM, which generated $7 billion in cloud revenue in 2014, a 60% gain from a year earlier, is pushing its hybrid cloud model in order to boost competitiveness. In the space, IBM competes with Microsoft (MSFT) - Get Free Report , Google (GOOG) - Get Free Report , Amazon (AMZN) - Get Free Report and others. The hybrid cloud is a fast-growing part of the cloud market, with IBM at the head of the space. It owned a 13% share of the market, according to Synergy Research Group.
Getting clients to adopt its cloud offerings is extremely important, not only as a major part of CEO Ginni Rometty's turnaround plan, but for the growth opportunities as well. According to research firm Gartner, nearly three-quarters of large businesses will have hybrid cloud capabilities by the end of the year, as evidenced by the fact that IBM is moving more than half of its cloud development team to the hybrid cloud.
The cloud space is an enormous opportunity for the aforementioned companies, as traditional IT software and platforms move over the Internet, as opposed to being stored locally. According to research firm IDC, the cloud market is expected reach $118 billion in 2015, expanding to $200 billion by 2018.
IBM is aiming to expand into higher-margin, higher-growth areas such as cloud, mobility, analytics and security. Nonetheless, the transition to cloud may affect overall revenue growth in the near term. That's because once a cloud customer is signed, revenue is recognized over the life of the contract, while expenses are recognized immediately. For example, if a contract runs 24 months, the revenue is recognized in 24 equal parts, while the expenses are recognized in one lump sum.
"We continue to expect secular changes related to the shift to the cloud to be a negative headwind for IBM over the next few years, and we see revenue growth as challenged," Deutsche Bank Sheri Scribner wrote in a note last month.
IBM's fourth-quarter revenue fell to $24.1 billion from $27.39 billion a year earlier, though the results for 2013 included divested businesses. Revenue from existing operations fell 2% year over year.
In addition, IBM unveiled the Watson Zone, "a new resource center on Bluemix that brings together Watson APIs, sample code," and other resources designed to help build apps using Watson, its artificially intelligent computing system. In 2011, Watson famously beat two former champions on the Jeopardy quiz show.
Must Read: What IBM Is Doing to Prove Cloud Computing Can Help Any Industry
--Written by Chris Ciaccia in New York
>If you want to send Chris an email, contact him here.