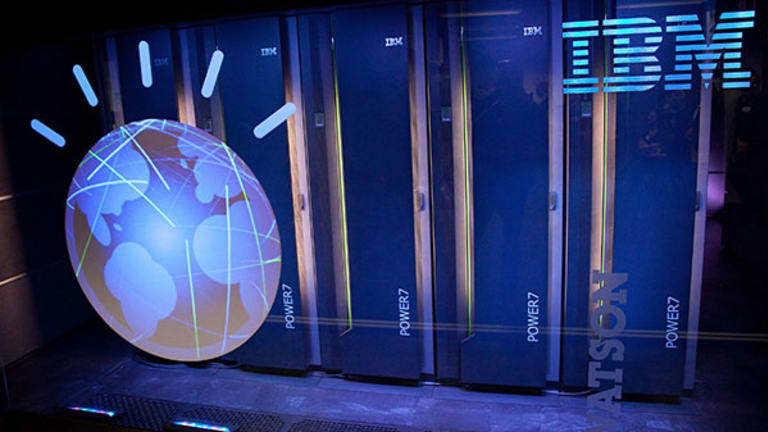 How IBM and Watson Plan to Use Your Genetic Code to Help You Live Longer
IBM continues to push the boundaries of its Watson Group, announcing an investment in Pathway Genomics to deliver an app based on a person's genetics from their personal makeup.
NEW YORK (TheStreet) –– IBM (IBM) continues to push the boundaries of its Watson Group, announcing an investment in Pathway Genomics, a clinical laboratory that offers genetic testing services globally, to help deliver an health-monitoring app based on a person's individual genetic makeup and other personal information.
San Diego-based Pathway has now raised more than $80 million over the past six years, and the investment from IBM Watson will allow it to expand further into the bioinformatics market, which is expected to grow to $12.86 billion by 2020, according to Allied Market Research. "By tapping into IBM Watson's cognitive computing capabilities, Pathway Genomics is allowing consumers to ask health related questions, in their own words and receive personalized and relevant responses," said Stephen Gold, Vice President, IBM Watson Group in a press release. "Cognitive computing solutions based on Watson's transformative technology will help define how consumers and businesses alike make better informed lifestyle decisions, enabling better outcomes."
Terms of the investment were not disclosed.
The app, which will utilize Watson's computing prowess, will allow consumers to ask the app questions and get answers based on their genes, information from wearable technology and other information, including their emotional, physical and social well being. Questions asked can include, "How much exercise should I should today?" or "How much coffee can I drink on Monday?"
In January, IBM announced it would be investing $1 billion on the Watson Group, with much of it focused on R&D and bringing cloud-based applications and services to market. As part of that $1 billion, $100 million will go towards investing in startups, such as Pathway, and businesses building Watson-powered apps.
"The medical industry is undergoing a dramatic and systemic change, giving consumers and their physicians a powerful tool built upon cognitive learning and Watson will make the change even more transformative," said Michael Nova, M.D., Chief Medical Officer, Pathway Genomics; and Member of Watson Advisory Board in the release. "IBM is viewed worldwide as forward thinking pioneers in the development of electronic knowledge, and also sets gold standard in the industry for the delivery of that knowledge. We are fortunate to team with them as we enter this new era of cognitive medicine."
The data will be combined with information from the consumer to provide a personalized option to allow users and their physicians to make more informed decisions on living a healthier life, as well as routinely monitoring the information and letting them know if any new information is relevant and how to act on it.
>Contact by Email.