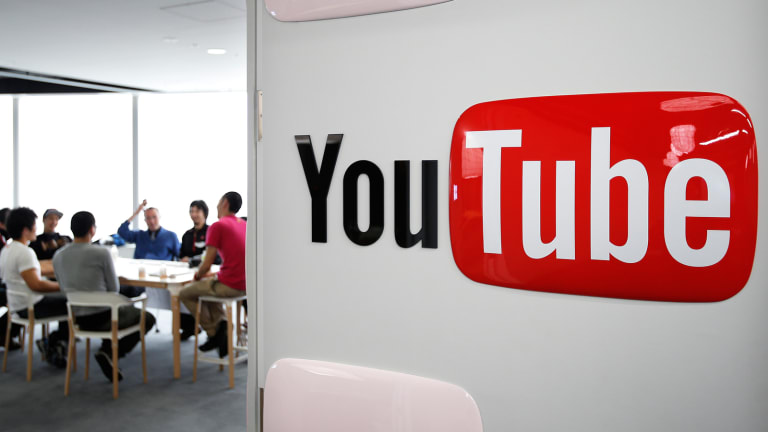 How Google's YouTube Taught the Internet That Short Means Big
YouTube first popularized short-form video a decade ago. Now, with TV ad sales slowing, media companies are setting their sights on Google's piece of the online pie.
LOS ANGELES (TheStreet) -- Google's (GOOG) - Get Alphabet Inc. Class C Report YouTube popularized short-form videos a decade ago and turned itself into business that reportedly attracts billions of dollars of digital advertising.
Now, just about every media company producing entertainment is making three- to 15-minute long videos in hopes of engaging viewers and generating more revenue from digital advertising sales. Short-form videos, easily shared on social media, are all the rage.
"Media companies are really programming around mobile and trying to own the space that a lot of traditional TV companies own," said Gabrielle Rossetti, the director of strategy and innovation at Havas Media.
Google has never been a traditional media company, its primary focus being selling advertising around its ubiquitous search engine. But as Internet-based content becomes as important as anything on traditional TV, Google's model is being widely replicated.
And why wouldn't everyone want to follow Google's lead? It currently receives a full one-third of all digital advertising in the world, according to eMarketer. The company's total ad revenue last year totaled $59 billion.
At last month's NewFronts presentation to advertising buyers, Google rival AOL (AOL) rolled out a slate of short-form digital programming, including Making a Scene with actor and director James Franco, the Emmy award-nominated Park Bench with actor Steve Buscemi, and What to Watch with filmmaker Ricky Camilleri, a digest digest of everything video that's popular on the Web.
The aim: creating popular and sharable short-form video entertainment that has helped YouTube's biggest stars such as Hannah Hart command millions of subscribers.
Ad revenue from digital video advertising totaled $5.8 billion last year, according to eMarketer. That's a fraction of the nearly $70 billion television drew, but digital ad sales are expected to climb to $14 billion by 2019, eMarketer said, far outpacing the rate of growth for traditional TV.
Digital can also challenge television in sheer viewership as Hart's YouTube series, My Drunk Kitchen, has more than 2 million subscribers. Hart's homemade videos, in which she tipsily attempts to make dishes such as French toast or tacos, regularly reach audiences in the hundreds of thousands. It is also not uncommon for them rack up more than 1 million views.
Hart, 28, isn't even YouTube's biggest star. Tyler Oakley, a 26-year-old LBGT advocate and commentator, reaches nearly 7 million subscribers. Felix Kjellberg, a Swede known as PewDiePie who shot to prominence with humorous commentary to video games, has a whopping 36 million subscribers.
Kjellberg's most popular videos are viewed tens of millions of times, and like many other big stars he now works with a production company, which in his case is owned by Disney's (DIS) - Get Walt Disney Company Report Maker Studios.
YouTube has harnessed the followings of Hart, Oakley and Kjellberg by serving targeted ads before their videos. The video-sharing site brought in a reported $4 billion in total revenue for 2014, although Google does not break out those figures out in its earnings reports. It also this year unveiled a new autoplay feature that can continuously play videos in an effort to pump up ad sales.
"The digital world itself from a content perspective is naturally more democratic when it comes to popularities," Rossetti said. "You're not dealing with a finite amount of inventory that we see in the TV space."
Finding hits and lending a helping hand to nurture them with access to equipment and studios may be cheaper than TV's production model, but Google has had trouble turning the Internet's third most popular site, according to Alexa, into a moneymaker. Last year, YouTube's revenue grew by a billion dollars, according to The Wall Street Journal, but the site reportedly hovers around breakeven.
The site has launched programs offering production spaces and mentoring to its video makers in an effort to give the often madcap content a professional sheen. YouTube began last year offering bonuses to some of its most popular content makers who had been courted by rivals like Facebook (FB) - Get Meta Platforms Inc. Class A Report and start-up Vessel from former Hulu CEO Jason Kilar.
And with the entry of advertising rival AOL into the short-form original content game, costs certainly stand to rise.
AOL's original content plan targets mobile audiences that will help boost their own ad revenue along the way. The company, which was purchased this month by Verizon (VZ) - Get Verizon Communications Inc. Report for $4.4 billion on the strength of this advertising, brought in $1.9 billion last year in total ad sales.
It is going after mobile users with short videos such as morning news show AOL.RISE and sports satire 2 Point Lead. AOL's plan underscores how social media, short-form video and the lure of a viral hit have come to be the new frontier of digital advertising.
Traditional TV has also gotten in on the act. Viacom's (VIA) - Get Via Renewables, Inc. Class A Report MTV, which has suffered a more than 30% viewership slide since 2013, has launched a bid to draw viewers back to the fold with short videos meant for mobile viewing. It terms them "clippable" content, where segments from shows can be shared on social media, and ultimately served with mobile ads.
And the biggest threat to digital ad sellers Google and Facebook could be the original content bubbling up at places such as AOL, MTV and Vice.
"I think that advertisers would be foolish to at least see what else is out there," Rossetti said. 
This article is commentary by an independent contributor. At the time of publication, the author held no positions in the stocks mentioned.