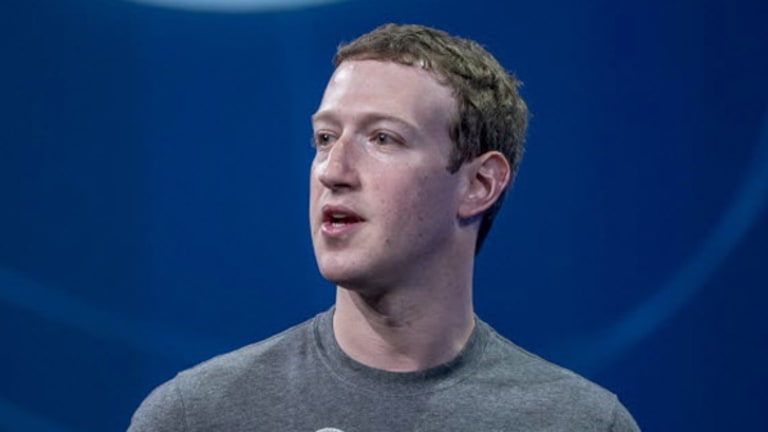 How Facebook's 1.35 Billion Members Really Impact the Global Economy
A report from Deloitte finds the social network to be a global benefactor of money and jobs.
Updated from 11:55 a.m. to include comments from UCLA Economics Professor William Zame.
SAN DIEGO, CALIF. (TheStreet) -- Facebook (FB) - Get Meta Platforms Inc. Class A Report enabled $227 billion of economic impact and 4.5 million jobs globally in 2014 thanks to the network effects of connecting advertisers, marketers, and application developers to 1.35 billion people, according to a report by Deloitte.
The flattering study, commissioned by the social network, estimates that Facebook's marketing effects, or its business-friendly tools, stimulated $148 billion in value for the global economy, while its platform effects, or developer tools, contributed $29 billion in economic impact. Additionally, Facebook's connectivity effects, or its ability to drive mobile device and Internet service sales, had an estimated impact of $50 billion, the report found.
The report defines economic impact as the "contribution Facebook makes to economic output measured in terms of value added and jobs." Deloitte's modeling method estimates the third-party gross revenue supported by the social network, which includes the direct effects of Facebook advertising on annual company revenue, the indirect effects of supply chain activity for the companies who use Facebook, and the induced effect of employee spending by those who work businesses using Facebook.
"Facebook has become a hub that democratizes marketing: it facilitates economic activity for businesses of all sizes," authors Chris Williams and Ana Aguilar wrote in the report.
The methodology and client-customer relationship between Deloitte and Facebook, however, leave room for some healthy skepticism. "Deloitte may be above reproach, but the fact that they were commissioned by Facebook ... makes you think that they were going to produce a favorable report," William Zame, a professor of economics at the University of California, Los Angeles told TheStreet.
In 2014, Deloitte found that the social network created the most substantial economic impact for businesses with its marketing tools: Pages, targeted advertising, and referrals. In addition to the $148 billion of estimated economic impact, Facebook's marketing effects added 2.3 million jobs around the world, according to Deloitte's findings. North America captured a majority of the economic goodwill with $81 billion and 870,000 jobs associated with the social network's marketing effects.
Facebook's developer platform, meanwhile, added $29 billion and 660,000 jobs to the global economy in 2014, Deloitte said. The U.S. app economy individually ate up $8.2 billion of the total sum of the social network's platform effects. "Over 80% and 90% of top grossing apps in the United States on iOS and Android respectively are integrated with Facebook, which demonstrates the impact the platform has enabled for developers," Williams and Aguilar wrote.
The report also asserts that Facebook has a measurable impact on consumers' purchase decisions when it comes to upgrading mobile devices, buying faster Internet connections, and spending more on data. Collectively, these connectivity effects amounted to $50 billion and 1.6 million jobs in 2014. The findings also suggest that Facebook's investments in global connectivity through its Internet.org imitative will perpetuate these effects.
"Developers of Facebook apps create new features that fuel the innovation loop, which motivates people to purchase new, more powerful devices and stimulates higher data consumption," the report's authors' said.
Altogether, the U.S. captured $100 billion in economic impact, according to the report. Zame finds the figure quite enormous considering that it amounts to more than half a percent of the U.S.'s entire $16.2 trillion gross domestic product for 2013.
"I don't find this study convincing," he said.
Of course, all of the estimates are just that -- estimates, which means the report should be read as Facebook-motivated research designed to encourage people to think of the company as more than just the creator of the world's largest digital time suck.
--Written by Jennifer Van Grove in San Diego, Calif.
>Contact by Email.