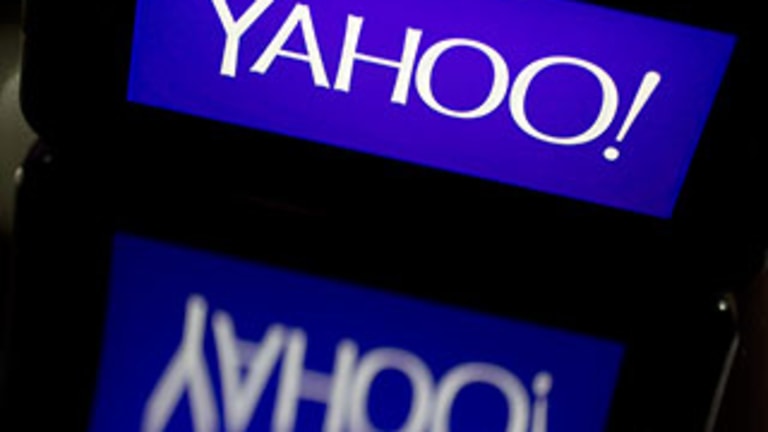 How Facebook Atlas Poses a Huge Threat to Yahoo!'s Already Flagging Display Business
Yahoo's bruised display ad business faces even more of a beating from Facebook's Atlas ad platform, which can serve highly targeted ads on or off the social network
SAN DIEGO, CALIF. (TheStreet) -- With the release of  Atlas, Facebook (FB) has shined an even brighter light on the pockmarks of Yahoo!'s (YHOO) display advertising business, which has been in decline for years.
Facebook Monday unveiled its much-anticipated ad platform as an answer for advertisers who want something better than the web-restricted cookie to track and target ads. Atlas, by comparison, can follow Facebook members where they digitally roam, on or off the social network, from web to smartphone, smartphone to tablet.
Watch the video below for more on Facebook's Atlas ad service:
With Atlas, advertisers can create, buy, and track digital campaigns across devices and websites; connect the dots between online behaviors and offline purchases; and target their ads using Facebook's treasure trove of data. The combination has the chance to shake up the status quo in the display ad business, Nomura Internet Analyst Anthony DiClemente told TheStreet.
That spells even more trouble for Yahoo!'s display business, which is already stuck in a digital quagmire of needing to convince advertisers to buy more display ads to make up for dwindling ad prices. In the second quarter, Yahoo!'s display revenue fell off 8% from the same period a year ago, even though the company sold 24% more display ads. Even Yahoo! Chief Marissa Mayer characterized the company's Q2 display results as unsatisfactory in the earnings press release.
As Altimeter Industry Analyst Rebecca Lieb sees it, Atlas offers a compelling enough argument for advertisers to spend more of their budgets with Facebook -- and less with Yahoo by proxy. And DiClemente expects Facebook's dense targeting and tracking options to boost advertiser's return on investment, which would drive up CPMs (cost per one thousand impressions) as a result.
In short, if Atlas proves successful, Facebook could steal display ad market share from older ad networks like Yahoo, and, adding insult to injury, do so at premium rates.
"Facebook, as a social network, has such deep data on its users that it can be an incredibly valuable source of data for targeting on the web," Lieb said. Facebook, now with Atlas, has the edge over Yahoo, she added.
In the second quarter, Facebook generated $2.91 billion in revenue, with $2.68 billion of that coming from advertising, an increase of 67% year over year. Mobile advertising revenue rose rose 41% year over year, accounting for 62% of total advertising sales, coming in at $1.66 billion.

Mayer, meanwhile, knows the only way to re-energize Yahoo!'s display business is to lure in advertisers with fetching data.
"Marketers are increasingly relying on data to better understand audiences, and serve the right ad, to the right user at the right moment," she told analysts and investors on the company's second-quarter earnings call. "Yahoo! audience solutions leverages our data, first-party data and third-party data to reach highly relevant audiences across Yahoo! premium inventory and across the web."
Though designed to alleviate Wall Street's fear, Mayer's statements underscore the company's biggest hurdle: Yahoo! data is not the same as Facebook data.
"The other major ad platforms that can use social sign-on as a value proposition don't have the value they once had. Yahoo!, AOL, Microsoft; they don't have the scope of Facebook or the number of visitors who return daily and share information with the platform," Lieb said.
So, in essence, Yahoo! lacks Facebook's secret sauce: a logged in audience of 1.3 billion people who hand over affinity data on a daily basis.
"Facebook is unique among digital properties because it has a deep database of information about its users. It doesn't have to guess at where they live, what they like or what they buy," Debra Aho Williamson, eMarketer social media analyst, told TheStreet. "People use Facebook to share that information and then Facebook can use it to deliver advertising."
Even before the Atlas announcement, eMarketer was projecting that Yahoo! would lose share of the U.S. digital ad market this year, despite the fact that it expects overall U.S. digital ad spend to grow by 17.7% and total $50.73 billion in 2014. Yahoo's share will amount to 4.9%, ranking fourth behind Google (GOOG) , Facebook, and Microsoft (MSFT) , according to eMarketer. By the firm's account, Facebook will take home about double Yahoo!'s share.
"While it's too soon to provide a forecast for how this will impact the overall digital advertising market, we think that advertisers will be very interested in seeing if Facebook's targeting works not only inside Facebook, but outside it as well," Williamson said.
--Written by Jennifer van Grove in San Diego, Calif.
>Contact by Email.