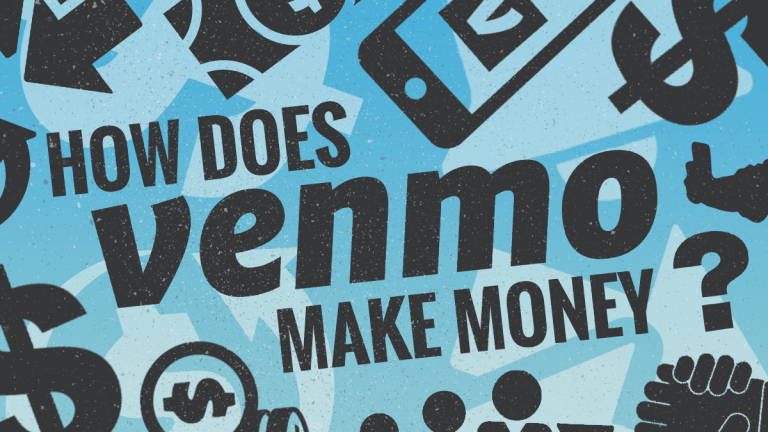 Publish date:
How Does Venmo Make Money and Is It Safe?
Need to quickly transfer money? You're probably using Venmo. But, how does Venmo make money? And is it safe?
Need to quickly transfer money? You're probably using Venmo. But, how does Venmo make money? And is it safe?
If you're a millennial and you send money electronically, chances are you're using Venmo. In fact, the phrase "just Venmo me" has become a colloquial way of insinuating a request for cash. 
Since PayPal (PYPL) - Get PayPal Holdings Inc Report acquired the money transfer app in 2013 under Braintree for $800 million, Venmo has been the go-to for many users to send and receive money easily on their mobile devices.
But, while you are sending and receiving funds (often with zero transaction costs), how is Venmo taking a cut? How does Venmo make money, and is it actually safe to use?
What Is Venmo?
Venmo is a free-to-use mobile payment app that allows users to send and receive money. The app is owned by PayPal and connects with users' and businesses' bank accounts or credit cards to send and receive funds online, and is currently only available for users inside the U.S. 
The app was founded in 2009 by University of Pennsylvania roommates Andrew Kortina and Iqram Magdon-Ismail as a text-only money transfer service. However, in 2012 the startup was released to the public as an app for iPhone and Android users to transfer money. Venmo capitalized on the peer-to-peer (P2P) market by allowing users to connect credit cards or bank accounts to the app and send or receive funds directly on their mobile devices. 
In order to send money for free, users must connect their bank account to the app. However, there are small transaction fees for sending money with a credit card.
As of the app's third quarter in 2018, Venmo has facilitated over $17 billion in transactions.
Having a social media-like feed showing public transactions with messages that vary from a simple emoji to full sentences has certainly changed the money app game.
And, what's more - some of the FANG giants are noticing. In fact, Venmo may soon find itself in competition with the likes of Facebook (FB) - Get Facebook, Inc. Class A Report , Appleundefined and Square (SQ) - Get Square, Inc. Class A Report - all of which have or are currently developing commerce capabilities. 
Is Venmo Social Media?
Still, is Venmo actually a form of social media? User experience may suggest so.
While the money transferring service may seem to be all about the cold, hard cash (or, digital receipts anyway), many Venmo users have reported using the app for other means. In fact, Venmo users like Daniella Joy, who declined to give a last name, told NBC News earlier this year that the site has morphed into a sort of social site.
"It's weird that the only way I still have insight into [my ex's] life is through his Venmo transactions," Joy told NBC News. "I have those moments where I wonder what he's been up to, who he has been going out with or whether he's taking any trips and then I look on Venmo."
But Joy isn't alone - plenty of other people use the platform as a secondary social media source to gather intel on their friends.
"I really enjoy Venmo stalking in the sense of seeing what people [are] up to," Luke Miedreich told NBC News. 
Still, despite the social media element that Venmo seems to possess, banks and consumers alike are increasingly converting to Zelle - a payment app backed by the likes of Bank of America (BAC) - Get Bank of America Corp Report , J.P. Morgan (JPM) - Get JPMorgan Chase & Co. (JPM) Report and Wells Fargo (WFC) - Get Wells Fargo & Company Report . 
Venmo and PayPal
PayPal acquired Venmo (which was itself acquired by Braintree for $26.2 million) in an $800 million deal in 2013. 
Since the acquisition, Venmo has played a significant role in the fintech space. As of this year, Venmo had about 22.9 million users, although it still lags behind other comparable apps like Zelle. 
Still, the app is free-to-use, and some kinds of transactions are fee-free. So, how does Venmo work? 
How Does Venmo Work? 
The Venmo app has users connect their bank account, checking account, credit or debit cards, which it then uses to complete requests for either sending or receiving money. Venmo users can "request" charges from friends or people in their network (which they can add, similar to social media apps like Facebook). Once the request is sent, the person charged can complete or deny the request (but, the sender of the request is also able to "remind" the person charged of their request). Once the funds have been transferred, users can either keep the money in their account as their "Venmo Balance," or transfer it back to a bank account or credit card. 
Users are also able to write short memos for their requests. 
Additionally, Venmo uses an application programming interface (API) that enables businesses or individuals to connect payment services. 
But, even given its popularity, how does Venmo still make money despite a largely free service? 
How Does Venmo Make Money?
Although Venmo is free to use and download, the app mostly makes its money off of transaction fees. If you are using your bank account or debit card to connect to Venmo, your transactions are free - but, if you are using a credit card or are a business using Venmo, you will have to pay a 3% fee of whatever the total value of the transaction is. This is one of the principle ways Venmo makes money off of customers since the app doesn't currently charge interest on funds.
Venmo's business model is a peer-to-peer money transaction service that allows users to link up their payment methods and share transactions within their network. For regular consumers or "end-users" (like you and your friends), Venmo only charges that 3% fee if you are using a credit card for your transactions. 
Additionally, as one of the main revenue-generating aspects of Venmo's business model, the app charges businesses a 2.9% fee when consumers use the app to pay. Or, in other words, businesses are charged a 2.9% fee whenever a customer uses the Venmo API to pay them. 
Still, Venmo currently doesn't comprise that much of parent company PayPal's revenue - in fact, Venmo doesn't invest user's "Venmo Balance" funds. But Venmo's contributions might be changing.
According to The Atlantic last year, Venmo's plan for the upcoming year is to increase use of Venmo for transactions between customers and businesses. In fact, last year Venmo announced partnerships with a variety of apps that included food-delivery companies like Munchery and the fast-food chains like White Castle. 
Additionally, as of July this year, Venmo announced its partnership with Uber that will allow users of the app to pay for Uber and UberEats with Venmo, according to Business Wire. This partnership, along with others like it, could help Venmo generate more income through their 2.9% business transaction fee. 
Is Venmo Safe?
With so much money changing hands on the app, is Venmo really safe?
Well, in part, it's safety has been thrown into question given that it is an internet-based money-transferring service. In fact, in 2016, Venmo faced some backlash over breaches in user security. The Federal Trade Commission (FTC) even investigated complaints over the company's privacy policies when handling transactions.
"Consumers suffered real harm when Venmo did not live up to the promises it made to users about the availability of their money," Acting FTC Chairman Maureen K. Ohlhausen said. "The payment service also misled consumers about how to keep their transaction information private. This case sends a strong message that financial institutions like Venmo need to focus on privacy and security from day one."
PayPal eventually settled the FTC's charges after violating the Gramm-Leach-Bliley Act, according to the FTC. 
However, according to their site, Venmo uses bank-grade security and encryption to ensure the safety of their customer's accounts. Additionally, Venmo lets users create a PIN code for mobile transactions to further increase security. 
And, Venmo still will not endorse unknown users to send or receive money, but cannot be liable for payments made to the wrong person. 
Venmo Scams
But are there any Venmo scams to be aware of? 
The most common Venmo scams involve scammers exploiting a user's lack of knowledge on the timing of payments. For example, typical Venmo transactions may look as if they've been completed instantly, but take a couple days to process before you actually receive the funds - leading users vulnerable to giving up goods before actually receiving the payment in their bank.
This type of scam often occurs on Craigslist, where a fake buyer will contact you about your goods and ask to use Venmo as a payment. While using Venmo for normal payments within your circle or network (i.e. people you know or regularly interact with) is generally safe, be wary of using Venmo as a payment system for things like online ads. 
And, learn more about Craiglist scams and how to avoid them.