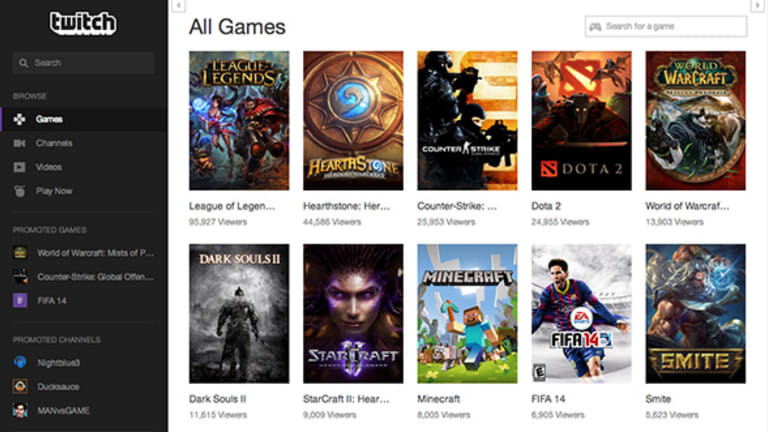 How Does Twitch Fit Into Amazon's Larger Plans?
The streaming platform has been moving beyond gaming into cooking and painting, which makes it look more like a better-known player in the video world.
Editors' Pick: Originally published March 23.
Amazon (AMZN) - Get Amazon.com Inc. Report is broadening the portfolio of Twitch, the video game platform it bought more than a year ago, to include cooking and painting videos from legends like Julia Child and Bob Ross. The result: Twitch suddenly starts to resemble a larger player in video, YouTube.
And that offers a slightly improved picture of Amazon's potential plans for the $970 million acquisition, even though the broader strategy remains unclear. At the time of the purchase, Amazon CEO Jeff Bezos said both companies "obsess over customers and like to think differently," noting that Amazon could help its target "move even faster to build new services for the gaming community."
Now, as Twitch expands beyond gaming, it stands a better chance of competing against YouTube, said Needham & Co. analyst Kerry Rice. "Twitch fits wells with the company's overall game development and original programming efforts," he said. "One day Twitch could compete with YouTube, but currently it's too game-oriented."
Daniel Kurnos, an analyst at Benchmark, offered a somewhat similar perspective. "I don't think it will compete with YouTube directly other than in the gaming space, but if it becomes the No. 1 source for all things video in the gaming world, it could certainly reach a comparable size and scope," he said.
"It's basically another free library of content for Amazon to offer its users and potentially monetize longer-term. We'll see how it evolves, but I think that has to be Amazon's vision." Even if Twitch doesn't surpass YouTube in popularity, the revenue potential is huge, according to Kurnos.
By 2020, Twitch could generate $1.14 billion in annual revenue and attract 387 million monthly visitors, Piper Jaffray analyst Gene Munster told Bloomberg. Twitch mainly makes money from subscriptions and advertising.
Plus, Business Insider's Matt Weinberger thinks Twitch could help Amazon's cloud business. If Amazon integrates Twitch with Amazon Web Services, or AWS, it could help game developers broadcast videos directly from apps and let players interact with viewers. That could definitely be a selling point for attracting new web services clients, Weinberger said.
Morningstar analyst RJ Hottovy also saw some potential synergy between Twitch and web services.
"[Twitch] could potentially allow Amazon to develop a third-party marketplace for video game developers to sell products to one another (similar to the AWS marketplace business), and [add] some benefits for AWS, including the ability to leverage AWS to provide scale to one of the faster-growing global social platforms."
The Twitch acquisition isn't Amazon's first foray into gaming.
In 2008, Amazon bought Reflexive Entertainment, a small studio that built digital games. Then in 2011, the company built out its own app store, complete with gaming apps and a test-drive feature that let users play games before buying them. In 2012, Amazon launched Amazon Game Studios, but while it has released a number of games, none have quite caught on as Amazon hoped.
Amazon had already ventured into music and other video content, but to really become the "everything store," perhaps it wanted to bolster its gaming products as well.
Twitch provided an easy shortcut to gaining acceptance in an industry that's tough to break into, according to The Verge's Ben Popper. "Twitch has gamer support in spades," he wrote after the acquisition. And it could help Amazon "capture even more of [the gaming] market."
An Amazon spokeswoman confirmed that the company is "highly invested in games."
"We have a significant business selling video games, most game developers use AWS to build their game infrastructure, and we've continued to invest in improving the customer experience for gamers and game developers," she said. "Twitch is another substantial step in this direction for Amazon. Twitch has fundamentally changed how games are consumed and interacted with, and it's a service that gamers and game broadcasters now find hard to live without."