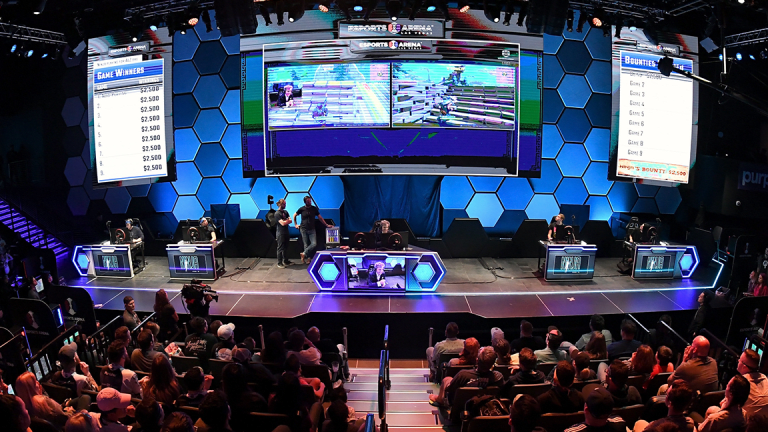 How Does Fortnite Make Money?
Fortnite is at the top of the heap in digital gaming circles - here's how it's getting the job done.
Fortnite has earned its spurs as the biggest digital-based "battle royale-type" games in the world.
The game is played by tens of millions of players monthly, on seven different gaming platforms. Financially, Fortnite continues to rake in the big bucks, garnering $2.4 billion in 2018 alone, according to SuperData Research, a division of Neilsen Holdings.
How does a so-called "free game" make so much money? Technically, a player can compete on Fortnite for free, but many don't. Instead, they elect to pay a monthly fee to play the full-throttle version of the game - with millions of players opting to do so. Or, they buy digital currency from Fortnite to buy up even more features and embellishments that optimize, to gamers at least, the Fortnite experience.
What's the secret sauce that compels legions of digital gaming consumers to crack open their wallets and mobile payment accounts, and fork some hard-earned cash over to Fortnite?
Call it brilliant marketing, call it chutzpah, or call it striking while the iron is hot, but Fortnite has no problems making money on its supposedly free platform - and few players are complaining.
What Is Fortnite?
Fortnite is a multi-gaming platform offering, available to gaming players on mobile, personal computers, or consoles - all on major gaming platforms.
Players compete in Fortnite's Battle Royale mode, fighting, building and generally surviving their way to victory against 100 players at a time. The game is more fantasy than violence - think a more sanitized version of The Hunger Games coupled with the camaraderie of fantasy football - and players are encouraged to partner up with friends together to optimize Fortnite's social experience gaming model.
Plenty of Fortnite fans elect to watch rather than play, as well. In one highly-viewed Fortnite game, in March of 2018, over 630,000 people watched the action on Twitch.TV, a gaming video platform owned by Amazon (AMZN) - Get Amazon.com Inc. Report .
As the advertising adage goes, you can't buy that kind of publicity. No question, it does explain why Epic Games has set the stage for a massive financial windfall from Fortnite.
Make no mistake, the cash is already rolling in.
How Fortnite Earned $2.4 Billion
It's not easy to ascertain exactly how much money Fortnite earns for Epic Games, the company behind the game. Epic has elected not to reveal any financial numbers on Fortnite, especially when it comes to revenue figures.
That could change as the numbers grow larger over time.
After all, Fortnite is a relative newcomer to the gaming world, as it was only released by Epic Games two years ago, in mid-2017. Its highly popular "Battle Royale" component was released as a free game update shortly after, in September of 2017, and by 2018, Fortnite became accessible on some of the industry's largest gaming platforms, including PlayStation 4, Nintendo (NTDOY) - Get Nintendo Co. Ltd ADR Report Switch, Xbox One, PC, Mac, iOS, and Android.
That last factor was a huge one for Epic Games, in terms of igniting a financial blockbuster.
With the ability to cross platforms and play Fortnite against any player, on any major gaming platform, any boundaries that might have contained Fortnite melted away. The game literally was on, and is now played on a global basis, by an estimated tens of millions of gaming fans (who never had to pay an upfront fee to start playing Fortnite,)
It wasn't long before Fortnite as crowned as king of the hill for the "free to play" gaming sector, ahead of some highly select company, as an earnings list of the top "free to play" console games shows, as compiled by SuperData:
Fortnite, Epic Games - $2.4 billion
Dungeon Fighter Online, Nexon  - $1.5 billion
League of Legends, Riot Games, Tencent  - $1.4 billion.
Pokemon GO, Niantic - $1.3 billion
Crossfire, Neowiz Games - $1.3 billion.
Honour of Kings, Tencent - $1.3 billion
Fate/Grand Order, Aniplex - $1.2 billion
Candy Crush Saga, King, Activision Blizzard - $1.1 billion
Monster Strike, Mixi - $1 billion
Clash Royale, Supercell, Tencent - $900 million
SuperData also notes that Fortnite is a big reason why digital gaming revenues rose by 11% in 2018, to a total of $110 billion. In addition, mobile is the biggest platform for digital gaming play, earning over $61 billion for the time period, with PC and console following significantly behind.
The free-to-play gaming model, which launched Fortnite to supernova status, is now the dominant form of digital gaming, comprising 80% of all industry revenues in 2018, according to SuperData.
The Battle Royale Business Model
Like most free-to-play console games, Fortnite does offer access to the game for free, but asks for payments to make the Fortnite experience more enjoyable for players.
To properly understand how Fortnite earns its robust revenues, it helps to understand the "free to play" gaming model.
Free to play means exactly what it says it means - gamers can play most of the game on the house, with Fortnite's complete game-playing function accessible to all comers. Fortnite's now famous game map and gaming mode are universal to all players, paying or not paying.
The revenue wrinkle comes in the quality of the game play. For example, Fortnite charges a fee to choose a costume and color for gaming characters, along with add-ons like a character's tools and weapons.
Additionally, Epic created a revenue model called "Battle Pass" - a $10 per quarter fee paid by Fortnite players that gives them unique access to the game's system updates, like mapping changes and new character features that gamers who play for free can't access.
Battle Pass enables players to change skins from default to premium mode, which doesn't necessarily give a player an advantage, but does provide a more pleasing optics experience for Fortnite players, most of whom keep paying the $10 per quarter for the heightened gaming user experience.
Players don't have to purchase the quarterly Battle Pass option, although they save money if they do as opposed to buying the new gaming skins, dances, and other buzzes and bells separately from the Epic store.
Fortnite gamers can also purchase gaming features via V-Bucks, a gaming currency Epic created to reward combatants for successful play, but also to use as currency to purchase Fortnite features and extras. Basically, 1,000 V-Bucks is equal to $10 in U.S. dollars.
Data shows that consumers - even young and aggressive gaming consumers - are more cautious about spending cash on hand than they are using credit card-like payment models, which both Battle Pass and V-Bucks are in reality.
Epic knows this, too, and has erected a business model where repeatable play and repeatable digital payments go hand in hand, to the financial benefit to Fortnite's creators.
Fortnite's Business Model is Paying Off
With tens of millions of players around the world, many of who opt to pay to play Fortnite on a regular basis, even $10 per player starts amounting to real money for Epic.
While Fortnite's revenues did fall by 48% from December 2018 to February 2019, gaming industry analysts dismiss the decline to a lull in holiday spending and the cyclical nature of game-to-game revenues. Those cycles reward the digital games that reset and roll out the newest elaborate features and gadgets that make gaming fanatics want to keep playing.
With a combined $3.5 billion in estimated revenues in 2017 and 2018, Fortnite is on a roll and showing no signs of stopping.
That's quite an achievement for a game that is billed as free to play for millions of players, who are more than happy to keep right on paying to play for "free."
Introducing TheStreet Courses:Financial titans Jim Cramer and Robert Powell are bringing their market savvy and investing strategies to you. Learn how to create tax-efficient income, avoid mistakes, reduce risk and more. With our courses, you will have the tools and knowledge needed to achieve your financial goals. Learn more about TheStreet Courses on investing and personal finance here.