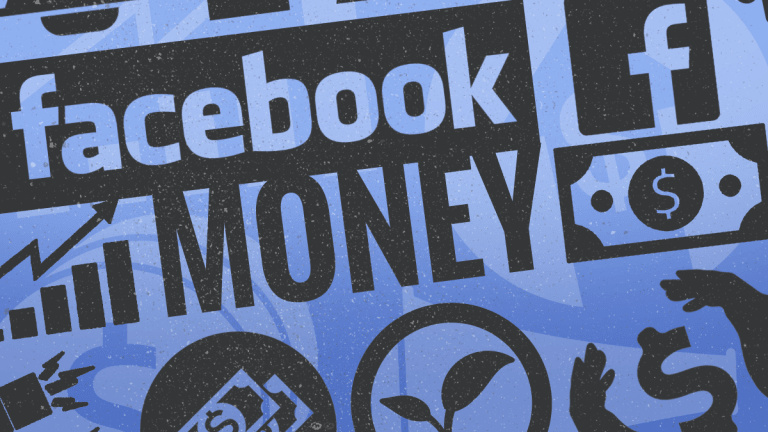 How Does Facebook Make Money? Six Primary Revenue Streams
Facebook is an advertising giant, but users should know how their personal data is being used on the social media platform.
Facebook is a social media giant, with 2.23 billion active users engaged with family and friends on Facebook, (FB) - Get Meta Platforms Inc. Report and 400 new users signing up to use the site every minute.
With activity like that it's no wonder Facebook's market capitalization stands at $450 billion and its stock price trades in the $155 range.
With the ability to rake in money from multiple sources, Facebook has established a firm foothold on Wall Street as a financial giant, and branching out in new directions should add to its bottom line.
Consider Facebook's new digital line-up, each of which contributes to the company's profits, or is expected to in the near future:
Facebook Payments. This Facebook business generates money through payments, similar to peer-to-peer payment systems like Venmo.
Jibbigo. This language translation app, acquired by Facebook in 2013, allows Facebook posts and chats to be translated into multiple languages. The ability for companies to advertise their products in several languages would be a huge attraction in both a digital and global economy.
Atlas Solutions. Purchased by Facebook in 2013 from Microsoft, (MSFT) - Get Microsoft Corporation Report Atlas enables advertisers to effectively monitor their social media outreach programs.
Onavo. This mobile utility application aids data performance on mobile devices, and allows companies to track their app's performance against other apps in the same business category.
Instagram. Purchased in 2012 for $1 billion, this photo-sharing app boasts 400 million users and is expected to be a huge linchpin for Facebook in the burgeoning photo app digital marketplace. While Instagram hasn't actually produced much revenue for Facebook before to this year, analysts expect that to change, estimating between $10 billion and $16 billion by the end of 2018.
Oculus VR. Virtual reality is another technology widely viewed in marketing circles as a great consumer outreach tool. With Facebook's purchase of Oculus VR in 2014, for $2 billion, Facebook now has a foot in the door to VR technology and market, where companies can reach consumers (the video game market is a great example) in ways that marketers could never have imagined even 20 years ago.
WhatsApp. Facebook purchased WhatsApp for $19 billion in 2014, making it the largest acquisition the company has made in recent years. WhatsApp is a wildly popular instant messaging platform that advertisers would love to crack, given its pervasive use not just in the U.S, but all over the world. Facebook is ramping up a new business model that would charge advertisers a fixed price for engaging with WhatsApp customers.
Ultimately, Facebook's staying power depends on the primary source of its revenue - advertising. That's the financial engine that keeps Facebook rolling and it's useful to see exactly how advertising dollars make their way through the company's financial pipeline.
How Does Facebook Make Money?
Despite having over two billion users on its platform, Facebook doesn't actually make any money on content or directly through its user base.
Instead, it makes billions via digital advertising, as Facebook has something that companies really want - access to billions of people around the globe who might buy their products or services. In fact, so many companies advertise on Facebook that in 2017, Facebook earned $39.9 billion from advertising revenue. All in all, the company earns about 85% of its money from advertising.
What forms of advertising does Facebook use to make its money? Here's a list:
1. Self-Serve Advertising
This type of advertising is widely used on Facebook - self-serve advertising enables anyone to create and put up an ad on Facebook. Self-serve advertisements appear on the right side (or "sidebar") on Facebook pages, for individuals, groups, user profiles, events, and third-party pages. Facebook's Ad Manager page helps advertisers create their own ads, offering granular target tools to ensure the ad reaches the intended audience.
2. Targeted Advertisements
Facebook holds a massive amount of personal data on its user base, including gender, age, hobbies, career choices, political preferences, shopping preferences - even their favorite baseball team. That allows Facebook to sell advertising space to companies and organizations who want to hone in on a specific demographic, like video game players or Range Rover owners. Or, more generically, advertisers can target ads to larger groups of people based on political preferences, religion, or even age. Advertisers can use specific tools like Facebook's Dynamic Ads to market their entire inventory of products to users at different income levels, to up their chances of making a sale. Targeted ads are a significant revenue generator for Facebook, and it's all due to the data the company collects on its user base.
3. Facebook Messenger Ads
Facebook's ubiquitous Messenger tool, which enables Facebook users to engage privately on a one-to-one basis, is increasingly being leveraged by advertisers to get the word out on their products and services. The Messenger audience is huge, with two billion user engagements recorded in the fourth quarter of 2017. Facebook is looking to expand its use of messaging advertisements through its 2014 purchase of WhatsApp, the widely-used mobile messaging app.
4. Video Ads
Traditionally, Facebook Live has thrived as a digital tool that allows Facebook users to connect via video, enabling grandparents to check in with their grandkids thousands of miles away or old college friends to reconnect online to share stories of their days back on campus. Increasingly, Facebook views video as an effective means of connecting advertisers with Facebook users via Facebook Live. Broadcasts via Facebook Live are on the upswing, and Facebook is capitalizing by making video ads on its signature video platform commonplace.
5. Facebook Mobile
In 2016, Facebook's core mobile app generated 83% of Facebook ad revenues, making mobile its biggest money-making digital tool. As Facebook continues to explore new advertising platforms, expect Facebook mobile to carry the revenue burden for the company, as mobile advertising grows at a double-digit growth rate on an annual basis.
6. Data Generation 
Facebook is estimated to earn 85% of its total revenues from advertising, but ads aren't the only source of income for the social media company.
Data generation is something of a cash cow for Facebook too, although the recent Cambridge Analytica scandal, a data breach potentially exposing 87 million users to hackers and data thieves, may have curbed Facebook's data generation revenue.
While specific numbers are hard to come by, it's estimated that Facebook earns $84 from each of its North American users, and $27 from each of its European users. Of the U.S. and Canadian market, about $81 of that revenue comes from advertising (up from 12% in 2012), leaving approximately 3% in revenue earned from user-based data generation and direct business payments.
What You Should Know About Facebook Revenue
Facebook users should know that company revenues are directly dependent on the 2.2 billion users who use the site. But there's a few things Facebook users should know about their user experience on the site:
No selling your data. Again, that's not to say Facebook makes money on selling your personal data - it doesn't. Facebook doesn't want to get into the business of selling user's personal data, as that business strategy undercuts the value of those same 2.2 billion to advertisers.
You can't share data with any business on Facebook without your permission. Companies can only connect with your personal data on Facebook if you grant them permission, like when you allow a company like Uber or Lyft access your data when you sign up for services on a mobile app.
So, you want to see what data Facebook has on you? Facebook users can check on exactly what personal data Facebook is holding. Go to the Facebook "Settings" page and locate the "General" tab. That will direct you to "Download a copy of your Facebook data." Click on the tab and you'll see what information Facebook is storing in your good name.
You can also use the Facebook Settings page to click on "Ads" to see what personal preferences Facebook is sharing about you with advertisers. You can use that page to manage any data or personal interests you don't want advertisers to see on Facebook.