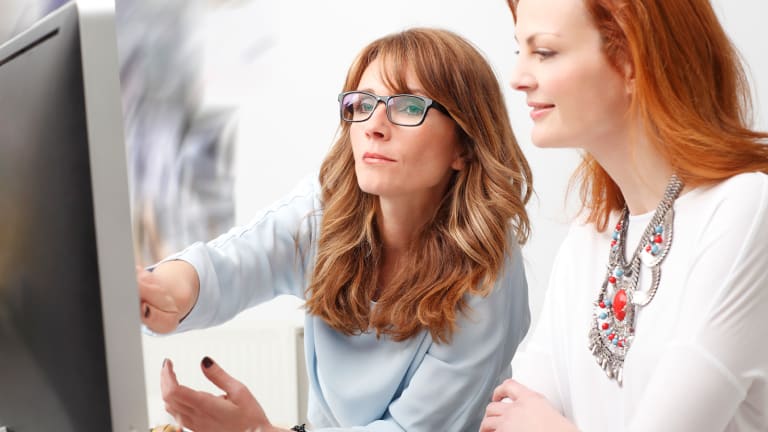 How Can Twitter, Facebook, Google Raise Their Stock? Hire More Women
Beyond the ethical and cultural reasons, there are concrete business incentives to improving the hiring and retention of female tech employees.
NEW YORK (TheStreet) -- Some of the world's most advanced technology companies are far behind when it comes to having enough women in the workplace. Twitter (TWTR) - Get Twitter, Inc. Report, Facebook (FB) - Get Meta Platforms Inc. Class A Report, Google (GOOG) - Get Alphabet Inc. Class C Report, Apple (AAPL) - Get Apple Inc. Report, eBay (EBAY) - Get eBay Inc. Reportand Amazon (AMZN) - Get Amazon.com, Inc. Report are all, by their own admissions, failures in this area. 
The problem isn't new. Silicon Valley has long been a boys' club. But it's a club that could be making a lot more money: There is data on how companies with a more gender-balanced workforce have better earnings. The issue comes into sharper relief when companies like Twitter, among the worst when it comes to gender balance among large silicon valley firms, falter with earnings. 
"It's absolutely fiscally responsible for companies to make sure women are pursuing, staying in, and excelling in their careers," Women Who Code CEO Alaina Percival said.
Gender-diverse companies (in the top quartile for ratio of women to men) are 15% more likely to financially outperform the national industry median, according to McKinsey & Company. In the U.S., for every 10% increase in racial and ethnic diversity on the senior-executive team, earnings before interest and taxes rise 0.8%, also according to McKinsey. In the U.K. the numbers are even more dramatic: for every 10% increase in gender diversity, EBIT rose by 3.5%.
And the performance translates to shareholder return. Companies that are the most inclusive of women in top management achieve 34% better total return to shareholders compared to their peers, according to a 2010 report, "High-Performance Entrepreneurs: Women in High Tech." 
"Whether it's diversity in management or anything, you get a bigger mix of ideas and products," said Judy Wajcman, a sociology professor at the London School of Economics and Political Science and the author of multiple books on women in technology, including TechnoFeminism and Feminism Confronts Technology. "People will design things, think of things, that are related to their experience of the world, and there might be lots of ideas for products and technologies that young hacker blokes won't particularly think of because they don't have those life experiences."
Tech companies that aren't able to find a way to hire more women could face an even more dire problem in the years ahead. 
"We're expecting to be a million engineers short of market needs in the next five years, and that means we need people coming from alternative avenues. We need more people choosing to pursue CS degrees in university, and we need the people who are in industry to stay in industry," said Percival.
The Discouraging Numbers
Large tech companies have begun shedding some light on their own shortfalls when it comes to hiring a diverse group of employees. Transparency is a step in the right direction but the numbers suggest a drastic need for improvement.
eBay posted updated diversity statistics last week, reporting that 29% of leadership positions are held by women and 24% of tech roles are head by women. Not much has changed since July 2014 when 28% of eBay leadership roles were held by women, with the number of women in tech roles having remained completely stagnant. The company isn't alone in reporting disappointing numbers.
These companies are not out of line with the rest of the tech industry. Only 26% of the 730,000 high-skill tech jobs created between 2009 and 2014 went to women, despite the fact that women make up 47% of the total workforce, according to a recent report from the Progressive Policy Institute.
The total number of women in the tech industry has actually been steadily declining since the 1980s: In 1985, women made up nearly 40% of the tech industry; in 2014, only 26% of professional computing occupations in the U.S. were held by women, according to the National Center for Women & Information Technology. The problem is worst at the top: Only 6% of corporate chief information officer positions in the U.S. were held by women in 2014. 
The data strongly suggest that these technology companies are hurting their earnings because these numbers aren't higher.
Where To Start
Tech companies are slowly beginning to realize that something has to change, and they are taking various pathways to get there.
Intel (INTC) - Get Intel Corporation Report, for example, recently pledged $300 million towards a "diversity in technology initiative," which aims to create a workplace of "full representation" by 2020, though it's not quite clear exactly how it plans to achieve that.
Facebook and Apple both controversially announced a new policy that would pay for women to freeze their eggs, hoping this would allow women the freedom to create their own work-life balance.
Reddit recently established a no-negotiating rule for salary, acknowledging that it is thought that women don't negotiate as well for high salaries as their male counterparts do. 
Accenture (ACN) - Get Accenture Plc Class A Reportdoubled its paid maternity leave to 16 weeks, realizing that it was worth the extra cost if it would retain a senior-level female employee.
Cost is the other side of the equation that should worry tech companies -- and their shareholders. If women consistently quit after a few years of enduring a an environment that is less than welcoming to women, their employers will have to spend more money to hire and train someone new. "You're having to retrain someone up to that level when you lose her," Percival explains.
"The tech industry is uniquely positioned because you can't necessarily be a physician and work from home or work flexible hours," Percival said. "[In tech] they actually can say alright you're going to work half time or be able to work from home."
At the end of the day it's still too early to tell if any of these initiatives will be the cure to the gender imbalance in the industry, but Percival is just happy that they're trying something.
"I'm definitely for options," Percival said. "I'm definitely for trying new things out."
Should Women 'Lean in'?
For the women in the tech industry -- or those who want to join it -- the advice never stops flowing. A popular trope of late is for women to "lean in," a phrase coined by Sheryl Sandberg, the chief operating officer of Facebook. In her book Lean In, she charges women to take a more active role in the office, sitting at the conference table as opposed to in a chair by the wall, for example.
But that may not be the one cure-all, said Wajcman, the author and sociology professor.
"Historically, the problem has always been made out to be women's and girls' problems and that women and girls have to change and be more confident," Wajcman said. "I very much focus on the culture of engineering and the culture of the workplace. Until we move away from a culture that has young, geeky guys at the forefront of innovation, we're not going to have equal participation for women in those creative occupations."
The stereotype of the "tech bro" creates a male-centric environment that is less than welcoming for women.
"It's kind of seen as a field where you have to abandon your femininity, you have to dress like a guy, act like a guy," said Cisco (CSCO) - Get Cisco Systems, Inc. Report Chief Technology Officer Padmasree Warrior at the Women in the World Summit last week. "The tech industry has some stereotypes that are very alienating and we need to change that."
When Warrior first entered the technology field as an engineer at a semiconductor company, she was told she had to dress differently.
"Coming from India, I was used to wearing bright clothes and lots of jewelry," she said. "After two or three years I abandoned what I was feeling comfortable in to be someone else."
Now whenever Warrior speaks to young women who are interested in careers in science, technology, engineering and math, she makes sure to emphasize that they don't have to give up their femininity.
"We need to tell women in technology fields that they truly can be themselves, and if you want to wear high heels, that's great, you can be a programmer," she said.