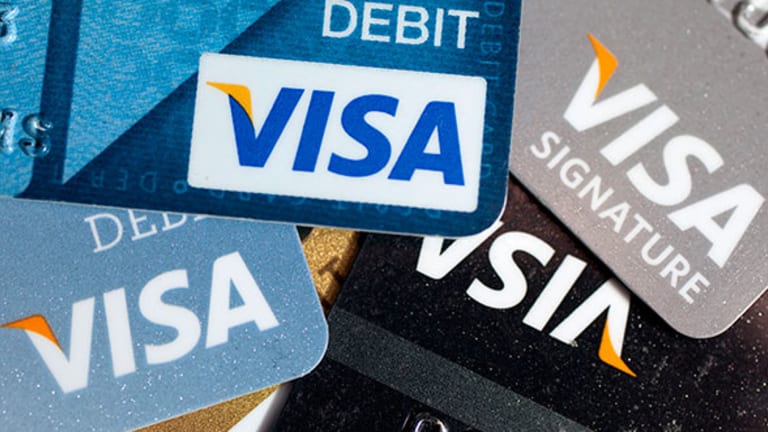 How Big of a Threat to PayPal Is Visa?
Should PayPal be concerned as Visa ramps up its digital checkout service and signs up more retailers?
Updated from Feb. 9 to include details on a new Visa Checkout redesign.
PayPal (PYPL) - Get PayPal Holdings Inc. Report is the clear leader in the online checkout world, having been around for 17 years and amassing close to 180 million users. But plenty of rivals are looking to profit from the growth in e-commerce. One of the strongest is Visa (V) - Get Visa Inc. Report, which has been actively promoting Visa Checkout as the answer to retailers' digital needs.
On Wednesday at the eTail West conference, Visa revealed a new redesign of Checkout, which will roll out in April. Some of the new aspects of the redesign include the ability for some merchants to personalize the messaging and images in Checkout, a new mobile design with a more streamlined process, and a simplified sign-up process that uses Google APIs to autofill things like address and name.
Visa isn't the only credit card company trying to trying to compete online -- MasterCard (MA) - Get Mastercard Incorporated Report and American Express (AXP) - Get American Express Company Report have entered the race as well with their own online payment services. But Visa has been particularly aggressive in gunning for PayPal's spot in the market. 
"Online and mobile commerce are among the fastest-growing channels in retail, but our merchant partners are still struggling to convert all the shoppers in these channels to buyers," said Sam Shrauger, SVP of Digital Solutions at Visa. "Given the continued growth in the online and mobile categories -- Visa, our banks, our merchants and their customers all benefit from Visa Checkout's simplified process for digital transactions." 
In January, Visa announced a number of new retailers that have added Visa Checkout to their sites, including Starbucks (SBUX) - Get Starbucks Corporation Report and Walgreens (WBA) - Get Walgreens Boots Alliance Inc. Report . As a part of that announcement, Visa also shared the results of a study it commissioned from comScore to prove how much better Checkout is than PayPal.
According to the report, Visa Checkout users have a 51% higher conversion rate compared to those who check out the traditional way (i.e., by manually entering a credit card number), while PayPal only has a 28% higher conversion rate compared to those who check out the traditional way. 
A Millward Brown study commissioned by Visa found that 95% of consumers thought the sign-up process for Checkout was easy and 96% of consumers felt secure making a purchase with Checkout.
Should PayPal be concerned?
Maybe. Visa has amassed 10 million active users, up from 7 million just three months ago. But compare that to PayPal's current active user base of 179 million.
Nonetheless, considering its later start, Visa's growth shouldn't be ignored, said 451 analyst Jordan McKee. Visa's numbers "pale in comparison to PayPal's user base, but clearly pose an emerging threat," he said.
Visa's later start is a double-edged sword in this case. On the one hand, Visa may be able to boast stronger growth numbers and add some novelty. On the other hand, PayPal has long been recognized as the leader in online payments, so Visa will have to fight that perception.
"PayPal has an advantage in that they have been at this for a long time and they have a large pre-enrolled user base," said Thad Peterson, a senior analyst at Aite. "Visa and MasterCard will have a hard time overtaking PayPal but they will probably get sufficient volume to stay relevant." 
PayPal is a holding in Jim Cramer'sAction Alerts PLUS Charitable Trust Portfolio. "Competition may be a concern for most payment facilitators, but not for PayPal -- not now," wrote Cramer and Director of Research Jack Mohr. "The company continues to dominate and the prospects are only more mouthwatering when we begin to consider the monetization of Venmo, which is PayPal's crown jewel in the peer-to-peer (P2P) payments world and has ingrained itself as the go-to P2P service for Millennials."
Exclusive Look Inside:
You see Jim Cramer on TV. Now, see where he invests his money and why PayPal is a core holding of his multi-million dollar portfolio.
Want to be alerted before Jim Cramer buys or sells PYPL?Learn more now.
Apart from its long head start and resulting experience, PayPal also has the advantage of being payment-agnostic, so it lets retailers accept all credit and debit cards. PayPal spokesman Anuj Nayar pointed to research from Ipsos that said that Americans are seven times more likely to use PayPal than Visa Checkout when it comes to feeling secure, as well as research from Forrester which found that PayPal is used over five times more often than Visa Checkout.
"Visa Checkout is essentially what PayPal was more than a decade ago -- a digital wallet for online payments," Nayar said, adding that One Touch, PayPal's newest checkout solution, is more advanced than Visa Checkout since consumer don't have to log in every time.
First Analysis analyst Larry Berlin thinks that PayPal should be more concerned about Amazon's (AMZN) - Get Amazon.com Inc. Report  checkout solutions, Pay with Amazon, than Visa, explaining that the Amazon brand is so solid that it's the first thing he thinks of when he goes to buy something online. "Amazon's the one that worries me," he said. "Is PayPal holding their own? Yeah. But they're worried."
But Berlin was quick to note that it's most likely not a zero sum game.
"There's room for multiple players," he said. "Everyone that wants to play in that space can find some room to play and grow."
But as the number of online payments options increases, the checkout page gets more and more cluttered. That's a problem on desktop and especially on mobile.
"We will undoubtedly see a thinning of the herd in this space," McKee said. "The market simply cannot support this many buy buttons -- it's far too fragmented for merchants and consumers. Too many options results in confusion, and confusion reverts consumers back to tried and trusted habits -- such as manual credit card entry."
In the meantime, Visa and PayPal will be fighting hard to make sure that they're not the ones who are thinned out.
"I suspect we will see this market boil down to a handful of alternatives over the next several years," McKee said. "While winners remain to be seen, one thing is for certain -- it's PayPal's game to lose."