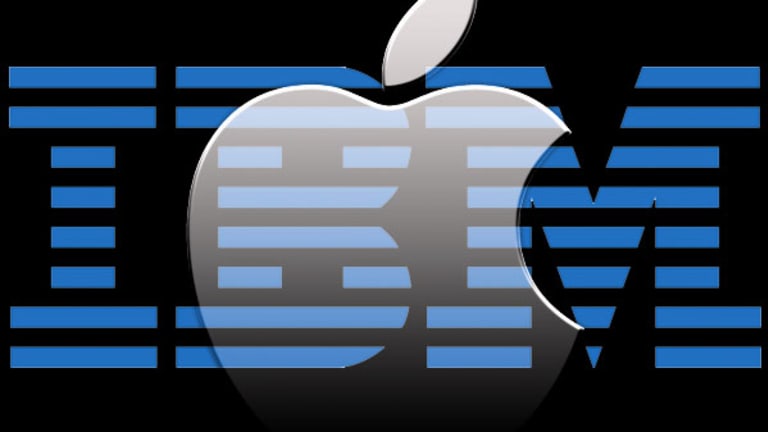 Updated from 10:18 a.m. to provide data from American Express and CFO Research in the tenth paragraph.
NEW YORK (TheStreet) –– Apple's (AAPL) - Get Apple Inc. (AAPL) Report historic deal with IBM (IBM) - Get International Business Machines (IBM) Report puts both companies at the forefront of enterprise budgets, but also crimps the moves BlackBerryundefined, Microsoft (MSFT) - Get Microsoft Corporation (MSFT) Report and others have made in recent years to enter the workspace.
Barclays analyst Ben Reitzes, who rates Apple outperform with a $110 price target, said he believes that a combined Apple and IBM team could derail the efforts BlackBerry has made in enterprise.
"With the consumer market more competitive, Apple seems very well-positioned to attack the enterprise market where companies like BlackBerry are ceding ground and Samsung is having trouble gaining a foothold," Reitzes wrote in a research note. "This deal could help Apple gain the critical support and distribution to tap into enterprise environments -- an opportunity that still seems nascent."
IBM, Apple Just Made an Historic Announcement for its Business Customers
Could BlackBerry Be Worth More Sold in Pieces?
Under CEO John Chen, BlackBerry has focused on staying relevant in enterprise software, as security becomes increasingly more important in the workplace. However, the company has had mixed success when it comes to monetizing the security technology. Given the deal between IBM and Apple, and other companies focusing on the enterprise space, this may increasingly become harder to do.
"We believe the spate of recent acquisitions (IBM-Fiberlink, VMware-AirWatch, Citrix-Zenprise) all add to the competitive pressures for BlackBerry in enterprise mobile management (EMM) as BlackBerry now finds itself competing against much larger and established enterprise vendors, as well as smaller, but better capitalized, vendors e.g. MobileIron (post-IPO),"
UBS
analyst Amitabh Passi wrote in a research note. Passi rates BlackBerry shares "neutral" with a $9 price target.
BlackBerry posted a net loss of 11 cents a share on $966 million in revenue its fiscal firstquarter, as it shipped and generated revenue on 1.6 million smartphones.
Under CEO Satya Nadella, Microsoft has made it a point to focus on the enterprise, enabling enterprises and employees to have better experiences with Microsoft's cloud and Enterprise Mobility Suite, which may be affected by the Apple, IBM deal.
"Beyond back-end cloud infrastructure, our cloud will also enable richer employee experiences," Nadella wrote in a recent email to all Microsoft employees. "For example, with our new Enterprise Mobility Suite, we now enable IT organizations to manage and secure the Windows, iOS and Android devices that their employees use, while keeping their companies secure."
The move by Apple and IBM is important, as companies continue to need a variety of critical technology for their businesses. According to new data from American Express and CFO Research, senior finance executives believe Business Intelligence (33% of respondents), Cloud Computing (27%), mobile technology (25%) and data collection (23%) are among the "most critical needs for increased spending on IT."
As part of the exclusive deal with Apple, IBM aims to bring a slew of new business apps to the mobile market, in an effort to combine IBM's big data capabilities with the analytics and user-friendliness of the iPhone and iPad. Under the deal, IBM will unveil a new class of more than 100 industry-specific enterprise solutions including native apps for the iPhone and the iPad, as well as prove IBM's cloud services to be optimized for iOS, including device management, security, analytics and mobile integration.
Cantor Fitzgerald analyst Brian White said he believes there could potentially be an iPhone and iPad in every cubicle. "For Apple, we believe the enterprise market represents a significant opportunity for both the iPhone and iPad," White wrote in an an analyst note. White estimated that approximately 250 million to 300 million smartphones are used at work at every year, and the deal allows use of iPhones and iPads at work, giving Apple an added benefit in the smartphone and tablet markets.
IBM will also offer AppleCare service and support to enterprise, and there will be new packaged offerings from IBM for device activation, supply and management.
Shares of Apple were higher in early Wednesday trading, gaining 1.3% to $96.51, while IBM tacked on 1.5% to $191.36. Shares of BlackBerry fell 4.4% to $10.80, while Microsoft shares gained 0.47% to trade at $42.65.
Bridget van Kralingen, senior vice president of IBM Global Business Services, said said the deal had been worked on for some time. "We came at this together," van Kralingen said in a phone interview with TheStreet. "We feel really quite strongly about one another's unique positioning. IBM is the gold standard for enterprise, and Apple is the gold standard for the consumer and consumability."
Both companies will build the IBM MobileFirst for iOS Solutions -- a new class of "made-for-business apps" -- which will target industries such as retail, health care, banking, travel and transportation, telecommunications and insurance. They will become available starting this fall and into 2015.
With 98% of the Fortune 500 and 92% of the Global 500 using the iPhone and iPad, it strengthens Apple's position in the enterprise using IBM's installed user base, noted Credit Suisse analyst Kulbinder Garcha.
"We view this partnership as positive for Apple in gaining further traction and solidifying its position with Enterprise by leveraging IBM's large installed base," Garcha wrote in a research report. "With enterprise solutions exclusively developed for iOS and tailored services provided from Apple and IBM, the iPhone and iPad will likely see increased enterprise use." Garcha rates Apple shares "neutral" with a $96 price target.
Though terms of the deal were not announced, analysts aren't expecting it to be material to IBM just yet.
"We believe IBM's revenue trajectory remains challenged through 2015, but we look forward to hearing more about how this iOS opportunity impacts the long term," Reitzes wrote in the note. IBM reports second-quarter results Thursday after the close of trading. It's expected to earn $4.29 a share on $24.1 billion in revenue, according to analysts' estimates.
-- Written by Chris Ciaccia in New York
>Contact by Email.