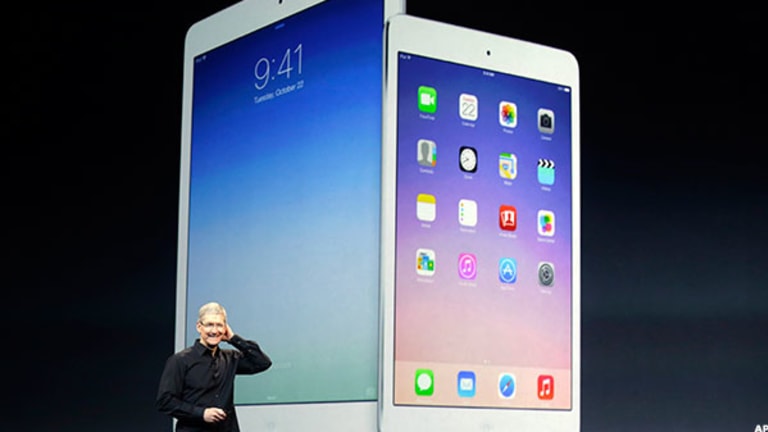 How Apple Outdid Itself With the New iPad
Apple one-upped the competition again, with the new iPad Air and iPad mini. The company may have one-upped itself in the process.
NEW YORK (TheStreet) -- Apple's (AAPL) - Get Reportunveiling of the iPad Air and iPad mini with Retina Display on Tuesday created the ultimate in first world problems: which one to buy?
Going into the event, many (myself included), thought the larger iPad would get the big boost in tech specs, and it did. It's now 1 pound (an engineering marvel almost like the new Mac Pro), is 20% thinner, and sports the A7 and M7 chips, first seen in the iPhone 5s. It also features MIMO support for better, faster Wi-Fi, and has a battery life up to 10 hours, depending on usage.
The iPad Air, Apple's fifth-generation iPad, which starts at $499 for Wi-Fi and $629 for LTE models. It also has a narrower bezel, allowing content to fill up more of the tablet.
The problem is, not only did the iPad Air (which by the way, is a great name) get a massive upgrade, so did the iPad mini.
Most were expecting the iPad mini to get Retina Display, which it did. However, it got a helluva lot more than just that. The new iPad mini, which starts at $399 for the 16 GB model ($70 more than the original iPad mini) also gets the A7 and M7 chips. Last year, the iPad mini, which has now been dropped to $299, received the A5 chip, so many were expecting the second-gen iPad mini to get the A6. Not so fast, said CEO Tim Cook and friends.
Credit Suisse analyst Kulbinder Garcha, who rates Apple "neutral" with a $525 price target, is disappointed by the price increase of the iPad mini. "The iPad mini now has a Retina display and improved LTE support," Garcha wrote in a note. "The tablet portfolio will now span from $299 to $499 for basic models, although we are somewhat disappointed by the effective price increase for the iPad mini. In aggregate, given a superior compute offering and ecosystem, Apple will remain dominant even if market share erodes."
While Apple did increase the price of the iPad mini, it packed in way more features than many thought it did. Phil Schiller, Apple's senior vice president of marketing, said Retina Display was the number one most requested feature for the iPad mini. To do that at a $329 price point and keep margins stable is impossible. I don't think the extra $70 is going to make much of a difference, especially when you take into account that Apple has more than 475,000 iPad-centric apps, and is now giving away iWork and iLife free with any new iOS device. Apple is packing in the features to further distance itself from Amazon (AMZN) - Get Report, and Google (GOOG) - Get Report, which recently unveiled new tablets.
Amazon recently unveiled the new Kindle Fire HDX, while Google unveiled a new Nexus 7.
By giving the iPad mini the full, new iPad Air experience, and adding Retina Display on its 7.9-inch screen, with a 326 pixel per inch (ppi) density, Apple has surpassed itself again.
Coming down to the initial question of which one to buy - it's really all about preference. It depends on whether you are more comfortable with a smaller tablet or a larger tablet. Apple's made the choice that much harder, as the iPad Air is just .27 pounds heavier than the new iPad mini with Retina Display.
Both tablets are incredibly portable, and Apple's engineering team has designed them that way.
Cantor Fitzgerald analyst Brian White, who rates Apple "buy" with a $777 price target, notes that the tech giant surprised "on the upside," regarding the refresh. "With Apple today announcing that 170 million iPads have been sold (as of earlier this month) since the introduction of the iPad, we believe this will prove to be a major upgrade cycle," White penned in the note.
By making the iPad mini and iPad Air essentially the same tablet, save for a $100 price difference (which consumers will look at), and a tiny bit difference in size and weight, Apple has made the buying experience harder on consumers. Further making the choice harder is that both tablets will come in the same color schemes: silver/white and space gray with black. The rumors of a gold iPad mini were put to bed...for now.
For Apple shareholders, that's a good thing, because they might just wind up buying both.
--Written by Chris Ciaccia in New York
>Contact by Email.