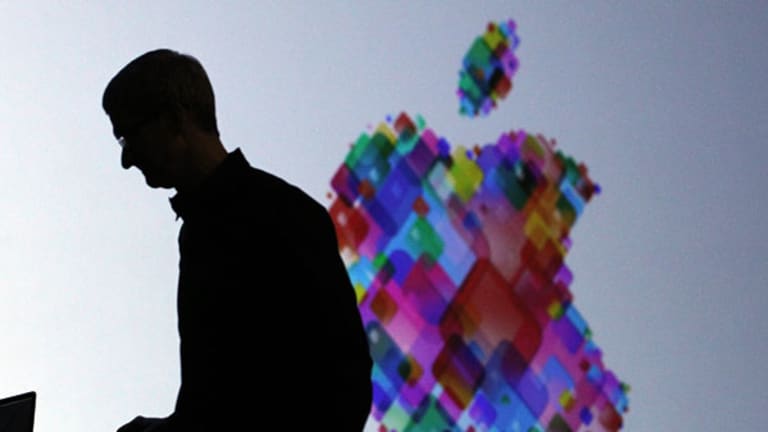 How Apple's iPhone Ad Hints at Its Next Big Thing
Apple unveiled its latest iPhone ad last night, targeted at health and fitness apps, showcasing all the tasks the iPhone can perform. Given the size of the health and fitness market now, it's clear investors are seeing this as the right move.
Updated from 9:06 a.m. to include revenue assumptions on iWatch from Morgan Stanley.
NEW YORK (TheStreet) -- Apple (AAPL) - Get Apple Inc. Report unveiled its latest iPhone ad last night, targeted at health and fitness apps, showcasing all the tasks the iPhone can perform. Given the size of the health and fitness market now, it's clear investors are seeing this as the right move.
The latest ad, which shows people swimming, running, playing golf, lifting weights and other activities, shows that Apple is trying to demonstrate that its device has a multitude of use cases, particularly thanks to the App Store, of which there have been over 75 billion downloads and counting.
According to a report from research firm Research2Guidance, there are now more than 100,000 dedicated health and fitness apps on Apple's iOS and Google's (GOOG) - Get Alphabet Inc. Class C Report Android platform, with the projected revenue to be $26 billion by the end of 2017. This is up from $2.4 billion this year, so it's clear the segment is exploding. Though much of the revenue is concentrated at the top with the top 5% of app publishers seeing more than 500,000 downloads, making more than $1 million a year in sales.
The devices that had the most connections to APIs (Application programming interfaces) were MyFitnessPal, MapMyFitness, and EveryMove, all around 30 instances. The devices that connected to the most apps had Withings, which saw 90 app connections, and Wahoo, which connected to 70, both featured in the new iPhone ad.
Also included in the ad are the Misfit Shine waterproof ring activity, the Zepp golf swing analyzer, as well as several other apps dedicated towards staying in shape.
Apple's decision to announce its Health app at its Worldwide Developer Conference shows that Apple is taking the health and fitness market seriously, both from a software perspective and, eventually, a hardware perspective, as the company gets ready to launch its long-awaited iWatch, later this year.
"With HealthKit and HomeKit added to iOS 8, we believe these software features support Apple's potential hardware move into wearables such as an iWatch," noted Canaccord Genuity analyst T. Michael Walkley in a research note, following WWDC.

WATCH: More tech videos on TheStreet TV
Walkley noted that Healthkit (part of the Health app) is important because it has "deals with hospitals such as the Mayo Clinic to enable better monitoring of health, incorporating wearable devices." As part of the announcement, Apple announced that Health (with users permissions), can integrate doctors to see how the user is doing. The company has an enormous list of hospitals and clinics it's working with, including Johns Hopkins, Yale, Stanford, Mount Sinai and many, many others. 
Walkley rates Apple shares "buy" with a $710 price target.
Though the health and fitness app market is expected to reach $24 billion by the end of 2017, the hardware market for wearable technology is even more promising, allowing Apple to hit this burgeoning trend on both fronts. This market is expected to be worth $60 billion by 2018, according to research firm IHS.
Cantor Fitzgerald analyst Brian White, who rates Apple shares "buy" with a $777 price target, notes HealthKit may be a precursor to the iWatch.
"In our view, HealthKit is very interesting and dovetails with our expectation of an "iWatch" launch this fall, which we believe can take advantage of health-related monitoring," White said in a research note. "Apple highlighted working with Nike and the Mayo Clinic as it relates to HealthKit."
Apple does approximately $170 billion a year in revenue, and the iWatch, though it would not be as large a revenue driver as the iPhone, it may wind up being noteworthy, especially at it grows over time. "Our working assumption is that iWatch will largely be adopted as an accessory device and therefore sold into the existing customer base like the iPad rather than to new customers like the iPod or iPhone," Morgan Stanley analyst Katy Huberty wrote in Feb. research note about Apple. "Assuming an ASP of $299 and Apple customer base penetration rate similar to the iPad, we see up to $17.5B of revenue in the first 12 months compared to $12B for the iPad and $2.5B for the iPhone."
As speculation about Apple's move into the health market as its next big thing has increased, the company's stock price has rose, buoyed by strong fiscal second-quarter earnings, and shareholder friendly moves, including an increase to the buyback and dividend program, as well as a 7-for-1 stock split.
Apple reported second-quarter earnings of $11.62 a share, generating $45.6 billion in revenue. The company shipped 43.7 million iPhones, 16.4 million iPads, and shipped 4.1 million Macs during the quarter. Gross margin, a highly watched level for Apple, came in at 39.3%. Apple also announced that it was upping its capital allocation program to over $130 billion by the end of calendar year 2015. As part of the program, the board increased its share repurchase authorization to $90 billion from $60 billion, and boosted its quarterly dividend by 8%, to $3.29 a share. The stock split is effective June 2 and shares will begin trading on a split-adjusted basis on June 9.
Though the iPhone ad may be focusing on what users can do with the iconic smartphone, it speaks to a broader trend. The company is saying consumers are ready for wearable technology -- and it's coming, sooner rather than later.

Also See: Apple WWDC Live Blog Recap
Also See: Apple WWDC: What Wall Street's Saying
Also See: How Apple's iWatch Can Help Wearables
--Written by Chris Ciaccia in New York
>Contact by Email.