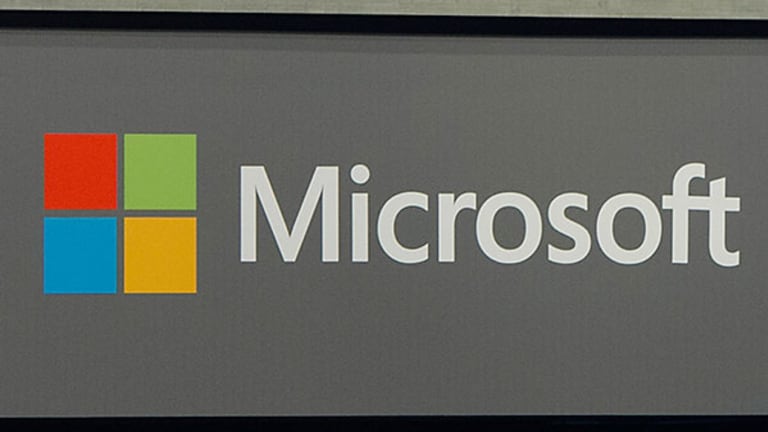 How Apple and Microsoft Can Dominate The Next Big Thing
Microsoft, Apple, and others are currently or reported to be betting part of their futures on wearable devices, a market that is poised to explode over the next few years.
NEW YORK (TheStreet) -- Companies such as Microsoft (MSFT) - Get Microsoft Corporation Report, Apple (AAPL) - Get Apple Inc. Report, Samsung, Fitbit, Jawbone, and to as lesser extent, Garmin (GRMN) - Get Garmin Ltd. Report, are currently or reported to be betting part of their futures on wearable devices, with a market that is poised to explode over the next few years, as devices go mainstream.
According to research firm IHS, the wearable device market is expected to be worth $60 billion by 2018. This fact is corroborated by research firm ON World, who estimates that mobile sensing wearables-- fashionable devices that perform sensing and location functions, will be a $50 billion industry in the next five years, led by products such as smart watches, smart glasses and a host of other wearable devices.
It's expected that over the next five years, more than 700 million wearable tech devices will be shipped, as consumers begin to realize the benefits of such devices. ON World surveyed more than 1,000 U.S. consumers, noting that 19% already own or plant to own a wearable technology product in the next year, with another 13% likely to purchase one within two years.
Why Twitter Shares Have Soared Over the Past Month
How Apple's iWatch Can Help Wearables
Enter reports such as one on Microsoft, which is reported to be working on a wrist computer that will either look like a wristwatch and perform tasks like a smartphone or may even be a slim connected exercise/wristband which could also include some smartphone-like messaging features.
Microsoft could not be reached for comment to confirm the patent.
Redmond, WA.-based Microsoft has long had a track record of being first with innovative idea, that have not worked out as successful consumer products. Microsoft has had issues with hardware products, including the Kin, Zune, WebTV and recent software, such as Windows Vista and Windows 8. In 2002, Microsoft co-founder Bill Gates took to the stage at the COMDEX show to talk about connected households and how products would soon talk to and inter-operate with each other. Less than two years later, Microsoft announced SPOT (Smart Personal Objects Technology), a system that had the ability to connect personal devices such wristwatches with household items like Melitta coffee makers and bedroom alarm clocks. SPOT turned out to be a flop and the system was discontinued in 2008.
This time around Microsoft won't be first in the marketplace, but may incorporate one major feature. The Microsoft watch is rumored to connect not only with Windows, but Google's (GOOG) - Get Alphabet Inc. Class C Report Android and certain Apple devices, potentially giving the product a slight advantage over most of its competition. The smartwatch may also able to connect to Xbox gaming consoles, helping it appeal to the same audience which eschews the idea of wearing any sort of timepiece.
With Windows 8 never really catching on, mixed, but improving results for the Microsoft Surface, and the Xbox One trailing Sony's SNE PlayStation 4 in console sales, Microsoft CEO Satya Nadella could use a hit consumer-facing product.
Down the coast in Cupertino, Calif., Apple (AAPL) - Get Apple Inc. Report is reported to introduce a smartwatch/wrist device, this fall, which may effortlessly connect to iOS 8 devices and will feature apps and services geared toward health-conscious consumers. The device, rumored to be called the iWatch, may be a huge hit, according to Wall Street.
Evercore Partners Rob Cihra, who rates Apple "overweight" and recently raised his price target to $115 from $100, believes the company could sell as many as 5 million iWatch units in the December quarter, and 18 million units in fiscal 2015, priced at $249.
"We model iWatch/iBand adding 2% to Apple revs but 10% attach rate + $299 price-tag could make it a 5% business," Cihra wrote in a research note earlier this week. "Either way we see it extending a growing Apple theme of "continuity" across platform, a unique point of leverage off a closed-loop ecosystem. This makes iOS devices more valuable to users (e.g., seamless functionality, ease of use) and developers (e.g., iOS per-user monetization/profitability consistently higher than Android's), as well as sets stage for more secure services in e/mCommerce, advertising (leveraging Apple's uniquely high-end demographic) and location (e.g., iBeacon)."
Apple CEO Timothy D. Cook has intimated that Apple may move into wearable technology, noting the wrist is an "interesting" area to explore. "The whole sensor field is going to explode," Cook said during a 2013 conversation with Kara Swisher and Walt Mossberg. "It's a little all over the place right now. With the arc of time, it will become clearer. The wrist is interesting. You still have to convince people it is worth wearing."
Though Microsoft and Apple have garnered much of the attention in recent weeks, they are not the only ones betting on wearable computers.
In June, Google gave an update on devices that will run on its wearable-centric operating system, Android Wear. LG and Samsung were the first to announce their smartwatch designs conforming to the new standards, and Motorola is also working on an Android Wear wrist computer of its own, set to be released in a few weeks.
In addition to working on a Android-based watch, Samsung has its line of second-generation Galaxy Gear watches. All three of the recently released devices run on Samsung's own operating system, codenamed Tizen. The aforementioned Sony has been making Android-based watches for a few years now, and several other companies make watches, from companies such as Garmin (GRMN) - Get Garmin Ltd. Report to other smaller firms such as Pebble.
There are also a host of fitness-centric wrist bands currently on the market, including the Nike (NKE) - Get NIKE, Inc. Class B Report FuelBand (Nike will be discontinuing its FuelBand hardware, but will still make software), Jawbone's UP 24 and the Fitbit Flex. There are also a multitude of multi-colored models from SYNC, Rogue, Soleus, Basis (now owned by Intel (INTC) - Get Intel Corporation Report,) iFit and Garmin.
Despite the slew of devices already on the market, consumer reaction has been mixed, with adoption less than what some had expected by now. While no one has yet been able to convince mainstream consumers why they need a computer on their wrists, Current Analysis analyst Avi Greengart said via phone Microsoft and Apple are best poised to do so. "Microsoft and Apple would be the ones to explain to the buying public why they need a device like this."
-- Written by Gary Krakow and Chris Ciaccia in New York.
To submit a news tip, send an email to tips@thestreet.com.