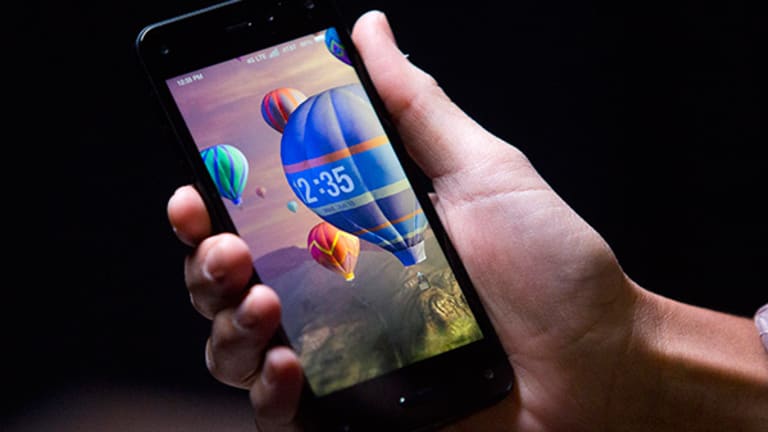 How Amazon's Phone Is Different Than Anything Else It's Ever Done
Amazon's latest piece of hardware, the Fire phone, may be a push for the Internet giant to finally do what its critics have long asked it do: sell products at a profit, instead of at cost, or even a small loss.
Updated from 9:58 a.m. to include information from Pacific Crest Securities analyst.
NEW YORK (TheStreet) -- Amazon's (AMZN) - Get Amazon.com, Inc. Report latest piece of hardware, the Fire phone, may be a first for the online seller of just-about-everything: sell products at a profit, instead of at cost, or even a small loss. That's a business model the company's critics have long been asking it to do.
The phone, which was announced yesterday by CEO Jeff Bezos in Seattle, will sell for $199 for the 32 GB version, and $299 for the 64GB version. Those prices fit its contract with AT&T (T) - Get AT&T Inc. Report, which is the exclusive U.S. provider of the phone. Off contract, the phone costs $649, more expensive than the average price of Apple's (AAPL) - Get Apple Inc. (AAPL) Report iPhone last quarter, which was $596.17 ($26.06 billion in revenue divided by 43.719 million units).
With the price of Amazon's phone as it is, not only will this help Bezos to sell additional goods (physical and digital) to the phone's owners, but actually make money selling the device as well. SunTrust analyst Robert Peck, who rates Amazon shares "buy" with a $425 price target, said that strategy could add as much as $3.4 billion in revenue for Amazon over 2 years, with $2.9 billion coming in the first year.
"Based on cohort analysis, we believe total 2-year economics (2-year wireless plan) to Amazon from Fire at AT&T could be $3.4 billion in revenue and [around] $650 million in GP [gross profit]," Peck said in a research note.
Such new revenue would be a boost to Amazon, which despite first-quarter revenue that increased 23% to $19.74 billion compared to the same period a year earlier. On the first-quarter conference call, Amazon officials said that unit growth, a key metric for the Seattle-based retailer, rose 23% in the first quarter, versus 25% in the fourth quarter, while third-party (3P) unit growth was 23%, compared to 25% in the prior quarter.
Not only would the device help boost revenue for Amazon, it could also boost margins, given the components of the device (in the first quarter, Amazon's operating margins were 0.7%). The 4.7-inch phone runs on a quad-core 2.2 GHz process, has 2 GB of RAM, and has a Corning (GLW) - Get Corning Inc Report Gorilla Glass screen, along with a Andreno 330 Graphics Processor. The phone also has a 720p resolution display, which is much lower than the 1080p display on the iPhone.
By incorporating some lower-end features (such as the display) into the phone, it's possible that the device has a gross margin approaching 35%, notes Peck.The Fire phone also comes with Dolby virtual surround, Dual stereo speakers, a 13 MP rear-facing camera, along with a f/2.0 five element lens. During the presentation, Bezos remarked that the Fire phone has an exceptionally strong camera, and with the use of Amazon Cloud Drive, users will have unlimited storage of their photos for free, elements which caused Jefferies analyst Brian Pitz to remark that the device "is definitely a technological step forward."
The phone itself is feature rich, notes Oppenheimer analyst Andrew Uerkwitz, which could allow it to be a trend-setter with other hardware companies, particularly as it relates to the camera, and the use of Dynamic Perspective and optical image stabilization (OIS). "With Amazon's growing influence in consumer electronics, we believe other OEMs may follow its footsteps in the adoption of OIS and some form of advanced tracking and sensing subsystem for more intuitive user interface," the analyst penned in a note.
CEO Jeff Bezos also talked about how Amazon's phone, which runs on a forked version of Google's (GOOG) - Get Alphabet Inc. Class C Report Android benefits from its ecosystem, noting the company has "tens of millions of Prime members," but declined to give an actual amount. Bezos said that the Amazon way of doing things has led to them building a phone on the foundations of the company's hardware expertise, its millions of customers and the Prime ecosystem. "Patience, persistence, and obsessive attention to detail," Bezos said during the presentation, noting that Amazon's mantras have allowed Amazon to be the #1 company on the American Customer Satisfaction Index, an indication that the company has earned the trust of its customers, which Bezos said is a recipe for success.
Pacific Crest Securities analyst Chad Bartley notes that growth of Prime memberships "accelerated the last two years after the Kindle Fire launch." This is an important statement, as Prime members spend roughly four times as much as Amazon customers who do not have a Prime membership. Amazon recently raised the price of Prime, its free two-day shipping service to $99.
Though many were impressed with the phone and the announcement, it's going to be difficult for Amazon to make a dent in the smartphone market, particularly the high-end, which is largely dominated by Apple and Samsung.
According to research firm eMarketer, there will be 1.76 billion smartphone users worldwide in 2014, which is 37.8% of the global phone market. JPMorgan analyst Doug Anmuth isn't expecting much in the way of sales initially. "The phone is currently available through just one carrier (AT&T), and we expect a modest 2-3M in sales this year," Anmuth wrote  "We expect Fire Phone sales will be driven by strong integration with Amazon digital media products, heavy homepage
marketing toward Amazon's large existing customer base in the U.S.-especially Prime customers-and help from AT&T."
Despite the fact that Amazon may indeed make money from its Fire Phone, a strategy it has eschewed in the past with the Kindle Fire tablets and Kindle e-readers, Amazon is still intent on using its devices to sell additional goods and content, expanding its ecosystem, particularly with new features.
Bezos unveiled a feature known as Firefly (though the feature is already available on Amazon's iPhone app), which can recognize over 100 million items, such as a CD, song, book, game, food or other item. For a instance, if a user sees a CD, a song from it can be played on Amazon on another music app such as Pandora (P) or iHeartRadio. Users can scan a book using Firefly, and then purchase it.
Features such as Firefly, and the inclusion of one year of Amazon Prime for free could help boost sales, notes JMP Securities analyst Ronald Josey. "At scale, we believe the Fire Phone could reaccelerate North American Media growth given its integration with Amazon's Media and overall offerings," Josey wrote in the note. There's also the potential for additional features to come to later versions of the phone, says Peck, such as payments, mobile ads, and local services.
It appears that Amazon is indeed listening to investors, who punished the stock after the last quarter who became agitated that the company is forgoing profits for market share, for as long as the company has been in existence. The Fire phone is the first step in this new outlook for the company, but it remains to be seen whether consumers will help Amazon on its new mission.
--Written by Chris Ciaccia in New York
>Contact by Email.