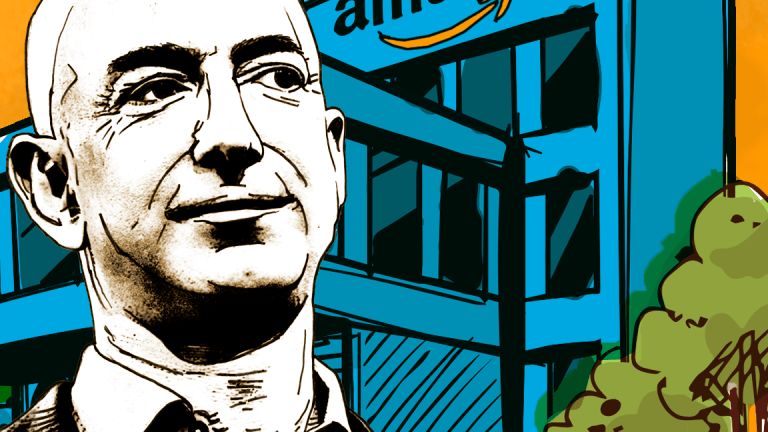 How Amazon's Bottom-Line Improvements Help Pay for 1-Day Shipping and More
By cutting shipping distances, making its warehouses more efficient and directly handling more of its shipping needs, Amazon can more easily justify large investments in new online retail services.
Over the years, Amazon.com (AMZN) - Get Amazon.com, Inc. Report  has earned quite the reputation for passing on cost savings to customers, either via price cuts or a higher level of service quality.
Recently, when it comes to its e-commerce operations, Amazon seems to have stepped up its use of the latter approach to passing on cost savings, as it launches one new service initiative after another.
New Amazon Service Offerings
During Amazon's April 25th earnings call, CFO Brian Olsavsky raised a lot of eyebrows when he disclosed that Amazon aims to make 1-day shipping the norm for Prime deliveries in the U.S. and elsewhere. About a month later, Amazon disclosed that about 10 million items are available for free 1-day shipping in the U.S.; with Amazon having said that over 100 million items are available for free, look for the 1-day number to continue rising in 2019.
But while the 1-day initiative has received the most attention, it's by no means the only effort Amazon has unfurled in recent months to provide new or improved online retail services to consumers.
One other notable project: Partnering with bricks-and-mortar retailers on local order pickups and returns. An expanded returns partnership with Kohl's (KSS) - Get Kohl's Corporation (KSS) Report was announced in April. And this week, Amazon unveiled Counter, a service through which customers can have items shipped to local retail stores for pickup. Drugstore chain Rite Aid  (RAD) - Get Rite Aid Corporation Report is Amazon's first partner for Counter.
Another effort that has been getting a lot of attention from Amazon: Expanding the reach of Whole Foods grocery delivery services that are provided via its Prime Now service, which provides free 2-hour deliveries (subject to a $35 order minimum) for select items. In early May, Amazon said that Prime Now supports Whole Foods deliveries in 88 U.S. metro areas; that's up from just 24 as of July 2018.
Amazon.com and Kohl's are holdings in Jim Cramer's Action Alerts PLUS member club. Want to be alerted before Jim Cramer buys or sells AMZN or KSS? Learn more now.
How Amazon's Cost Structure Has Been Improving
The $20 price hike Amazon carried out last month for annual U.S. Prime subscriptions makes it a little easier to justify the cost of such initiatives. But Amazon's non-stop efforts to make its fulfillment and shipping operations work more efficiently -- efforts that Olsavsky has highlighted on earnings calls when discussing how Amazon's spending growth slowed in 2018 -- are clearly helping out as well.
One source of improved operating efficiencies is pretty straight-forward: The more warehouses that Amazon builds, the more it reduces the average distance a package needs to travel to reach a customer. That naturally improves both the economics and the feasibility of a project to make tens of millions of items available for free 1-day delivery, which in turn might motivate customers to spend more on Amazon. Scale begets more scale.
Warehouse automation is also clearly helping Amazon improve its cost structure. The company had over 100,000 robots deployed within its warehouses to help move items around, and that figure is undoubtedly higher today. Amazon has also been investing in using machine learning to help its robots operate more efficiently, and (in what could pave the way for a larger rollout down the line) recently began deploying a small number of robots that can fully take over the job of boxing customer orders.
Last but not least, Amazon has been lowering its per-unit shipping expenses by building out its logistics/shipping infrastructure, and in doing so lowering its dependence on the likes of UPS (UPS) - Get United Parcel Service, Inc. Class B Report , FedEx (FDX) - Get FedEx Corporation Report and the USPS. Recently, citing tracking data for millions of Amazon packages, research firm Rakuten Intelligence estimated that Amazon is now handling over 47% of its package shipments on its own, up from slightly over 20% two years ago.
It's possible that this estimate is high -- an Amazon spokesperson said Rakuten's figures "are not an accurate representation of how Amazon shipments are shared between Amazon and our carrier partners." However, it's pretty clear that the portion of U.S. shipping work that Amazon is handling internally has grown considerably in recent years. The company is also directly handling more and more of the shipping of items to its warehouses, thanks to its investments in things such as
.
The Big Picture
With the help of such efforts to improve its cost structure, as well as the growth of higher-margin revenue streams such as third-party seller services and ads, Amazon's North American segment, which covers all of its North American operations outside of AWS, saw its GAAP operating profit rise over 150% last year to $7.3 billion. Now, it looks as if the company is once more eager to dial up its spending in the wake of bottom-line improvements.
By funneling a lot of these cost savings back into the business by way of new and enhanced e-commerce services, Amazon is naturally hoping not only to keep Prime members loyal, but to drive higher order volumes and perhaps also increase Prime's long-term pricing power. Assuming Amazon's efforts have these long-term effects, they'll yield additional revenue that the company could potentially use to invest more in its infrastructure and/or roll out new services.
In other words, greater scale would help beget more scale. It's an old story for Jeff Bezos' firm.