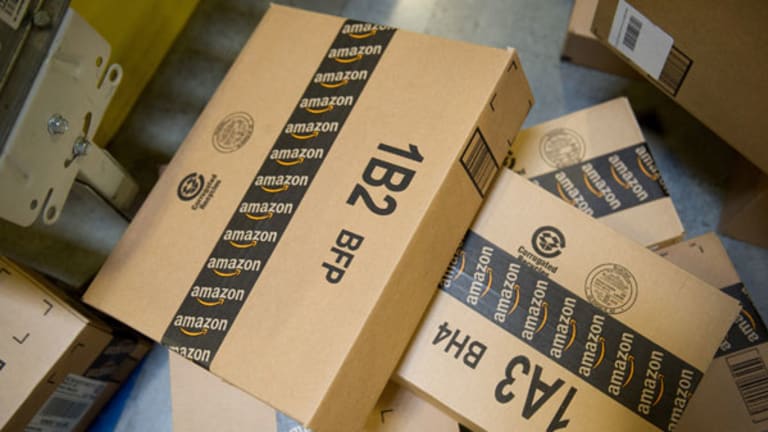 How Amazon Is Going After Apple and Google
Amazon is going after the grocery business as its next big growth engine, but don't let that fool you into thinking that's all it's focused on. The next target for Amazon? Your living room.
NEW YORK (TheStreet) -- Amazon (AMZN) - Get Report is going after the grocery business as its next big growth engine, but don't let that fool you into thinking that's all it's focused on. The next target for Amazon? Your living room.
According to a report in GigaOM, Amazon's long awaited and oft-rumored set-top box will be unveiled any day now, with the company not only including its own Amazon Prime streaming service, but Netflix (NFLX) - Get Report and Hulu Plus services as well.
Amazon could not be immediately reached for comment for this story.
Shares of Amazon were slightly lower in early Wednesday trading, falling 0.14% to $368.30
Not only does this place Amazon firmly in the battle for the living room, as it seeks to hawk its Amazon Prime Instant Video service which is part of Prime, it also places the online retailer in even more competition with Apple (AAPL) - Get Report and Google (GOOG) - Get Report. The iPhone maker and the Internet giant already have their own technologies for the living room, with Apple TV and Chromecast, respectively. Google recently announced plans for international expansion of its popular Chromecast, which costs $35. According to Sundar Pichai, Google's SVP of Android, Apps and Chrome, the device has sold "millions" of units, but Pichai would not give an exact number.
Disclosure: I have a Google Chromecast in my living room, and I love it.
Privately held Roku is also in the set-top business, with the company recently announcing a new $49.99 Roku Streaming stick.
Amazon will likely used Google's Android for the operating system on its set-top box, much as it does with its Kindle Fire tablets. However, like its Kindle Fire tablets, it will use a forked (customized) version of Android, making it unlikely that it has a native YouTube app. If you search for YouTube in Amazon's Appstore, you see a variety of apps that pull content from YouTube, but no official YouTube app.
For a while, there was no official Netflix app either for the Kindle Fire HDX, but Amazon soon rectified that situation.
The set-top box business, once dominated by Cisco (CSCO) - Get Report with its Scientific Atlanta purchase, has become a big business for technology companies, not only as a way to sell additional hardware, but to combine this hardware with the firms' software. Apple has done this the best, with Apple CEO Timothy D. Cook saying the tech giant has made more than $1 billion worth of sales in the space during the past year. "It's a little more difficult to call it a hobby these days," Cook recently said, at Apple's annual investor meeting.
Amazon is entering a crowded field, and will have to compete with companies, including Apple, that have much more experience in delivering hardware and services fluidly. Apple is getting ready to launch a new version of Apple TV later this year, which may include expanded gaming capabilities. The Cupertino, Calif.-based firm has also been beefing up its content offerings on Apple TV, establishing a channel specifically for The Beatles. Apple also recently added the WWE Network, from World Wrestling Entertainment (WWE) - Get Report to  Apple TV.
Last year, Apple added offerings from HBO Go, a division of Time Warner (TWX) and WatchESPN, a division of Walt Disney (DIS) - Get Report, to make the box more appealing to consumers.
The pending set-top box comes as Amazon is mulling over raising the cost of its Amazon Prime service, which currently costs $79 per year. On Amazon's fourth-quarter earnings call, the company said it was considering raising prices to $40 from $20 annually on the service, which provides free, two-day shipping, as well as access to television shows and movies. The company is also working on including a streaming music service in Amazon Prime, according to The Wall Street Journal, but would limit how much users can use the service, unlike Pandora (P) or Apple's iTunes Radio.
--Written by Chris Ciaccia in New York
>Contact by Email.