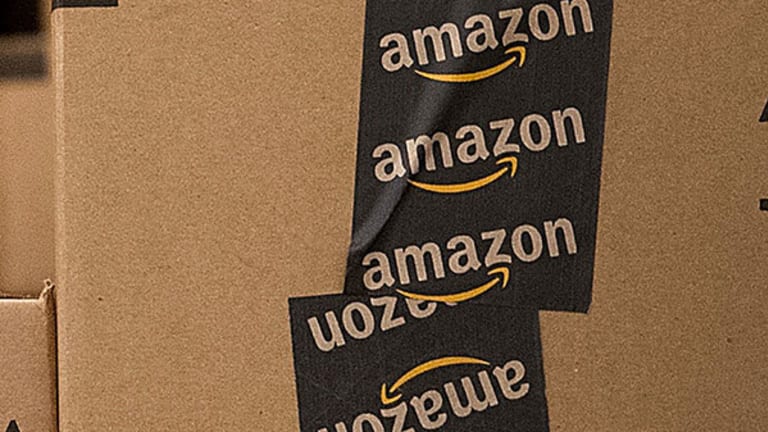 How Amazon Drones Will Become 'Normal as Seeing Mail Trucks'
Amazon is intent on making delivery by drone a reality, as it battles with the Federal Aviation Administration, asking the government agency if it can start testing outside designated areas.
NEW YORK (TheStreet) –– Amazon (AMZN) - Get Amazon.com, Inc. Report is intent on making delivery by drone a reality, as it battles with the Federal Aviation Administration, asking the government agency if it can start testing outside designated areas.
Amazon sent a letter to the FAA earlier this week, noting that the Seattle-based company wants to test drones near its R&D center. Currently, the FAA only has six sites for testing drones in the United States, but Amazon wants to go above and beyond that.
In the letter, Amazon Vice President of Global Public Policy Paul Misener notes that the new deliver system would get packages to customer "in 30 minutes or less," and that customers will see the benefits of it. "We believe customers will love it, and we are committed to making Prime Air available to customers worldwide as soon as we are permitted to do so," Misener wrote in the letter.
Amazon Drones Set to Take Out UPS, FedEx
Since the drone program was first announced in December 2013 on CBS (CBS) - Get CBS Corporation Class B Report60 Minutes program, Amazon has made advancements on the Prime Air program, including:
"Testing a range of capabilities for our eighth- and ninth-generation aerial vehicles, including agility, flight duration, redundancy, and sense-and-avoid sensors and algorithms;
Developing aerial vehicles that travel over 50 miles per hour, and will carry 5- pound payloads, which cover 86% of products sold on Amazon; and Attracting a growing team of world-renowned roboticists, scientists, aeronautical engineers, remote sensing experts, and a former NASA astronaut."
"I know this looks like science fiction," Amazon CEO Jeff Bezos said during the 60 Minutes interview with Charlie Rose, as he unveiled the automated delivery drones. "It's not."
Right now, the FAA allows small unmanned aircraft systems (sUAS) to be flown with a "wide latitude" outdoors, if it's done by hobbyists and manufacturers, but since Amazon is a business, it has been limited to doing the tests indoors or other countries. With the exemption it's seeking, it's looking to change that, and make Prime Air a prime initiative for Amazon.

WATCH: More tech videos on TheStreet TV | More videos from Keris Alison Lahiff
Amazon hopes Amazon Prime Air will be available as soon as next year. "We hope the FAA's rules will be in place as early as sometime in 2015. We will be ready at that time," the company said on its Web site.
In the letter, Amazon provided some detail on the sUAS, noting they will have a maximum weight of no more than 55 pounds, will be be rotor-powered via a battery source and they will be be U.S.-registered, with display marks in accordance with 14 C.F.R. Part 45, Subpart C.5. In addition, the testing will be done at less than 400 feet AGL (above ground level) and within Class G airspace.
Amazon also affirmed that the testing would be done over isolated Amazon property, and "a sufficient distance away from (i) any airport, heliport, seaplane base, spaceport or other location with aviation activities; (ii) any densely populated areas; and (iii) any military or U.S. government installations or airfields."
Though delivery by drone and not a UPS (UPS) - Get United Parcel Service, Inc. Class B Report or FedEx (FDX) - Get FedEx Corporation Report driver may be unusual for most, Misener wrote that not only will it become ordinary, but there will be enormous benefits as well. "One day, seeing Amazon Prime Air will be as normal as seeing mail trucks on the road today, resulting in enormous benefits for consumers across the nation."
Here is a link to the entire letter.
--Written by Chris Ciaccia in New York
>Contact by Email.