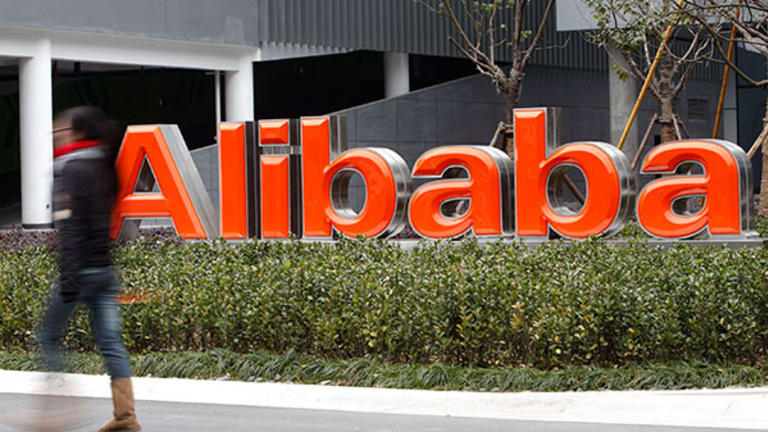 Publish date:
How Alibaba Gets Products to 350 Million Buyers -- Q&A With Cainiao President Judy Tong
Just as Amazon is trying to speed up and expand its delivery in the U.S., Cainiao -- the logistics affiliate of Alibaba -- is doing the same in China.
Just as Amazon is trying to speed up and expand its delivery in the U.S., Cainiao -- the logistics affiliate of Alibaba -- is doing the same in China.
NEW YORK (TheStreet) -- Last year on Singles Day, China's biggest shopping day of the year, Alibaba (BABA) - Get Report processed the delivery of 278 million packages across the country. Making sure each package arrived securely was the responsibility of Alibaba's logistics affiliate Cainiao.
Cainiao was founded in May 2013 in an effort to improve Alibaba's delivery services. Alibaba doesn't handle logistics itself; instead, Cainiao works with 15 different logistics partners to help products from Alibaba's marketplaces reach Chinese consumers.
As Amazon (AMZN) - Get Report continues its efforts to speed up delivery and expand its reach in the U.S., Alibaba's Cainiao is doing the same in China. Last month, Cainiao urged delivery partners to step up their efforts to deliver goods quickly and not take part in attempts to falsely boost sellers' ratings by sending empty packages. Two weeks prior to that, Alibaba announced a new investment in one of those logistics partners, YTO Express.
Those investments are growing increasingly important as Alibaba picks up its cross-border efforts. This week, Jack Ma, Alibaba's founder and executive chairman, is visiting the U.S. to try to get more American merchants on Alibaba's marketplaces. With more cross-border merchants comes heightened pressure for Cainiao to be on top of its logistics game.
To learn more about how one of the biggest e-commerce companies in the world handles logistics, TheStreet spoke to Cainiao's president, Judy Tong. Here is the lightly edited interview.
Rebecca Borison: Why does Cainiao partner with third-party logistics companies instead of operating logistics on its own?
Judy Tong: Cainiao is taking a platform approach to shipping and delivery by working with third-party logistics service providers, in order to provide high-quality delivery services to sellers and buyers on a large scale. The scalability of this network approach was proven successful on Nov. 11, 2014 where Cainiao processed 278 million packages during the Singles Day promotion.
The logistics network model makes it easy to scale rapidly to reach all markets across China including third- and fourth-tier regions and remote rural areas. In addition, by collaborating with logistics companies, Cainiao can focus on investing in its own data technology and building up logistics infrastructures to enhance delivery speed and better support the needs of our merchants.
We have to be open-minded and believe that our partners can do better than us in many aspects.
RB: How does the logistics ecosystem in China differ from that in the U.S.?
JT: China's logistics sector is poised for major growth as economic development continues; however, the industry as a whole remains at an early stage and fairly fragmented with multiple players but limited service offerings.
The exponential growth of e-commerce in China is testing the limits of logistics companies in China, and logistics has become one of the biggest hurdles for online retail in China.
RB: How are you working to speed up delivery?
JT: Cainiao operates a proprietary logistics information platform that links a network of logistics providers, warehouses and distribution centers, which allow participants to confidentially share information on orders, delivery status and user feedback. This information flow and related data analysis help logistics companies to achieve higher efficiency and quality service for both merchants and consumers.
In May 2015, Cainiao launched three-hour speedy delivery services in five major Chinese cities, which will initially deliver healthcare products. By the end of 2015, Cainiao plans to expand this service to 14 other major cities and cover more product categories. Currently, Cainiao is able to offer next-day delivery service in 34 cities and plans to expand to 50 cities by the end of this year.
We are looking to further develop tiered delivery service as a way to enhance user experience. As part of this effort, we have set up more than 20,000 order pick-up spots across China to let consumers get their packages from their neighborhood.
RB: Is fast delivery one of your major priorities?
JT: Fast is only one important aspect of logistics services; however, for consumers, reliability is top priority. We attach great importance to reliability and are committed to elevating the bar of logistics services.
To build a reliable logistics network, we need to have a stringent verification system to ensure industry players' service standards, make good use of social resources, as well as incorporate data technology into our operations.
RB: How do you decide which partner delivers a product?
JT: Cainiao serves as a standard-bearer to make sure the services provided by our partners are up to standard. Those who don't abide by the rules and fail to offer quality services will be penalized or driven out of the platform in severe cases.
RB: Are you working on any exciting innovations like drones?
JT: In terms of innovation, we are more focused on products related to data technology as an effort to enhance efficiency. For example, Cainiao introduced digital waybills instead of paper waybills to allow partners to increase efficiency and more easily track the status of deliveries through our network. Drones are also an area we are interested in.
RB: What's next for Cainiao?
JT: It has been our priority to work closely with our partners to improve logistics network efficiency and services to meet the growing needs of our customers. The two areas Cainiao will be driving further in the coming year will be cross-border and rural logistics. Cainiao started expanding its presence in rural areas in October 2014, and has facilitated home delivery service in more than 1,200 counties and villages across China.