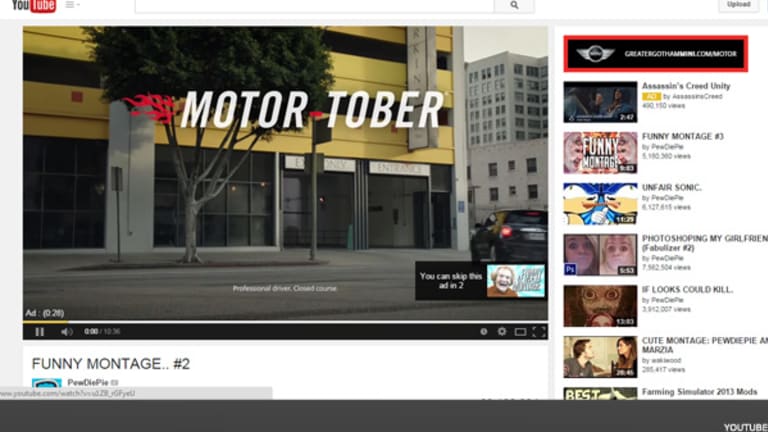 How a YouTube Subscription Service Could Become 'Interesting'
The Google-owned company's boss thinks a premium subscription model for its billion users is "interesting".
NEW YORK (TheStreet) -- Google's (GOOG) - Get Alphabet Inc. Class C Report YouTube is considering new ways to charge for watching videos on its Website. YouTube CEO Susan Wojcicki says her company is looking into new subscriber services as an alternative to the instant-start ads which have fueled the company's offerings up until now.
Speaking onstage at the code/mobile event in California on Monday, Wojcicki described the subscription business as "an interesting model." She said, "YouTube right now is ad-supported, which is great because it has enabled us to scale to a billion users but there's going to be a point where people don't want to see the ads."
YouTube continues to be exceptionally strong on mobile devices, with Wojcicki noting that half of all YouTube viewers are now watching on smartphones, tablets and other mobile devices. User growth is still exceptionally strong, growing at nearly 50% per year. The last time the company released figures it boasted that "almost 40 percent" of all viewing time came from mobile users.
In a recent analysts' note on the future of online video advertising, Jefferies analyst Brian Pitz noted video advertising will be a major go-forward growth engine for well-positioned companies. "We think is it a very real possibility for YouTube to charge a subscription fee similar to other subscription video, music, and even book services available online," Pitz wrote in the report. "Millions of subscriptions to channels happen each day. The number of people subscribing daily is up more than 3x since last year, and the number of daily subscriptions is up more than 4x since last year."
Google shares were gaining 0.77% to $544.93 in afternoon trading in New York.
As for the medium as a whole, Pitz predicted video advertising will grow approximately 33% between now and 2017, more than twice as fast as digital ads as a whole. By 2017, Jefferies believes the video ad market will be worth $17.3 billion a year, just in the U.S.
Wojcicki's comments about subscriptions are interesting, as YouTube has tried subscriptions before. In the spring of 2013, the service added a subscription option for some of its video channel owners. The trial enabled providers to charge for watching certain of their videos and keep slightly more than 50% of the proceeds. Original trial partners included National Geographic, Sesame Street and UFC.
Piper Jaffray analyst Gene Munster believes YouTube is less likely to remove paid ads because its clientele is now "well accustomed to waiting for the 15-second 'pre-roll" ad to finish" before the video starts. "Google is a great company but has problems monetizing consumers directly," Munster said in a phone conversation. "Maybe this will change but the notion of making money from consumers has not been one of Google's strong points."
Wojcicki, who ascended to the CEO post earlier this year didn't say much when she was asked about YouTube's upcoming subscription music service. She wouldn't comment on when the service might launch but did say she's "optimistic about seeing it soon."
-- Written by Gary Krakow in New York.
To submit a news tip, send an email to tips@thestreet.com.
Gary Krakow is TheStreet's Senior Technology Correspondent.