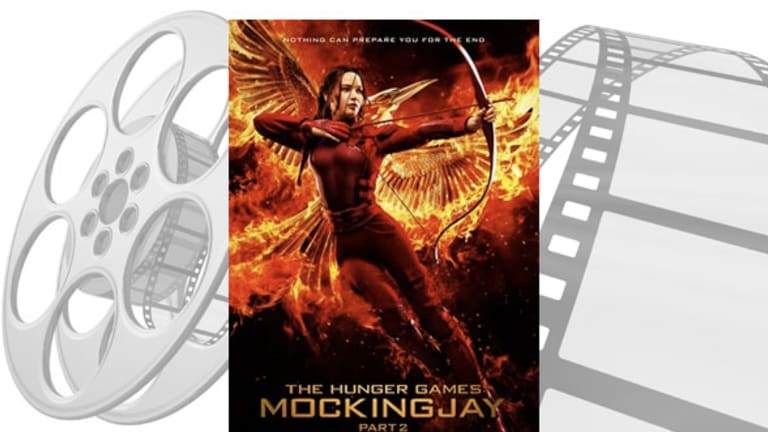 Hollywood Could Use a Very Big Thanksgiving Weekend
Highly anticipated Hunger Games installment series a box office disappointment, continuing an uneven year for Hollywood.
After a roller-coaster year at the box office, Hollywood's largest movie studios are eager, even desperate, to end 2015 on a high note.
While a few mega-movies led by Comcast (CMCSA) - Get Comcast Corporation Class A Report NBCUniversal's Jurassic World and Furious 7, as well as Marvel Studios' The Avengers: Age of Ultron, provided a rising tide that lifted ticket sales 5% over 2014, the industry is also experiencing lower lows, according to Rentrak (RENT) . Notable flops for the year include the Bill Murray vehicle Rock the Kasbah, Apple impresario biopic Steve Jobs and Bradley Cooper's role as a struggling chef in Burnt.
Typical of the lackluster year, interest in Lions Gate Entertainment's (LGF) most recent installment of the Hunger Games series, Mockingjay (Part 2) served up a disappointment, as box-office sales tallied just over $100 million, short of the $120 million forecast by Boxoffice.com.
The long Thanksgiving Day weekend is typically a busy one for movie theaters. For many, it includes a long weekend of holiday shopping at the malls, as well as ducking into the movie theaters that they house. As a result, the Thanksgiving Day weekend is a crucial one for ticket sales. 
Movie openings slated for this four-day holiday weekend will be led by Disney (DIS) - Get Walt Disney Company Report Pixar's The Good Dinosaur, whichindustry observers will be watching closely for signs of family appetite for theater going. Also opening this week is the latest in the Rocky saga, New Line Cinema's Creed, as well as Janis: Little Girl Blue, a documentary about the legendary blues singer from Port Arthur, Texas, and Victor Frankenstein, a preamble on the man who created the monster.
"This is one of the biggest weeks of the year, definitely," said Jeff Bock,  senior box office analyst at Exhibitor Relations. "Hunger Games' performance opens the door for Creed and The Good Dinosaur."
Wells Fargo forecast the last Hunger Games film to earn $125 million during its premiere weekend. Based on the young adult books by Suzanne Collins, the fourth installment features Jennifer Lawrence reprising her role as heroine Katniss Everdeen, this time leading the citizens of Panem in a revolutionary war against the Capitol.
During the opening weekend of each of the first two Hunger Games films, each movie earned more than $150 million. Lions Gate decided to divide the last book into two movies, and while that decision ensured more tickets could be sold, the studio may have also missed the opportunity to capitalize on the franchises' momentum, some of which seems to have since petered out.
"The problem with Mockingjay (Part 2) is it's a thin novel to begin with," Bock said. "It was very slim in that regard. It would have required a lot of additions by the screenwriter and it couldn't support that."
Though it earned less than predicted, Bock believes because "Lions Gate is going to earn $700 million, they made the right decision (to split the movies)."
Yet, he added, there is a downside, "You lose audience support."
Once a movie premiers, it typically loses a significant amount of luster and earns substantially less in its second weekend. Like the third installment of the Hunger Games movie, it saw a drop. Mockingjay - Part 2 is also expected to do this as well, Bock said.
"The last one (Mockingjay - Part 1) dropped 50%," he said. "This one may drop 63%. People didn't like how this one ended."
Mockingjay - Part 2 earned $247 million worldwide, with overseas box-office receipts making up some of the domestic disappointment. Yet, it remains clear that 2015 was a lukewarm year for Hollywood.
"We see a lot of hits, as well as misses," Bock said. "That's due to the very poor performance of these smaller films. The big films like Star Wars, that's what's holding the industry together. That's doing enough to sustain the industry."
However, referencing the effects of on-demand platforms like Netflix (NFLX) - Get Netflix, Inc. Report , Amazon (AMZN) - Get Amazon.com, Inc. Report Prime and Alphabet's (GOOG) - Get Alphabet Inc. Class C Report YouTube all taking a bite out of expected earnings and overall ticket sales, Bock said, "There is evidence of a sea change."
"Star Wars is the saving grace this year. The big films like Jurassic World put people at ease for awhile. Creed needs to be a big, solid hit," Bock said.
According to Box Office Mojo, 2015 domestic box office receipts increased only 4%, compared to last year and are up just 2% over the past four years.
Although he sees positive signs coming from theaters this weekend, Bock also knows that some movies are destined to flop. Nonetheless, this week remains a chance for the industry overall to make up some ground over the holiday
"I tend to think it's going to be a big weekend," he said. "It's gotta be big, it's got to be splashy."
And in making one more prediction, Bock said, "Frankenstein is probably going to tank. But there's always at least one turkey on Thanksgiving."