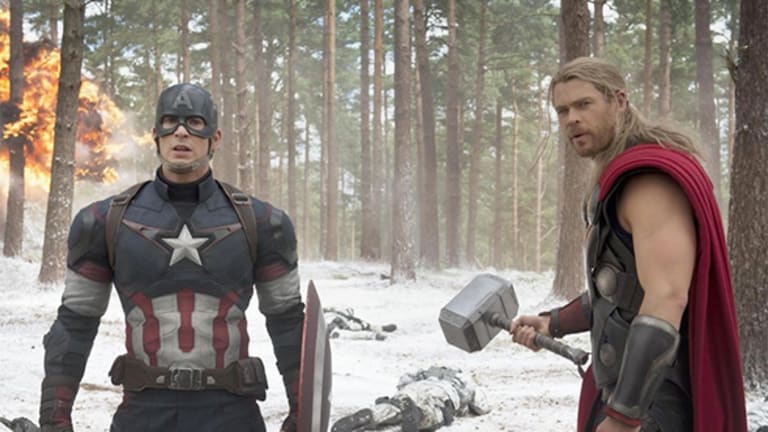 Don't let the big numbers fool you.
Comcast's (CMCSA) - Get Comcast Corporation Class A Report NBCUniversal has had a very big year at the box-office.
Jurassic World and Furious 7 have brought in more than $3 billion,Disney (DIS) - Get Walt Disney Company Report  has had great success with Avengers: Age of Ultron and Inside Out, andeven greater windfalls await when Star Wars: The Force Awakens debuts next month. Worldwide box-office spending is on track to top $11 billion, a new record.
But amid those blockbusters, the fact remains: 2015 has been a tepid year for Hollywood's U.S. movie business.
U.S. ticket sales have gained just 4% in 2015 compared to last year and has increased just 2% over the past four years, according to Box Office Mojo. The number of tickets sold has dropped 7% in 2015 compared to last year when domestic box office and ticket sales were also down 
about 5% compared to 2013.
"We have been concerned about domestic box office trends for over four years now," Cowen media analyst Doug Creutz wrote earlier this fall. "And with this summer's box office performance still below inflation-adjusted historical levels despite better than average overall film quality, our concern remains unabated."
Fewer releases, higher costs and the accelerating popularity of on-demand streaming services led by Netflix (NFLX) - Get Netflix, Inc. (NFLX) Report , Amazon (AMZN) - Get Amazon.com, Inc. Report Prime and Alphabet's (GOOG) - Get Alphabet Inc. Class C Report YouTube, underscore the weakening position of the domestic movie theater business.
"The film business is tricky," Laura Martin, entertainment analyst at Needham said. "When you have a big hit like [Disney's 2014 hit Frozen], and you get it right in these global markets, it's really big. When you get it wrong, you write down $100 million."
The list of 2015 flops is formidable.
21st Century Fox's (FOXA) - Get Fox Corporation Class A ReportFantastic Four, Time Warner's (TWX) 's Jupiter Ascending and Pan, Lions Gate Entertainment's (LGF) American Ultra and Vin Diesel's The Last Witch Hunter were among the largest disappointments. But the list goes on: The biopic Steve Jobs, Bradley Cooper as a struggling chef in Burnt, Bill Murray's Rock the Kasbah, the Gothic horror film Crimson Peak and Zac Efron's We Are Your Friends about DJs.
Just about every Hollywood studio suffered a few losses, giving moviegoers more of a reason to stay home and surf Netflix.
Hollywood's dependence on the blockbuster movie franchises -- action films that play well internationally -- remains the business model of choice. Yet the latest James Bond film, Sony Pictures' (SNE) - Get SONY GROUP CORPORATION SPONSORED ADR ReportSpectre demonstrates the high stakes of tent-pole film-making, making movies designed to play as well in Akron as they do in Albania.
Spectre posted the biggest opening weekend ever in China for a two-dimensional U.S. film with $48 million, Sony said in a statement Sunday. The film has pulled in almost $550 million worldwide, Sony said.
Yet its U.S. box office numbers are not nearly as strong. Wells Fargo media analyst Marci Ryvicker forecast in a Nov. 16 report that Spectre "will likely miss our [domestic box-office] $275 million estimate."
Sony is hardly alone in its domestic box office troubles.
Time Warnerposted 15% higher revenue at Warner Bros. in the third quarter, but the company said lower theatrical revenue dragged down what would have been an even higher increase. Lions Gate was forced to declare a net loss of $42 million as a result of costs related to American Ultra,Sicario and The Last Witch Hunter.
Sales at 20th Century Fox tumbled 28% in the September quarter as Fantastic Four failed to attract large audiences, all but squashing plans to transform the comic book series into a set of sequels. The films could lose as much as $80 million.  Viacom's  (VIAB) - Get Viacom Inc. Class B Report Paramount
reported a 24% drop in revenue as the a poor showing by its Transformers sequel offset the positives of Mission: Impossible - Rogue Nation.
Of course, Disney is expecting to generate more than $2 billion in box office sales from Star Wars: The Force Awakens, scheduled to hit theaters Dec. 18. 
"The movie side is so incredibly cyclical," said Paul Dergarabedian, analyst with Rentrak (RENT) . "You're only as up or down as your last hit or miss."
That may be true, but the domestic box office these days is getting fewer hits than misses.