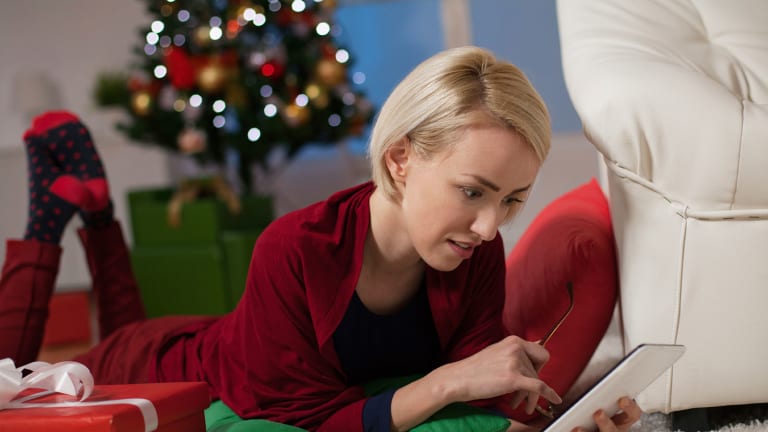 Holiday Buying Guide: Best New Tech Gifts
Before you commit to a purchase, do your homework and take note of your intended recipient's age, interests and aptitude.
Editors' pick: Originally published Nov. 3.
Holiday shoppers turn to tech gifts to impress and thrill friends and family. But before you commit to a purchase, do your homework and take note of your intended recipient's age, interests and aptitude. Some people are into the coolest new toys while others seek to use technology for practicality and ways to make everyday life easier.
Revolutionary visual and audio experience
If your gift recipient has a penchant for all things audio or visual, explore a line of various headsets or interactive viewing devices meant to deliver a transformative experience. Some of the newest audio/visual technology devices provide heightened interaction and an even more immersive encounter, so knowing which new release provides the most updated features is important.
For the ultimate interactive experience, consider the Alcatel Idol 4S. Much more than a phone, the Idol 4S is the world's first smartphone that offers virtual reality goggles for that incredible 2D and 3D experience. Video games and movies are more vibrant and the virtual reality experience can be enjoyed immediately upon unboxing the phone. Content is also accessible through virtual reality applications such as Littlestar and through Alcatel's own virtual reality store so you'll continue to be amazed and entertained.
Another feature users are going nuts for is the slim, sleek, glass-like design, which almost has the same feel and appearance as the iPhone 4/4S, but even leaner. Also, the fingerprint scanner makes phone access quicker and easier and allows users to register multiple prints.
Check out Amazon's 2016 Holiday Electronics Gift Guide
The phone also comes with this ultra-cool Boom Key, essentially allowing the user to multi-task, meaning if you are trying to converse by phone in a loud room, you can press the Boom Key to activate the noise-canceling feature. Or you can use the Boom Key for instant picture taking. Not only does the camera offer a 0.1 second phase detection autofocus but also a 0.6 second instant shot. Images can be captured in a complete 360 layout plus the 84-degree wide-angle lens eliminates the need for a selfie stick.
Supporting the thrilling visuals is the sound, delivered through the 3.6-watt JBL certified speakers, which provides that surround sound feeling. The Alcatel Idol 4S also comes with JBL headphones, which allows you to transfer the phone's impeccable sound through a headphone experience.
If sound is your gift recipient's thing then check out the Phiaton: Wireless, Noise-Cancelling Bluetooth 330 headset. This ultra comfortable headset allows for full noise cancellation so you can enjoy your tunes in the purest form or have a crisp, clear conversation. Headset owners will feel engulfed in sound, which allows for a more immersive experience. Users report the over-the-ear experience provides better sound and wear than the usual ear buds.
Bluetooth capabilities with this headset also provide for more freedom--no longer do you have to be connected to your phone or music device with a cord. Controls are easy to manipulate as the phone, power and play/pause button reside on the right side of the headset and you can turn headset on and off on the left side. Users love these headphones too because they travel well--just pack and fold them into the case.
Technology for kids
If you are buying for a child, tech toys that promote exploration and education can end up being a child's favorite gift, but identifying which toys deliver can be tough. Some tech toys for kids can be operationally basic or a one-trick pony, so doing your homework and investigating the toy before you buy is critical.
For instance, if you are looking for a tech toy that is interactive but also exploratory, check out the Piper Computer Kit. This computer kit is the world's first hands-on DIY electronics kit for kids who want to learn about engineering, computer creation and development. Included with the kit are electronic gadgets such as LED lights, motion sensors, buzzers, buttons and switches, which lead, engage and encourage interaction.
Users follow the popular video game, Minecraft story line, which promotes challenges and encourages interaction with components. The game comes with a USB mouse and retractable cable, along with an 8 8GB SD card that allows you to save games and creations. The kit comes in a beautifully handcrafted wooden case with an HD LCD display and Wi-Fi enabled gaming to allow for multiplayer and downloadable levels.
One tech "must have" for many tweens and teens is a smartphone. However, budget-wary parents often cringe when they see the prices typically associated with most smartphones, however there is an option. The Alcatel POP 4S is a practical smartphone alternative that's easy on the wallet for parents but fun for kids. The slim design and curved rear panel rivals top rated smartphones on the market, while the Android 6.0 Marshmallow operating system provides state of the art capabilities.
One of the top features is the phone's affordability, because it still offers the same level of design, style and functionality as any of the top of the line smartphones, but for a fraction of the price. The 5-inch high definition screen allows users to view an uncluttered operating system and stays true to the Android brand. For the phone happy teen, the camera is comparable to the best on the market, producing 5-megapixel images with a flash in front.
Check out Amazon's 2016 Holiday Electronics Gift Guide
Technology for lifestyle and efficiency enhancement
Busy families are turning to technology to keep their homes safer and run more efficiently. From home security systems to programmable deadbolts, a tech gift that makes your recipient's life easier may be the ideal delivery this holiday season.
For instance, the Schlage Sense Smart Deadbolt allows home access to family or friends using a programmable code. The lock holds up to 30 access codes at one time and has built-in alarm technology that pairs easily with the Apple HomeKit using Bluetooth Smart technology. The illuminated touchscreen lights the way when trying to open the door at night or during inclement weather--no more looking for keys and trying to fit the right key into the lock. Plus you can unlock doors using Siri on your iPhone, iPad or iTouch so you can virtually allow Siri to let you inside. Want to check if the kids arrived home safe (and not past their curfew)? The app allows you to view past lock activity. The deadbolt is not only smart, but also attractive and comes available in either the camelot or century style. Buyers can also choose from a range of finishes -- from satin nickel to bright brass. Unlike other security gadgets in the market, this one requires no monthly fees or subscriptions fees.
Another way to add efficiency in a busy household is to give the gift of a cartridge free printer. Families that need to constantly print papers for school or reports for work find they blow though expensive ink cartridges quickly, not to mention the negative impact those empty cartridges have on the environment. The Expression ET-3600 EcoTank  wireless printer provides cartridge-free printing using easy to refill ink tanks. Users save time and money because printer comes with up to two years of ink, which is equivalent to 50 sets of ink cartridges. This printer even saves up to 50% on paper because of the auto; 2-sided printing feature, plus it holds more paper at one time--up to 150 sheets. The wireless feature connects with an iPad, iPhone, Android tablet and smartphone printing, also comes with Wi-Fi Direct® for network-free printing. This printer is also unobtrusive and compact so it doesn't take up a lot of space--great for placement in nearly any room.
Buy the Expression ET-3600 EcoTank on Amazon
If your recipient is looking for a tech toy that is more decorative, check out the wireless Nixplay Iris 8" Wi-Fi Cloud Frame, which allows for digital photographic display through the Nixplay iPhone or Android app. Photos can also be easily uploaded through email and social media so that special moment can be easily captured and displayed at home. The up loadable feature also allows you to maintain your photos in one place too so you have an endless stream of memories. Plus, the smart activity sensor feature means you don't have to constantly be turning the frame on and off--the sensor automatically turns on when it senses movement in the room and then turns itself off when the room is empty. This frame comes in peach copper, silver and burnished bronze, customizable to any home decor.
Check out Amazon's 2016 Holiday Electronics Gift Guide
Disclosure: TheStreet has advertisers and partnerships; we may get a share of the revenue from your purchase.