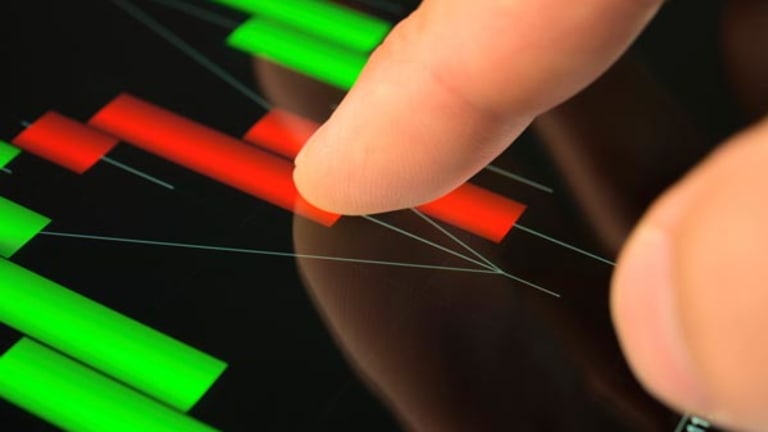 Hewlett Packard's Whitman May Write Off Transformation
Hewlett Packard may write off its latest acquisition Autonomy, after a 2008 deal for EDS caused a record $8.9 billion third quarter loss.
Updated to reflect additional analyst commentary and closing share prices.
NEW YORK (
) -- After
Hewlett-Packard's
(HPQ)
record $8.9 billion third quarter loss was colored by an $8 billion write-off of the company's 2008 acquisition of IT services giant
EDS
, losses may just be beginning as HP CEO Meg Whitman struggles to execute an
IBM
(IBM)
-like transition from PC manufacturing to software and IT services.
Notably, HP's mixed third quarter earnings marked the
of an effort unveiled by former CEO Leo Apotheker to cut and run from declining computer sales and push into software and IT services. The effort was marked by an $11 billion-plus acquisition of British software giant
Autonomy
.
In a series of decisive moves after Apotheker's ouster shortly following the deal, new CEO Meg Whitman stuck with HP's PC division and the company moved forward on its Autonomy acquisition.
Now, in spite of Whitman's decisiveness in outlining a strategy for HP, Autonomy's third quarter earnings underperformance, in addition to falling services based revenue, gives HP investors little reason to believe a turnaround is imminent as personal computer sales tumble.
In fact, after a massive non-cash third quarter writeoff of its $13 billion-plus acquisition of business services and hardware giant
EDS
-- a key to the company's IT services push -- Autonomy, the software and big data analytics leg of HP's transition strategy, may be the next writeoff.
HP management noted on the third quarter earnings call that they may write off more goodwill in the fourth quarter and highlighted that software was their main area of remaining goodwill after writing off over $9 billion in services in the latest results.
"After Autonomy's poor performance the last couple quarters, we suspect that goodwill associated with Autonomy will constitute part of the write-off," wrote Jefferies analyst Peter Misek, in a note to clients reacting to earnings. "We believe the negative headlines generated by this could weigh on the stock," he added.
Previously, Misek highlighted Autonomy as a key lever of HP's prospective earnings and stock rebound in coming quarters. CEO Whitman continues to highlight that her turnaround efforts will be focused on salvaging the strategy market by last August's $11 billion-plus Autonomy acquisition.
With HP now having spent its "last" mega-deal dollars on Autonomy, the acquisition will either complete a deal-dud trifecta or serve as proof of HP's successful move into
IBM
(IBM)
and
Accenture
(ACN)
-like territory of data and software services. With weak Autonomy results and HP beginning to speak about Autonomy in "writeoff" language, Whitman may soon join a long line of HP CEOs whose strategic turnaround efforts can't trump misguided "strategic" acquisitions.
The key question is whether HP's earnings weakness in the third quarter marks a baseline for Whitman in beginning to measure her execution as CEO, or whether the company's string of acquisitions have left the company with assets that aren't compatible.
Even with weak operating performance, HP earnings show it may yet have time to impart a turnaround, which Whitman said could take up to four years. The company reported $2.8 billion in operating cash flow for quarter and a non-GAAP profit of over $2.7 billion as it pared debt.
Some recent acquisitions may also help HP, even if Autonomy underperforms. "Prior to Autonomy, HP Software attributed growth to its security portfolio, namely ArcSight and Fortify, and TBR believes security remains a major revenue opportunity for the business," wrote Technology Business Research analyst Jillian Mirandi, in a Wednesday research note. "HP Software has opportunities to grow in the quickly expanding cloud and security markets," she added.
The EDS mega-deal and a 2001 merger with
Compaq
helped to usher out previous HP CEOs Mark Hurd and Carly Fiorina, causing billions in writedowns and leaving HP vulnerable to rapid commoditization in PCs, printers, laptops and IT hardware.
In third quarter earnings, HP's software unit -- the division where Autonomy resides -- reported flat sequential revenue growth and profits of $973 million and $175 million, respectively, as operating margins remained below 20% (where they had been in the first quarter before beginning a decline). The results signal slow progress by Whitman as she tries to impart her strategic vision on HP, which remains the world's largest PC maker.
Topeka Capital markets analyst Brian White had expected the unit to see sales increase 2% from the second quarter, while its services unit was expected to grow just 1%. In third quarter earnings, software sales of nearly $1 billion and services sales of $8.8 billion -- a 3% year-over-year decline -- both missed Wall Street estimates.
Overall revenue of $29.7 billion slightly missed analyst estimates, while HP's $1 in earnings per share beat an updated Aug. 8 guidance of between 94 cents and 97 cents in EPS. Shares closed down over 8% on Thursday hitting new 52-week lows.
"Autonomy still requires a great deal of attention and we've been aggressively working on that business," Whitman said in the company's third quarter earnings call.
Whitman is taking aggressive action to try and salvage the company's software unit and its services unit, where EDS resides.
HP overhauled management at Autonomy after the data analytics specialist posted far weaker than expected results in the second quarter -- marking a big change of course in the company's software and services push.
Whitman ousted celebrated Autonomy founder Mike Lynch and replaced him with Bill Veghte, HP's chief strategy officer, in a move to bolster the unit's performance.
When HP first took control of Autonomy last fall, it planned to run the company independently, keeping Lynch, who founded the firm in 1996, at the helm. However, after poor results, Whitman decided to remove Lynch and further integrate the software specialist within HP's global sales force, where the business could scale faster.
Whitman's closer alignment of Autonomy with core HP, and an overall restructuring and simplification of HP mirrors the decade-ago turnaround of IBM that took shape through a strategy to
quickly integrate acquisitions
.
Still, the drastic management change for Autonomy, a maker of software analytics that search unstructured data like emails, phone calls and social media, was a first troubling sign as to whether HP will get a bang for its buck on the deal.
Third quarter earnings signal that support is still needed.
In particular, earnings did little to reverse a trend of falling profit margins and a growth slowdown at HP's software and services units, an integral piece of any transformation.
HP's software license growth fell to 2% in the third quarter from 7% in the second quarter and from 12% in the first, while the unit's operating margins rose to 18% after dropping to 17.7% in the second quarter (margins were 20% in the first quarter).
In Wednesday's earnings call, Whitman nevertheless stuck to her strategy and noted that HP has put in place methods to improve Autonomy's sales force and pipeline, while further integrating it with HP's services processes.
Meanwhile, the company saw improvements in Autonomy's cloud-based data service LiveVault. Still, Whitman told investors that the unit's turnaround will take time. "Overall, we have a very long way to go but we are taking steps to fix the problems and help Autonomy succeed," she said.
A year into HP's turnaround push, earnings confirm a transformation will not come quickly, and doubters mount. Shares are off roughly 30% in the past year, underperforming Dell's 20%-plus losses. IT services giants IBM and Accenture are up over 20% over that time, underscoring the imperative of a services and software transition.
Were HP to decide "a very long way to go" in the turnaround effort is more likely to be never, the company may yet need to consider former CEO Apotheker's strategy to spin off the company's PC and printer assets.
Earlier in August, UBS analyst Steven Milunovich said HP has so far assembled a mediocre set of assets that's unlikely to pull business from entrenched enterprise players IBM and
EMC
(EMC)
.
"HP lacks the pure enterprise focus of IBM and EMC yet will have trouble competing for consumers without strong tablet and phone businesses like Apple and Samsung," wrote Milunovich in an Aug 8 initiation of HP shares with a sell rating and a $16 price target.
"We question whether HP is 'better together' and that it might be 'smart to be apart,' specifically spinning off printers and PCs," he added.
In a decisive first call as CEO, Whitman retained HP's PC unit -- contrary to Apotheker's plan -- and cast high expectations on the benefits of Autonomy.
HP chairman Ray Lane said in September that Autonomy's software and analytics revenue could grow from present levels of $1 billion to $5 billion or even $10 billion. "Hopefully, we'll see a bigger software portfolio and we'll see more value-added services at HP, but we have $120 billion of hardware business that we care dearly about," said Lane that September.
HP also
its PC and printers divisions in a move to cut costs, under Whitman.
While Whitman can be lauded for her decisiveness as CEO, investors now need to see execution. It may not be time to write off HP or Whitman, but signals that an Autonomy is now on the table doesn't help to instill much confidence.
For more on tech sector M&A and turnaround efforts, see why a
BMC Software
(BMC)
deal
is caught between a cloud boom and tech gloom
.
Interested in more on HP? See TheStreet Ratings' report card for
this stock
.
Check out our new tech blog,
Tech Trends
.
--
Written by Antoine Gara in New York