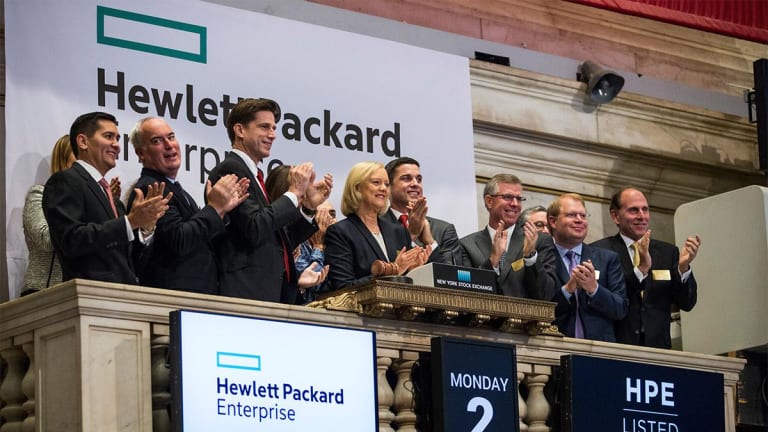 Hewlett Packard Enterprise Tops Quarterly Estimates But Shares Fall After Hours
The enterprise software firm also maintained its earnings guidance for 2019.
Despite topping analysts' fiscal fourth quarter expectations for the sixth straight quarter, Hewlett Packard Enterprise Co. (HPE) - Get Report  stock was falling about 1% after hours on Tuesday. 
The company reported earnings of 45 cents per share on revenue of $7.95 billion, versus expectations of 43 cents a share and revenues of $7.84 billion. In August, the company reported earnings of 37 cents per share on revenue of $7.68 billion. 
"Hewlett Packard Enterprise delivered another impressive quarter in Q4, concluding a very successful fiscal year 2018 marked by significant transformation and achievement," said Antonio Neri, President and CEO of HPE, in a press release. "We excelled in delivering differentiated new capabilities for our customers that drove meaningful top line growth while expanding margins that fueled strong cash flow and shareholder returns."
Additionally, the company maintained its 2019 earnings expectations between $1.51 and $1.61 per share, an 8% upside over last year's total. 
The tech sector has been under pressure in recent months amid market pullbacks across the board, but the third quarter earnings season has been profitable for tech names. 
The sector as a whole saw revenue jump 13% in the third quarter, while earnings rose 27%, according to Zacks.