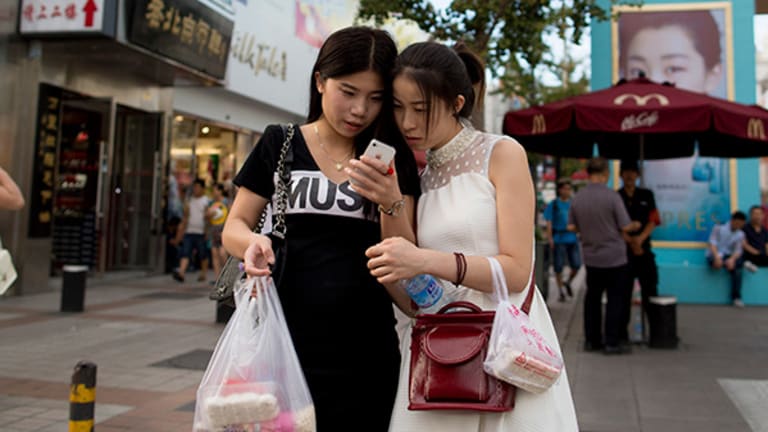 Publish date:
Here's Why Smart People Are Really Using Their Smartphones
Surprise! People still use smartphones to make calls. They all use their phones as an excuse to avoid human contact.
Surprise! People still use smartphones to make calls. They all use their phones as an excuse to avoid human contact.
SAN DIEGO, CALIF. (TheStreet) -- If you've ever used your phone as an excuse not to make eye contact with a stranger, you're not alone. A new study confirms that smartphones serve as a convenient way to waste time and steer clear of human contact for a majority of the population.
According to a Pew Research Center report published Wednesday, an extremely lopsided majority of young adults are likely to use a smartphone to avoid boredom. A significant portion will also whip out their phone to avoid interacting with the people around them. Adults are nearly as bad.
Pew surveyed more than 1,000 people twice a day for seven days in November, asking them how they had used their phone in the hour prior to taking the survey. Some 93% of young people, ages 18 to 29, and 82% of adults, ages to 30 to 49, said they used their phone multiple times over the course of the week to avoid boredom. And when it comes to avoiding the people around them, 47% of the young adult crowd and 32% of the older adult group indicated they used their phones expressly for this behavior.
So, how are smartphone users choosing to kill time? By texting, of course.
It turns out that 100% of the young adult survey respondents said they used text messaging at least once over the course of the study. And the survey found 98% of the older adult crowd did as well. For survey respondents ages 50 or older, 92% engaged in texting during this period.
Though it may come as a surprise, good, old-fashioned phone calls are still in style. The advent of face-to-face video calls may be bringing this practice back to life as 93% of the young adult group indicated that they had recently made either a voice or video call. Social networking, meanwhile, was the second-most frequently used smartphone behavior among young adults, according to the report. 
Some of Pew's findings may feed into the belief that smartphones are making us antisocial creatures, who would rather stare at digital screens than participate in the real world around us. Of course, this belief also underscores why advertising dollars are migrating to mobile and explains why some of the biggest Internet companies are casting a wider net with several apps.
Facebook (FB) - Get Facebook, Inc. Class A Report, for instance, now has a family of smartphone applications to serve almost every whim. The company is also paying special attention to the messaging category. Facebook paid $22 billion to buy WhatsApp, which now has a monthly audience of more than 700 million people. It has also grown Facebook Messenger's audience to 600 million people and looks to be highly motivated to turn the mobile messaging application into a business.