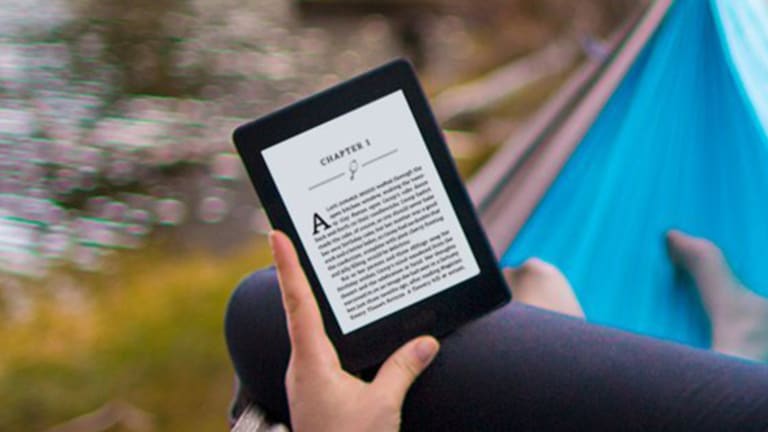 Here's Why Amazon Doesn't Need to Care if E-Book Sales Are Declining
E-books may or may not be in trouble, but either way, Amazon's not too concerned.
NEW YORK (TheStreet) -- The jury is still out on whether print is dead. Some are convinced e-books are taking over, others are certain that print is as strong as ever. Either way, one thing is sure -- Amazon (AMZN) - Get Report  doesn't need to be too worried.
An article in The New York Times this week claimed that "print is far from dead," pointing to a recent study from the Association of American Publishers that showed declining e-book sales. The study, which collected data from 1,200 publishers, found that e-book sales fell by 10% in the first five months of 2015. The implications of the study could be that e-books will not cannibalize print book sales, as was previously believed.
Many argued with The New York Times' conclusion, explaining that the AAP's study only looked at the Big Five publishers (Penguin Random House, Macmillan, HarperCollins, Hachette and Simon & Schuster), and failed to consider the other half of the industry. Plus, those Big Five publishers just raised e-book prices by a lot, so it's not too surprising that sales have slowed a bit.
Amazon itself claims that its e-books sales are anything but declining. "Our U.S. and worldwide Kindle book sales are growing in 2015, in part driven by the growth and success of Kindle Unlimited," Amazon spokesperson Sarah Gelman said in an email. Kindle Unlimited is a service that Amazon introduced last year that lets consumers read an unlimited amount of e-books from a library of over 1 million offerings for $10 a month.
But whether or not e-book sales are actually in decline, Amazon's fortunes are unlikely to be changed much.
Sure, Amazon devotes a lot of resources to its Kindle business, but ultimately that business is seen as a secondary facilitator of Amazon's core business -- the selling of physical goods. Over the last few years, Amazon has dramatically increased its investment in Prime, making it more than just a two-day shipping program. E-books, video, and music were folded into the Prime offering, converting possible e-book purchasers to free downloaders.
With that shift in Prime, Amazon essentially decided to "demote media as a business unit and make it loyalty bait," said Peter Hildick-Smith, founder and CEO of research firm Codex. "Media adds stickiness, eyeballs, engagement. If you take it as the glue that holds the loyalty together, media has an incredibly valuable role, but not for revenue as much as loyalty."
It's abundantly clear that for Amazon, everything points back to Prime, and e-books are simply another avenue to add value to its Prime offering, convince more consumers to sign up for Prime, and convince Prime members to spend more time on Amazon.com. If a Prime member opens a Kindle e-book and then remembers midway through that he forgot to restock on toilet paper, chances are he will make that purchase through Amazon since he's already in the ecosystem.
Further proof of Amazon's take on e-books as loyalty-building: Amazon gives some of its e-books away for free to Prime members through its Kindle Owners' Lending Library, where Prime members can read one e-book for free each month. And then there's the Kindle Unlimited program.
Amazon does not disclose how much revenue it makes from e-books, but AAP estimates that total U.S. e-book revenue was $3.37 billion in 2014. Amazon brought in $11.6 billion in revenue from its North America media business unit, which include e-book sales as well as other categories like video and music. Using a rough calculation, Hildick-Smith estimates that Amazon's e-book sales could make up about 20% of the total media unit, or $2.3 billion. By comparison, Amazon's total revenue for 2014 was about $89 billion.
Let's say, hypothetically, that e-book sales are dwindling. Amazon isn't necessarily going to lose too much revenue. If anything, it could even bring in more revenue from print book sales -- don't forget that you can buy those on Amazon.com as well. And in this hypothetical case where consumers stop buying e-books, Amazon can shift its focus in media more to video and music, which are also value-adds for Prime members.
"Even if you see a shift to hard copy, [Amazon] still stands to benefit," said Morningstar analyst RJ Hottovy. "At this point [a drop in e-book sales] won't move the needle much on the overall valuation of the company. It's a meaningful product category for them, but they're in so many other things now, it's not enough to have a material impact on overall valuation."
The real takeaway from the AAP study is that the Big Five publishers have found themselves in a scary new relationship with Amazon, which controls about 42% of the book market overall and 64% of the e-book market, according to Codex.
"The bigger issue for the publishers is that if Amazon already has lets say 40% to 45% of your business, you don't have a lot of negotiating power with a partner that big, if partner's the right word," Hildick-Smith said. "That's the bigger implication. The book industry is breathing a sigh of relief -- we dodged the digital bullet. Which is fine, but they haven't dodged the Amazon bullet."