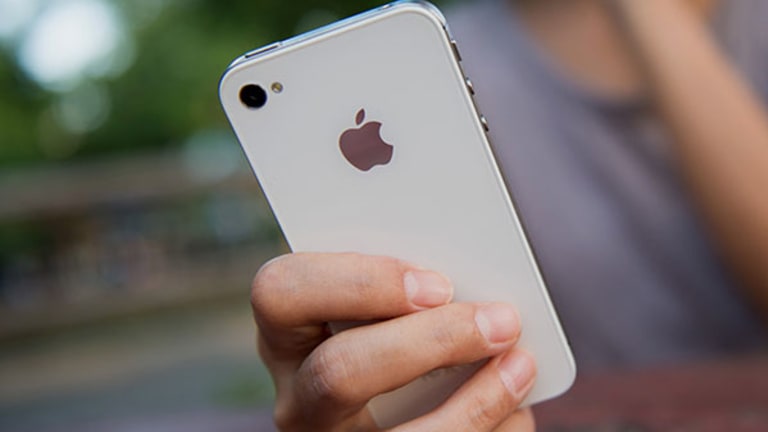 Here's What We Think We Know About the Next iPhone
Apple's surging iPhone sales are a big reason why the company had better-than-expected fiscal-second quarter earnings. The next iPhone model may be even more important to the future of Apple.
This story has been updated from 8:00 am ET to include a comment from Cantor Fitzgerald analyst in the eighth paragraph.
NEW YORK (TheStreet) -- Apple's (AAPL) - Get Apple Inc. Report surging iPhone sales are a big reason why the Cupertino, Calif.-based company had better-than-expected fiscal-second quarter earnings and the next iPhone model may be even more important to the future of Apple, particularly with the introduction of iOS 8 and Continuity.
It's largely expected that Apple's next iPhone, which may be called the iPhone 6 or the iPhone Air, will be launched in the early fall, perhaps as soon as the second week of September. Intel (INTC) - Get Intel Corporation Report, which partners with Apple on its Mac computers, is set to hold its Intel Developer Forum from Sept. 9 to Sept. 11, and historically, Intel has planned its developer forum within a few days of the new iPhone launch.
There's been speculation that Apple would move away from naming the next iPhone using a number, and instead, refer to it as the iPhone Air, following the successful launch of the iPad Air.
How Apple's iWatch Can Help Wearables
How Apple's iPhone Ad Hints at Its Next Big Thing
The Biggest Takeaway From Apple's WWDC Isn't What You Think It Is
Apple WWDC: What Wall Street's Saying
As Apple's revenue growth has slowed from the explosive days of the 2000s following the release of the iPod and the iPhone, it's increasingly looking to new products and ways to enhance existing products to boost growth.
In a research note earlier this year, Jefferies analyst Peter Misek believes the next iPhone cycle is going to be a "significant product cycle," with the next version of the iPhone being much larger than the current 4-inch screen on the iPhone 5s and 5c. In the past, Apple CEO Timothy D. Cook has said that the company would not rule out making a larger iPhone, but that it was not willing to make the trade off for a larger screen until the resolution quality was there.
Following its better-than-expected second quarter, in which Apple shipped 47.3 million iPhones, there's been renewed interest in the company, as well as the stock, reaching a fever pitch. Since April 23, shares of Apple have gained 20.9%, handily outpacing both the NASDAQ and the S&P 500, which have returned 4.9% and 4.4% over the same time frame, respectively.
New iPhone Hardware 
Apple's fiscal second-quarter showed renewed interest for the iPhone, as the company earned $11.62 a share, generating $45.6 billion in revenue. Apple gained market share in U.S., the UK, Japan, Canada, Germany, France, Vietnam and Greater China, and other countries, and managed to set a new all-time record for total iPhone sales in the BRIC countries. "We're very proud of our quarterly results, especially our strong iPhone sales and record revenue from services," Cook said in the press release. He also mentioned that Apple is "eagerly looking forward to introducing more new products and services that only Apple could bring to market."
The new iPhone is particularly important in China, where Cantor Fitzgerald analyst Brian White notes the country is set for a big 4G buildout. "For example, China Mobile has a big 4G TD- LTE device ramp planned for the second half of 2014, and we believe 4G FDD LTE licenses could also be awarded in the fall, which we believe would dovetail well with our expectation of a bigger iPhone 6 (i.e., 4.7- inch and 5.5-inch iPhones)," White wrote in an analyst note.
It's largely expected that the next iPhone will come in two sizes, both a 4.7-inch version and a 5.5-inch version, which may allow it to charge more for a larger phone, given demand for Apple products. On the earnings call, Cook was asked about this factor, and said that Apple would charge a price for its products what it sees as appropriate, but did not commit to a particular price. "We price things that ... are priced in such a way that we think it's a fair price for the value that we're delivering and we make those on each thing as it gets closer time to come to market," Cook stated.
With Samsung's recent launch of the Galaxy S5, Jefferies' Misek believes that monthly builds, as in how many units of product are built per month, for the Google (GOOG) - Get Alphabet Inc. Class C Report Android-run S5 will be lower than its predecessor, which may benefit Apple. "We believe the combination of pent-up demand for a larger iPhone and possibly less intense competition from Samsung bodes well for the iPhone 6 launch," Misek wrote.
Initial leaked photos have suggested that the next version of the iPhone will have no bezel, allowing users more screen to work with. This is important since Apple introduced Continuity at Worldwide Developer Conference (WWDC) earlier this month. The program allows users to start an activity (email, document, etc.) on one device and continue working on it on another.
There's also increased speculation about the glass Apple is using for its next iDevices, potentially making them unbreakable. Apple has contracted GT Advanced Technologies (GTAT) for its sapphire plant. The Merrimack, N.H.-based company recently gave 2014 guidance, and said it expects revenue to be back-loaded towards the second half of 2014. GT Advanced recently filed an amended 10-Q showing that the $225-million prepayment from Apple is used to retrofit and qualify GT Advanced's Salem, Mass.-based furnace, as well as build out the company's Mesa, Ariz.-based facility. It's possible that the next version of the iPhone uses sapphire for its glass, as sapphire is one of the hardest and most scratch-resistant minerals on Earth.
Outside of the glass and size of the iPhone, it's likely that Apple will include updated versions of its mobile chips. Last year, Apple announced the A7 and M7 chips for the iPhone 5s, with the M7 being used for motion-sensor detection. That fits in well with Apple's recently announced Health app, that will centralize a user's health and fitness data.
iOS 8
Though much of the speculation around the next iPhone centers on its hardware, the announcement of iOS 8 at WWDC indicates that Apple has bigger plans for the iPhone than just sending texts, surfing the Internet and downloading apps.
The long-awaited iOS 8, which is available for developer download now and will be available to the public in the fall, brings new features. It offers new Messages features, which allows users "to easily share voice, video or photos with just a swipe."
With the aforementioned Health app, which many believe is part of Apple's push into wearable technology, given the oft-rumored iWatch, the health and fitness market app market is exploding. By unveiling this, it's clear Apple wants to be part of a growing trend. According to a report from research firm Research2Guidance, there are now more than 100,000 dedicated health and fitness apps on Apple's iOS and Google's Android platform, with the projected revenue to be $26 billion by the end of 2017. This is up from $2.4 billion this year, so it's clear the segment is exploding. Though much of the revenue is concentrated at the top with the top 5% of app publishers seeing more than 500,000 downloads, making more than $1 million a year in sales.
Additionally, the company launched what it calls smart home technology, known as Homekit, that will allow its users to integrate computing hardware with smart appliances. Currently, there are a few partners for HomeKit, including Honeywell (HON) - Get Honeywell International Inc. Report, Texas Instruments (TXN) - Get Texas Instruments Incorporated Report, iHome, Phillips (PHG) - Get Koninklijke Philips NV Report and others. "HomeKit is a new framework for communicating with and controlling connected devices in a user's home. Apps can enable users to discover devices in their home and configure them, or you can create actions to control those devices. Users can group actions together and trigger them using Siri," according to Apple's Web site. HomeKit will allow locks, lights, doors, thermostats, garage doors and other home-centric items to integrate into an iPhone or an iPad, using Siri to operate them.
Some of the smaller issues that have been changed with iOS 8 include predictive typing, using Apple's QuickType keyboard, and for the first time ever, allow Swype keyboards into iOS. Apple's iOS 8 also comes complete with an iCloud Photo Library. This is a simpler, faster and more intuitive user experience that will give users a lot of new functionality.
Apple also gave Messages a boost, implementing new features that will allow users to share voice, video or photos with a single swipe. For some who have been on long, annoying group messages, Apple has now created the ability to remove oneself from those group messages. Apple also introduced a feature that allows some of these messages to self destruct after a predetermined period of time, a nod to messaging apps such as Snapchat.
--Written by Chris Ciaccia in New York
>Contact by Email.