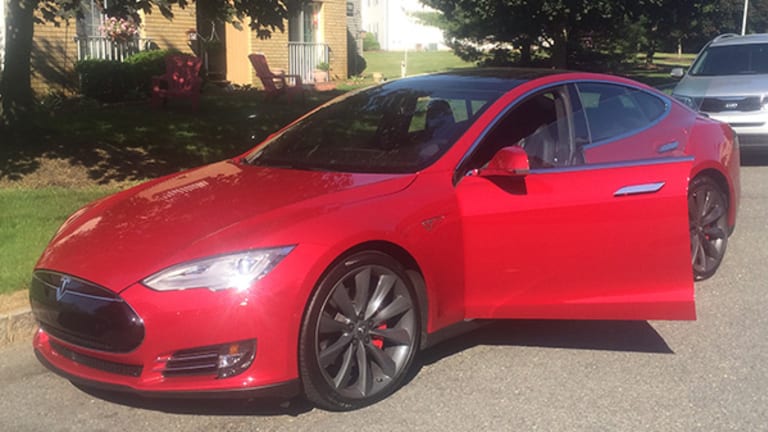 NEW YORK (TheStreet) -- Tesla Motors (TSLA) - Get Tesla Inc ReportModel S is a true luxury car, in every sense of the phrase.
Starting at around $70,000 and running upward of $130,000 fully loaded, the Model S has everything you could possibly want in a car and more. It's truly an awesome driving experience, from the 17-inch touchscreen dash to the 200 watt, seven-speaker sound system.
Even getting into the car is a luxury experience, as the door handles are flush against the door until you come near it with a key. They retract and slide out automatically. CEO Elon Musk and his team at Tesla have truly thought of everything.
Here's what it looks like inside (and outside) the P85D version of the Model S.
Notice the bright, shiny red paint on the Model S. It'll cost you, though! Adding the red paint to the Model S is an extra $1,500 on top of the $69,900 base price.
Once you get into the car, you feel how awesome the steering wheel is. It's smooth and offers plenty of controls right on it, including dash control, skipping and reversing music tracks.
There's also three different versions of steering, all of which provide a slightly different driving experience.
The dash is beautiful and full of information.
Here you see how fast the car is going, how many miles are left in the current charge, the route you're taking and energy consumption. You can also see how many miles you've driven, the outside temperature and the date and time.
Some of these are standard features, but it's nice to have all of them in one spot.
The dashboard is unlike anything I've ever seen in a car. It's a suede-like or velour material and is incredibly pleasing to the touch. It's like touching your favorite rug, except inside a car!
The control panel is a sight to behold.
It's basically a 17-inch Apple (AAPL) - Get Apple Inc. (AAPL) Report iPad with everything you could possibly want.
You can add your music (or pick from a bunch of Internet radio statios, FM or AM radio and more), get directions to the nearest Tesla Supercharger station or wherever you want to go, see how much energy you've used or even surf the Web!
Here I am surfing the Web -- in park of course! -- and looking up the latest baseball rumors and news. Maybe the Mets will come out of their funk soon!
You can see how far I've traveled, how much energy I've used and what my average energy usage is.
It's a nice feature to have to see what kind of performance you're getting out of the car.
Here's a look at all the different controls you have, right at your fingertips -- sunroof, suspension, driving, trips, display and the car's braking system. You'll see that the car is in park.
If you're inside the car and you want to open the front trunk or the back trunk, you can do so by simply pressing a button on the screen. Pretty cool!
Here's the fun part: switching to Insane Mode.
Insane Mode takes you from 0 to 60 in 3.1 seconds. Watch out, Juan Pablo Montoya!
Unfortunately, I had to give up the Model S, despite having a lot of fun driving it.
And as a special feature, there's an Easter egg to turn the car on the control panel into the Lotus Esprit from James Bond's The Spy Who Loved Me. Can you figure out how to get it?