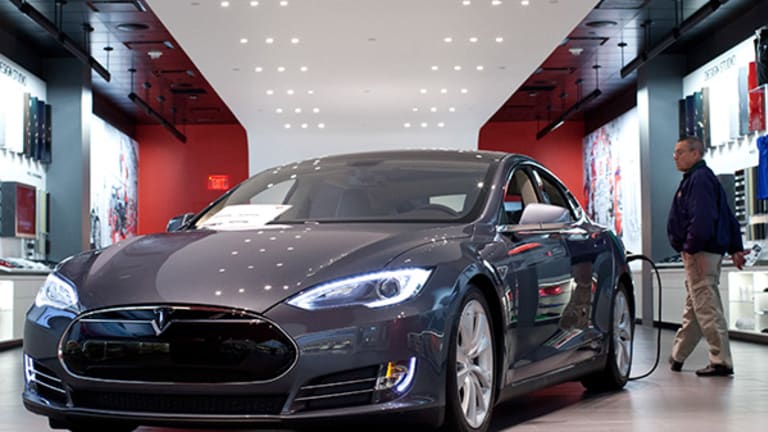 Here's What It Looks Like Inside Tesla's Massive Factory
Tesla's plant in Fremont, Calif., is capable of producing more than 500,000 cars a year. Here's what it looks like inside.
NEW YORK (TheStreet) -- Tesla Motors (TSLA) - Get Tesla Inc Report is one of the most innovative automotive companies in the world, pioneering the way for electric vehicles to move into the mainstream.
The company, headquartered in Palo Alto, Calif., makes the Model S, while Tesla's Model X is arriving in spring 2015.
To make its cars, Tesla purchased the old New United Motor Manufacturing automobile manufacturing plant in Fremont, Calif., which was jointly owned by General Motors GM and Toyota TM. At its peak, the plant was producing more than 500,000 cars a year, but GM pulled out of the joint venture in 2009, and Toyota in March 2010.
On May 20, 2010, Tesla announced it would buy a part of the NUMMI plant and would collaborate with Toyota on developing electric vehicles, production systems and engineering support. Tesla purchased some of the equipment in the plant from Toyota, for maybe as low as one-tenth of the original cost, and began refurbishing the factory.
How Tesla Wins on Elon Musk's 'Controversial' Patent Promise
How Tesla Is Winning the War Against New Jersey
"The entire factory is organized around synchronized manufacturing, which is typical for big manufacturing operations," said Gilbert Passin, Tesla's vice president of OEM & Re-Manufacturing, during a recent factory tour. The plant, which is home to some 2,600 employees on two separate floors, houses nearly 150 robots at various locations, which use some of Tesla's proprietary technology to manufacture the car, including everything from doors, to seats, to tires to the aluminum inside.
Tesla currently is using only about a quarter of the 5.5 million-square-foot plant, and intends to deliver more than 35,000 Model S units this year, which it announced on its fourth-quarter earnings call and reiterated on its first-quarter call. The factory comes complete with its own Supercharger station (one of the company's biggest) and retail store, in addition to manufacturing the Model S and the Model X next year. 
Passin noted that Tesla is currently manufacturing about 750 to 800 cars per week, up from almost 700 cars per week as of the end of the first quarter. Even though production has increased sharply since the Model S started being delivered in the summer of 2012, it's too early to think about another factory just yet. "While we are expanding our factory capacity to support increased Model S production later this year and the introduction of Model X next year, our goal is to deliver more than 35,000 Model S this year," said Simon Sproule, Tesla's VP of Communications in an email.
Here's a look inside Tesla's factory where every car is built to order, either via by man, or by machine, or by both. 
The plant has been completely cleaned up and repainted white. The wall to the left was put in by Passain after talking with CEO Elon Musk as to what Tesla initially would use. On the wall there's an inscription that reads, "Your Model S started from nothing."
This is a Tesla Roadster, next to a clay version of the original car that Tesla sold. The Roadster had a base price of $109,000 and went from zero to 60 mph in 3.7 seconds, and got 245 miles to a charge. Tesla stopped selling it in the early part of 2012, having produced around 2,600 vehicles.
Robots and technicians work side by side in Tesla's factory. Here a technician is putting parts together.
You certainly can't forget this is a Tesla plant, that's for sure!
A robot works to attach parts of the Model S to one another. Some of these machines can switch tools up to five times and perform up between 5 and 10 different tasks, which makes the plant more efficient than plants from other automotive competitors, who might have one robot per task.
An example of one of Tesla's robots that can switch tools. This particular one can switch tools five times.
These robots attach the doors to the aluminum frame of the Model S. Despite concerns that aluminum is less safe than other metals, nearly 98% of the Model S is aluminum. The Model S has been named Consumer Reportstop car for two years running, receiving an unprecedented 99 out of 100 score.
Robots work to finish assembling the car in the nearly 5.5 million-square-foot plant.
This is an example of a diagnostic system, which Tesla uses to troubleshoot any problems. Sometimes those problems are even solved by Musk himself. "There was one Saturday night, around 3 a.m., where Elon was asking questions that led to the ultimate solution to the problem," Passain said.
A technician works on a Model S with its doors unattached. Most automotive plants have doors hanging above the assembly line, but Tesla has found a way to utilize the space next to the car to attach the doors and to ensure no damage and to limit waste.
Engineers, technicians and security discuss an issue, as a nearly finished Model S vehicles roll by, almost ready for the consumer to take delivery!
-- Written by Chris Ciaccia in New York
>Contact by Email.