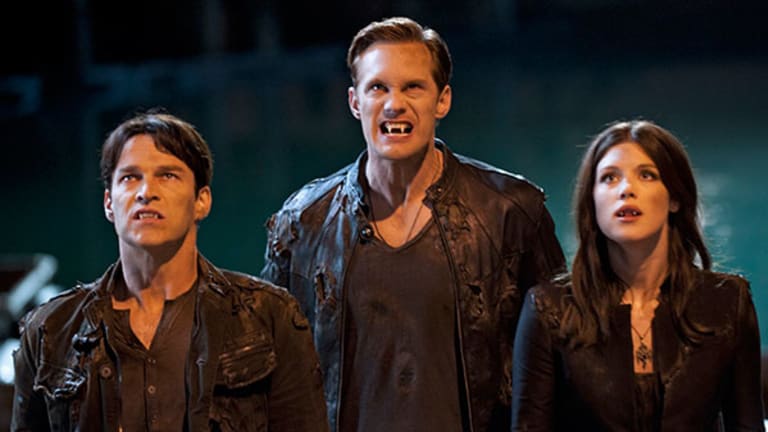 Here's the Details on Amazon's Massive Deal With HBO
Amazon just one-upped Netflix by announcing a big online content licensing deal with Time Warner's HBO.
This story has been updated from 1:35 pm EDT to include comments made by Bernstein Research analyst Carlos Kirjner.
NEW YORK (TheStreet) -- Amazon (AMZN) - Get Amazon.com, Inc. Report just one-upped Netflix (NFLX) - Get Netflix, Inc. Report by announcing a big online content licensing deal with Time Warner's (TWX) HBO.
Amazon announced on Wednesday morning that it inked an exclusive multi-year online-only subscription deal for select HBO programming to bring some of its most popular shows to Amazon Prime Members.
This is the first time that HBO programming has been licensed to an online-only subscription streaming service, according to the press release. It means that consumers no longer have to pay for HBO through their cable provider to see a big portion of the premium cable channel's popular shows.
If this doesn't entice consumers to subscribe to Amazon Prime and hence acquire Amazon Fire TV, its new streaming set-top box, I don't know what will.
Before you get your panties in a bunch, let it be known Game of Thrones is not a part of the content deal. However, with a partnership like this, it's clear that HBO is betting on Amazon to be the streaming service of choice for customers.
In the release, Amazon says that for the first time ever, all seasons of past favorite shows like
The Sopranos
,
Six Feet Under
,
The Wire
,
Big Love
,
Eastbound & Down
,
Oz
,
Band of Brothers
and
Deadwood
, as well as the early seasons of current shows
Boardwalk Empire
and
True Blood
, will become available on Amazon Prime Instant Video starting on May 21.
Of course HBO is not giving away the entire farm to Amazon just yet. Besides Game of Thrones being noticeably absent from the release, earlier seasons of newer HBO shows, such as Girls, The Newsroom and Veep "will become available over the course of the multi-year agreement, approximately three years after airing on HBO." Additional seasons of other current series will also be added over time.
In addition, HBO GO, the channel's streaming app that's free when customers subscribe to HBO, will become available on Fire TV, with the companies targeting a launch by year-end. HBO GO is gives subscribers instant access to over 1,700 titles online including every episode of new and classic HBO series, as well as HBO original films, miniseries, sports, documentaries, specials and a wide selection of blockbuster movies, the release said.
The news is a blow to Netflix, especially as the streaming service announced on Monday that it will be boosting prices to the tune of $1 to $2, which will vary by country, for new streaming customers and eventually for all customers. Currently subscribers pay $7.99 a month for two streaming devices (about $96 a year), or $11.99 a month for four.
"We believe the HBO deal positions Prime Instant Video as a viable competitor and potentially more appealing alternative to Netflix," Wedbush Securities Michael Pachter wrote in a note to clients. Pachter rates Amazon at "neutral."
While Amazon and HBO did not disclose the financial terms of the deal, Pachter estimates that Amazon is paying HBO "likely well above $200 million" annually.
"Through the HBO deal, in addition to its own original content, Amazon has the potential to offer close to seventy different series that we believe HBO owns outright, with multiple seasons available for the more successful shows. In comparison, we believe that Netflix's original series figure is closer to ten, with up to only two seasons available. Also, Netflix typically buys first window streaming rights only, as opposed to owning the content," the note said.
That means it will become even more important for Netflix to continue its so-far successful trajectory of creating compelling original content like the two-seasons deep House of Cards to keep customers from jumping ship.
Last month Amazon raised the price of Amazon Prime by $20 to $99 per year. It's also ramping up its production of original content. Alpha House, starring John Goodman, is returning for a second season. Amazon said earlier this month that it greenlighted an additional six new original shows for Prime Instant Video.
Earlier this month it unveiled Fire TV, a device in the new age of streaming television, that will compete likes of Apple (AAPL) - Get Apple Inc. Report TV, Google (GOOG) - Get Alphabet Inc. Class C ReportChromecast and Roku in an increasingly crowded market. Amazon is selling the device for $99 and will include a free 30-day trial of Netflix and Amazon Prime to customers who purchase the device. Besides Netflix and HBO GO, Fire TV will feature a flurry of channels including Hulu Plus, Showtime Anytime, Bloomberg TV, WatchESPN and Vimeo, to name a few, and of course give users access to Amazon Prime's Instant Video.
"HBO original content is some of the most-popular across Amazon Instant Video -- our customers love watching these shows. Now Prime members can enjoy a collection of great HBO shows on an unlimited basis, at no additional cost to their Prime membership," Brad Beale, director of content acquisition for Amazon, said in the release.
Pachter believes that Amazon has an incentive to eventually offer a standalone streaming service at a discount to Prime and Netflix. "If this happens, we think that Netflix shares will be under continuing pressure for the foreseeable future," he writes.
"Netflix management believes that the Netflix and Amazon offerings are complementary, with each a distinct Internet video channel in an ecosystem that is not zero-sum. In the view of Netflix management, Internet video offerings are competing against linear video, rather than each other. We do not share management's conviction, and see the lack of Netflix's inclusion in Fire TV's voice search as evidence of the serious competitive threat that Amazon hopes to pose to Netflix," the note says. "Although Netflix says that inclusion efforts are in progress, we will remain skeptical until inclusion materializes. Finally, we think that there may be some truth to the speculation that Amazon will offer a free, ad-supported service, which we think will severely impact Netflix's ability to attract new subscribers."
With approximately 127 million subscribers globally, HBO sees the deal as a way to garner additional subscribers.
"Amazon has built a wonderful service -- we are excited to have our programming made available to their vast customer base and believe the exposure will create new HBO subscribers," said Charles Schreger, president of programming sales for HBO.
"As owners of our original programming, we have always sought to capitalize on that investment. Given our longstanding relationship with Amazon, we couldn't think of a better partner to entrust with this valuable collection," said Glenn Whitehead, Executive Vice President of Business and Legal Affairs.
Representing a long-standing position that HBO shows were only available to subscribers, what "changed HBO's mind had to be the money involved," Bernstein Research analysts led by Carlos Kirjner wrote in a note to clients. "A very rough estimate suggests the multi-year deal is worth somewhere between $200mm and over $400mm to HBO, at a very high margin. It doesn't take sophisticated math to suggest that amount of profit is worth the small amount of risk." The Bernstein analysts rate Amazon at "outperform" and Time Warner at "market perform."
"Additionally, HBO has wanted to preserve the option value of perhaps someday offering its own direct-to-consumer OTT service," the note says. "We believe the foregone revenue opportunity, at this point, was too big for HBO to pass up just to preserve a principle."
-- Written by Laurie Kulikowski in New York.
Disclosure: TheStreet's editorial policy prohibits staff editors, reporters and analysts from holding positions in any individual stocks.