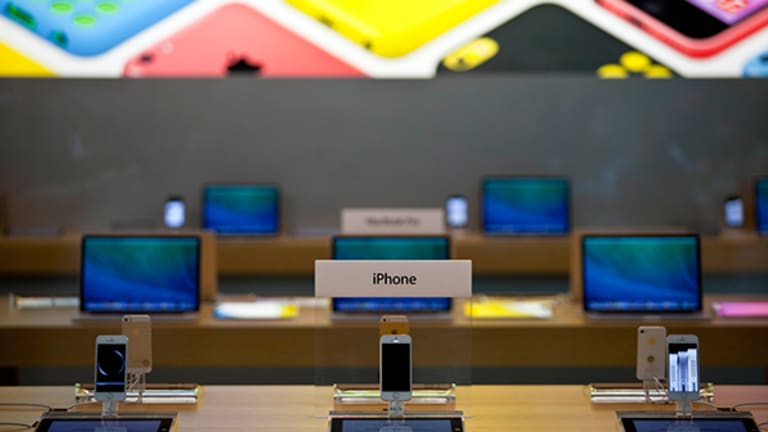 Here's the Biggest Takeaway From Apple's Solid Earnings
The big takeaway from Apple's earnings isn't the iPhone number, or how weak the iPad is, it was how strong the gross margins are.
NEW YORK (TheStreet) –– The biggest takeaway from Apple's (AAPL) - Get Report earnings isn't the iPhone number (though that was impressive), or how weak the iPad is (there's some work to do in Cupertino), it was how strong the gross margins are.
Apple earned $1.28 a share on revenue of $37.4 billion during its fiscal third-quarter ended June 30, compared to $1.07 a share and $35.3 billion in revenue last year. Though revenue missed estimates slightly, Apple's gross margin of 39.4% helped the company beat consensus earnings estimates, a point not lost on CEO Timothy D. Cook.
"Our record June quarter revenue was fueled by strong sales of iPhone and Mac and the continued growth of revenue from the Apple ecosystem, driving our highest EPS [earnings per shares] growth rate in seven quarters," said Cook in press statement. It's the phrase about the company's highest EPS growth rate which harkens back to the gross margin point.
Apple Q3 Earnings Live Blog Recap
How Apple's iPhone Ad Hints at the Next Big Thing
Here's What It Looks Like Inside Tesla's Massive Factory
Cantor Fitzgerald analyst Brian White was expecting to give a more conservative outlook given how secretive Apple is about its future plans. But Cook surprised analysts by issuing revenue guidance of $37 billion to $40 billion for the current and gross margin guidance of 37% to 38%. Such numbers made analysts "pleasantly surprised."
On the earnings call, Morgan Stanley analyst Katy Huberty (who always gets the first question on the conference call) noted that gross margin for the quarter marked the third time that it came in above guidance, but then asked why gross margin guidance was lower sequentially for the September quarter.
New CFO Luca Maestri said Apple is expecting "a loss in leverage" and "some unfavorable mix," but that the company continues to be the beneficiary of significant purchasing power while prices of some commodities (NAND PC-DRAM and mobile-DRAM) are helping drive profits.
"The commodity markets continue to be favorable, the product quality continues to be excellent, our teams executed really, really well," Maestri said on the call. "And all these things came together at the same time and it was a very nice surprise for us."
UBS analyst Steve Milunovich who rates shares "buy" with a 12-month price target of $115 price, said Apple is a growth stock again, not only because of the new products coming (iPhone, iTime, iPad), but also because of the margins.
"Although selling the stock on product announcements has been the right approach in recent years, we see further upside because of (1) a big upgrade cycle given that the lack of large-screen phones has kept Apple out of about one-third of the market; (2) the first iteration of the iWatch, which should add at least two points to EPS growth; and (3) margin support from an expected solid 38% gross margin and perhaps some operating expense leverage," Milunovich wrote in a research note. "EPS could grow by almost 20%."
However, the fourth-quarter guidance about gross margins, which the company expects to be between 37% and 38%, hints at the company's new products. Maestri noted that Apple has "some transition costs because we're expecting a very busy fall." 
It's clear that whatever Apple has in its pipeline, the company can barely contain its excitement. Cook's comment about having "an incredible pipeline of new products and services," made for good headlines but it's the operational efficiency that should make shareholders quite happy.
--Written by Chris Ciaccia in New York
>Contact by Email.