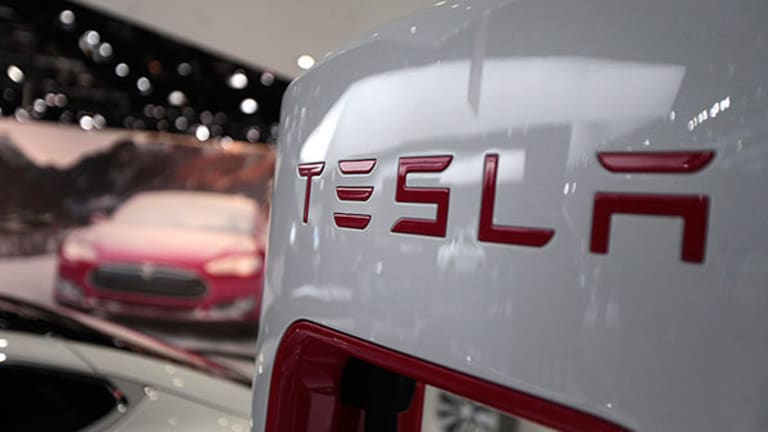 Here's the Biggest Risk With Tesla's Gigafactory
Everyone and their brother went nuts yesterday (myself included) when Tesla Motors unveiled plans for the Gigafactory. After a good night's sleep, a shower and some thinking, it might be time to take a step back and say, 'wait a minute.'
Updated from 9:10 a.m. to include additional risk in the ninth paragraph.
NEW YORK (TheStreet) -- Everyone and their brother went nuts yesterday (myself included) when Tesla Motors (TSLA) - Get Free Report unveiled plans for the Gigafactory. After a good night's sleep, a shower and some thinking, it might be time to take a step back and say, "wait a minute."
In yesterday's unveiling, Tesla said it expects to reach production unit rates of 500,000 cars per year by 2020 because of the Gigafactory. That's an incredibly fast ramp rate, considering the company expects to deliver 35,000 Model S vehicles this year, up from just over 20,000 in 2013. That 500,000 vehicle number includes the Model S, the Model X (slated for release later this year), and the upcoming Gen III vehicle, which CEO Elon Musk has said will be in the $30,000 to $40,000 range.
Also see: Tesla's Model X: A First Look
That's obviously very ambitious, and is part of the reason why Morgan Stanley believes Tesla is going to be much more than a car maker, and transform the utilities industry, potentially opening up trillions of dollars worth of opportunities for the company.
Forget the fact that the Gigafactory is going to be expensive, which is part of the reason why Tesla announced a $1.6 billion convertible debt offering yesterday, as the company continues to grow. All companies need access to capital, and Tesla is no different. The one thing that bothers me is right smack in the company's 10-K filing, which it released yesterday in conjunction with the debt offering and the Gigafactory announcement.
"In addition, we have also announced our intent to develop Gen III which we expect to produce at the Tesla Factory after the introduction of Model X. We intend to offer this vehicle at a lower price point and expect to produce it at higher volumes than our Model S. Importantly, we anticipate producing our Gen III vehicle for the mass market and thus we will need a high-volume supply of lithium-ion cells at reasonable prices. While our plan is to attempt to produce lithium-ion cells and finished battery packs for our Gen III vehicles at a new Tesla Gigafactory, our plans for such production are at a very early stage and we have not yet selected a site for the construction of the Tesla Gigafactory nor completed a factory design. In addition, we have no experience in the production of lithium-ion cells, and accordingly we intend to engage partners with significant experience in cell production and to date we have not formalized such partnerships. In addition, the cost of building and operating the Tesla Gigafactory could exceed our current expectations and the Tesla Gigafactory may take longer to bring online than we anticipate. If we are unable to build the Tesla Gigafactory in a timely manner to produce high volumes of quality lithium-ion cells for Gen III at reasonable prices and thus are forced to rely on others to supply us with lithium-ion cells for Gen III, our ability to produce our Gen III vehicles at a price that allows us to sell Gen III profitably could be constrained. Finally, we have very limited experience allocating our available resources among the design and production of multiple models of vehicles, such as Model S (including any variants we may introduce such as right-hand drive), Model X and Gen III. While we intend each of our production vehicles and their variants to meet a distinct segment of the automotive market, our vehicles may end up competing with each other which may delay sales and associated revenue to future periods. Also, if we fail to accurately anticipate demand for each of our vehicles, this could result in inefficient expenditures and production delays. Furthermore, historically, automobile customers have come to expect new and improved vehicle models to be introduced frequently. In order to meet these expectations, we may in the future be required to introduce on a regular basis new vehicle models as well as enhanced versions of existing vehicle models. As technologies change in the future for automobiles in general and performance electric vehicles specifically, we will be expected to upgrade or adapt our vehicles and introduce new models in order to continue to provide vehicles with the latest technology and meet customer expectations. To date, we have limited experience simultaneously designing, testing, manufacturing, upgrading, adapting and selling our electric vehicles."
The part that's bold-faced (I added that) is concerning to me. Tesla wants to build the biggest factory in the world as it relates to lithium-ion cell production, yet it has no experience producing them? That's a bit worrying to me.
Obviously, the electric car giant is going to partner with other companies on the factory, (the plant will cost between $4 and $5 billion in terms of capital expenditures 2020, with $2 billion coming from Tesla), and it's likely that Panasonic, which already builds the lithium-ion cells for Tesla, could be a partner. However, this is a major undertaking, and it's not one that's lost on people.
Merrill Lynch analyst John Lovallo (who's been a huge bear on the stock), notes the potential environmental problems with such a plant. In light of Tesla's disclaimer that it has no experience building li-ion cells, this is worth warranting. "We believe Tesla's planned battery Gigafactory could raise environmental concerns in its targeted states," Lovallo wrote in his note. "In fact, a 2013 report issued by a group including the Environmental Protection Agency and the US Department of Energy found that manufacturing lithium-ion batteries could increase the risk of resource depletion, global warming, and ecological toxicity. The report also cited increased likelihood of respiratory, pulmonary, and neurological complications for those exposed to the manufacturing process. While similar risks arguably exist for many types of manufacturing plants, we view the high-profile nature and size of Tesla's proposed project as possibly creating a greater degree of concern from state and local governments, offsetting the allure of incremental job creation."
Lovallo also goes on to make the point that while Tesla is heavily talking up lithium-ion as the future, there's other battery chemistries that could challenge it. "In fact, Flow batteries, Sodium-sulfur (NaS) batteries, and Lead-acid batteries all seem like reasonably attractive alternatives, which could translate into additional headwinds for Tesla's Gigafactory."
The Gigafactory no doubt is a huge opportunity for Tesla, as it's slated to produce 35 gigawatts worth of cell production and 50 gigawatts worth of pack production. However, a bit of caution is warranted, especially in light of the disclaimer about not having any experience in lithium-ion cell production.
Just some food for thought.
--Written by Chris Ciaccia in New York
>Contact by Email.