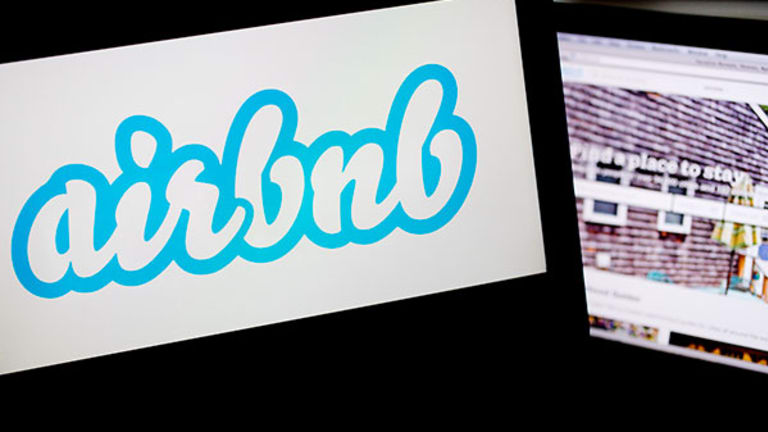 Here's Proof Airbnb Is Shaking Up the Global Hospitality Industry
Airbnb is having a real financial impact on the hospitality industry, and it's time for incumbents to acknowledge and meet the challenge.
Airbnb is having a real financial impact on the hospitality industry, and it's time for incumbents to acknowledge and meet the challenge.
NEW YORK (TheStreet) -- Airbnb hasn't been around for a full six years but it's already shaken the global hospitality industry, forcing longstanding incumbents to adapt or suffer.
More than 30 million consumers have used Airbnb to find a temporary resting spot, be it for a one-night stay or an extended month-long rental. And as Airbnb makes it easier for guests and hosts alike, the startup is upending all levels of the hotel industry for both business travel as well as vacations.
According to a recent report from Boston University, a 10% increase in Airbnb supply results in a 0.35% decrease in hotel room revenue, which translates into a 13% impact on revenue in Austin, Texas, which is home to the highest Airbnb supply.
The report's authors -- Georgios Zervas, Davide Proserpio and John W. Byers -- also found that lower-priced hotels and hotels that don't cater to business travel are the most affected by Airbnb. As a result of these impacts, the researchers found, hotels are reducing prices in an effort to stay competitive.
"Our work provides empirical evidence that the sharing economy is making inroads by successfully competing with, and acquiring market share from, incumbent firms," the report reads.
On top of that, Airbnb is getting real recognition inside and outside the tech space. Warren Buffett endorsed the startup in his annual letter to Berkshire Hathaway (BRK.B) - Get Report shareholders, saying that the startup "may be especially helpful to shareholders" looking for lodging for Berkshire Weekend.
Nonetheless, hotel executives don't seem to be all that worried by these inroads.
On CBS This Morning in July, Marriott (MAR) - Get Report CEO Arne Sorenson dismissed Airbnb as an "interesting experiment" and didn't seem to be at all threatened by it.
Granted, it's unlikely that Airbnb will ever completely take over the hospitality industry, but arguably the industry should be taking it seriously," said Bill Carroll, a professor at the School of Hotel Administration at Cornell University.
Airbnb "is going to put out an additional supply of lodging rooms, and anytime you increase supply, holding demand constant, Economics 101 effectively means that prices go down," Carroll said in a phone interview. "Airbnb is not driving demand, they're probably shifting demand from some other hotels."
If hotels want to prevent customers from choosing Airbnb over them, they either have to prove greater value -- which for many who dislike the idea of staying in a stranger's apartment is enough -- or they'll have to lower prices, he added.
Airbnb's threat is really about speed. If a hotel chain wants to open a new hotel, it would likely require three to four years to complete the project. Airbnb, on the other hand, is utilizing space that already exists and can therefore expand its supply very quickly.
The notion of leveraging already existing real estate for vacation rentals is certainly not exclusive to Airbnb. Vacation rental marketplace HomeAway (AWAY) has been providing platforms for such exchanges since 2005. But while Airbnb is giving HomeAway some extra competition, it's also helping spread awareness for the industry at the same time.
"Airbnb has created a market structure which allows an individual to select a vacation property or lodging and connect with an individual who provides that," Carroll said. "The fact that Airbnb has created that opportunity helps HomeAway, too, because it creates a halo effect of 'Oh hey there is this, I don't have to go to Marriott."
According to HomeAway COO Brent Bellm, awareness for vacation rentals among U.S. consumers is much lower than in other parts of the world, with only 32% recognizing vacation rentals as a type of accommodation they consider when going on vacation. In Europe that number ranges from 53% to 58%.
"We are far below the potential in the U.S.," Bellm said at Morgan Stanley's Technology, Media & Telecom Conference on March 3. "If over time awareness in the U.S. can approach that of Europe then this category is going to be substantially larger than it is today."
Bellm also offered another positive outcome from Airbnb's popularity.
"We've learned from Airbnb...that there are large classes of inventory that weren't classified as vacation rentals that we can look into--timeshares, investment properties," he said. "All of those are inventories that if added to our site would perform extremely well. It's growth opportunity."
For vacation rentals, there may be room for both Airbnb and HomeAway to flourish, said Reverdy Johnson, director of research at Blueshift Research.
Having surveyed property owners who have listed spaces on both Airbnb and HomeAway, Johnson has found that those who own fewer properties tend to prefer Airbnb, while larger property managers prefer HomeAway. Either way, most of the property managers he surveyed weren't moving to Airbnb instead of HomeAway, rather they were listing on both platforms.
"We see some smaller property owners turning to Airbnb in addition to HomeAway," Johnson said. "Not a lot of people are turning away from HomeAway because they are the standard in the industry, but if HomeAway doesn't do everything they want, Airbnb can be a second place for that manager to offer up to potential guests. Large property owners are not interested in Airbnb. They like HomeAway for reach, whereas Airbnb is seen as sort of a junior varsity, if you will."
Perhaps that reputation loses importance when it comes to the casual homeowner renting out a bedroom, but at least for now it seems that there's enough space for Airbnb, HomeAway and traditional hotels. There's simply more competition, so they'll have to up their game to win over consumers.
"Airbnb is growing up and gaining respect, and there's not as much the fear factor of someone renting out property through Airbnb as there once was four or five years ago," Johnson said. "Airbnb has grown beyond that to be more respected in the industry, and that's allowing them to have more vacation rental seekers using Airbnb to find places knowing that owners and managers are using it to list places."