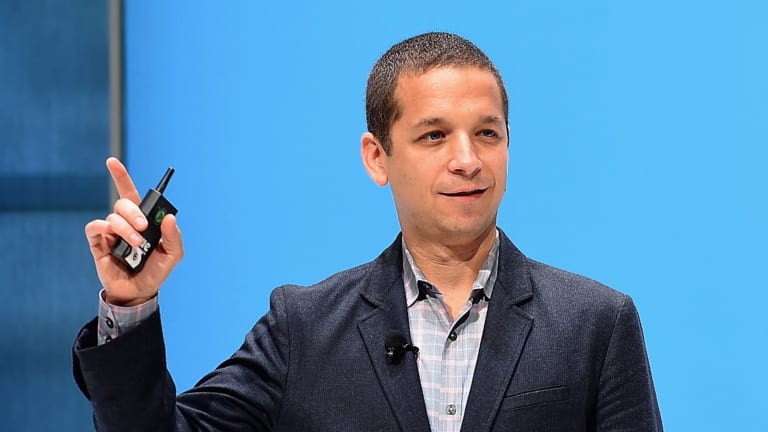 Publish date:
Here's One Thing LinkedIn Needs to Grow
The tech company has matured beyond being a professional-centric, social network for the shirt-and-tie crowd. Now it wants to be the place professionals go for targeted news and ads.
The tech company has matured beyond being a professional-centric, social network for the shirt-and-tie crowd. Now it wants to be the place professionals go for targeted news and ads.
NEW YORK ( TheStreet) -- LinkedIn (LNKD) wants to be your office water cooler, not just a place where would-be colleagues post resumes.
The professional networking site made its name as an easy way to share a CV online. But to increase the amount of time users spend on the platform, LinkedIn wants to become a place where people swap news and tips, both personal and professional.
In April, the Mountain View, Calif.-based tech company lowered its revenue projections for the first time since its 2011 initial public offering. The reaction for investors was unequivocal: shares plummeted 18% on the news. 
Looking to grow sales and alleviate investor worries, LinkedIn is betting on original content to attract new users and keep them on the site longer. But in a crowded field of tech companies and "old" media brands competing for short attention spans, LinkedIn will need to target stories to its users better than other players.
Here's where the money is: some of the stories they host could be "branded content," sponsored posts that promote a product. At a moment when companies shifting their money out of television and into digital platforms are uncertain how many eyeballs land on their ads, branded posts reassure hesitant advertisers.  
"Instead of somebody going to the Financial Times to consume content, they could go to LinkedIn," said Eleni Marouli, senior advertising analyst at IHS Technology.
Tech companies haven't always managed to make money off of original content. Twitter (TWTR) - Get Twitter, Inc. Report , for one, has struggled to attract users and to convince marketers that its site is a viable medium for advertising. Partly to avoid that fate, Facebook (FB) - Get Facebook, Inc. Class A Report introduced Instant to offer select users a higher-profile platform for direct publishing. The newly redesigned Apple (AAPL) - Get Apple Inc. (AAPL) Report News aims to offer individually-curated information.
The hitch, said Marouli, is that the tech world knows how to deliver content, but needs to be savvier about which people want to see which ads. (A user watching cat videos, for example, might pass up the same products coveted by a "Game of Thrones" fan.)
"These are tech companies, not media companies," Marouli said. "They need to invest in those traditional Mad Men-style relationships."
LinkedIn's big advantage is that it's already a place for high-value people to congregate, said Daniel Roth, LinkedIn's executive editor. The challenge, he said, is making sure that LinkedIn members see the content (branded or otherwise) they want to read.
"My fear is that someone writes an amazing post on LinkedIn and it doesn't show up in front of the right world," said Roth.
LinkedIn hopes it can match posts not just to individual users, but to companies, said Robert Helstrom of Sightly, a San Diego, Calif.-based video advertising technology company that specializes in targeting video advertisements.
"If they had their act together from a video perspective, [LinkedIn] would be ideal, because I could target ads at businesses," said Helstrom, who is Sightly's Vice President of Marketing and Strategy.
For now, he said, YouTube is still his best bet for marketing video content for consumers or businesses.
In its first decade, LinkedIn's goal was to create a network of resumes. But since going public in mid-2011 - just about the time it hired Roth - it has been curating news from companies, groups, and media sources. Later, it invited users to write original articles.
In October 2012, the tech star launched the LinkedIn Influencer program, an invite-only elite of LinkedIn users with real-world clout that are given special editorial attention from Roth's team whenever they write a post. The number of influencers has now tripled since the program's start, with 500 leaders ranging from President Obama to Virgin Group's Richard Branson now sharing original posts on LinkedIn.
LinkedIn's fellow tech competitors have each adopted slightly different tactics.
Facebook Instant articles will aim to keep users from ever having to leave the world's largest social network by allowing selected big brands like The New York Times, The Atlantic and The Guardian to publish their content directly on Facebook. As its name hints, Facebook is betting that faster-loading articles will keep users from going straight to a web browser to read news. The social media hub has also reportedly revamped its algorithm for trending stories.
Unlike the LinkedIn Influencer feature, Facebook Instant does not yet allow individuals to participate.
Medium, started by Twitter co-founders Evan Williams and Biz Stone in August 2012, allows visitors to follow curated sets of articles about the same topic in addition to individual users. The pitch for Medium, rather than asking users already on Twitter to write pieces longer than 144 characters, was to create a separate, collaborative blogging platform.
The latest entry is Apple News, announced last week. Apple's interface promises easy-on-the-eyes reading and features content partners in a model comparable to Facebook Instant. While Apple is primarily known for its high-value hardware, some have observed a renewed focus on software at this year's World Wide Developer's Conference.