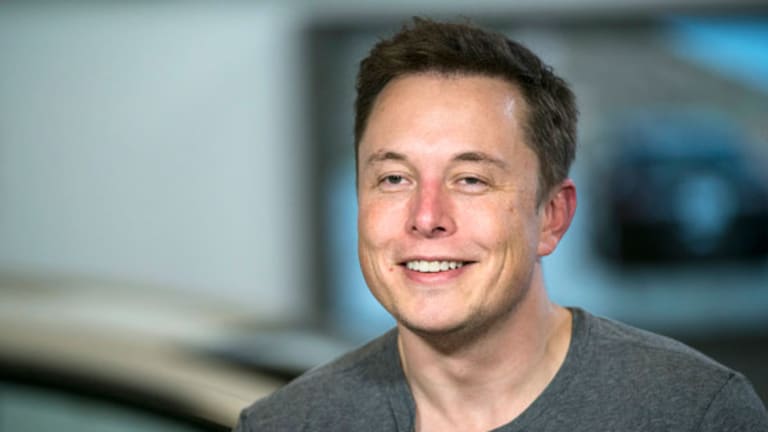 Here's How Tesla, Elon Musk Want to End Range Anxiety: Live Blog Recap
Tesla Motors is attempting to put an end to fears that its Model S electric vehicle will ever run out of power, at least according to CEO Elon Musk.
Updated from 11:41 a.m. to include updates from the press conference throughout the story.
NEW YORK (TheStreet) -- Tesla Motors (TSLA) - Get Free Report is attempting to put an end to fears that its Model S electric vehicle will ever run out of power, at least according to CEO Elon Musk.
On a conference call with journalists, Tesla unveiled Version 6.2 of the software, which basically makes it nearly impossible to run out of battery, unless you try to. "It's basically impossible to run out of range, unless you do so intentionally," Musk said. The new software, currently in beta testing, will allow Model S drivers to communicate in real time with the Supercharger network and the destination chargers, warning you if your charge is low, before you drive out of range.
Earlier in the week, Musk tweeted that he hoped to "end range anxiety," a common problem for owners of electric vehicles.

LIVE BLOG
Range anxiety is the feeling drivers get when the battery starts to draw down and the ability to recharge may be difficult or in some cases, not possible. Tesla has worked hard to try to end range anxiety by introducing a network of Supercharger stations, which would recharge the battery of the Model S for free. After charging the Model S for half an hour at a Supercharger, Tesla claims the car can go an additional 170 miles before being recharged again.
Also as part of the software update, which is expected to go live in 10 days, is a trip planner. It will look up Superchargers in real time to get you the most convenient route to your destination and get messages from the Tesla phone app. Also included in the release is automatic emergency breaking, a feature Musk said will be in all Tesla cars going forward. "I think it'll be extremely powerful in saving lives."
Musk teased the next version of the software, Version 7, which would not only offer a complete change to how it looks, but will include auto-steering as well. Musk noted Palo Alto, Calif.-based Tesla is currently testing a route between San Francisco and Seattle and can drive almost the entire route without the driver touching the steering wheel at all.
Investors seemed disappointed with the announcement, sending shares into the red, with some hoping for a longer range battery pack, but Musk noted there was little benefit to creating one. "If we wanted to, we could create a 500 mile battery pack right now, but the marginal utility from going to 400 mile range to 500 mile range is pretty low. The sweet spot is from 250 mile to 350 mile range, that's really ideal."