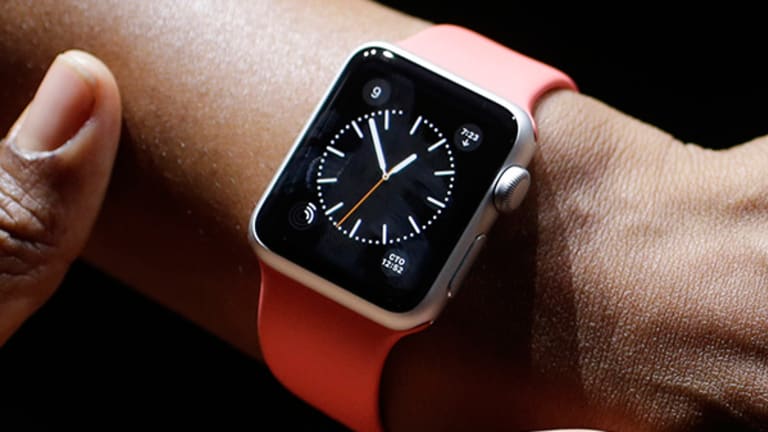 Here's How Many Billions Wall Street Expects From Apple Watch
As Apple prepares to "spring forward," so too do analysts, with some expecting Apple Watch to be the best-selling product in the company's history.
Updated from 9:15 a.m. to include additional information in the tenth paragraph.
SAN DIEGO (TheStreet) -- Though Apple has yet to sell a single Apple Watch, analysts have high hopes for the wearable device, with some expecting it to be the best-selling new product in Apple's (AAPL) - Get Apple Inc. Report history. Estimates, however, are all over the map, partly because specifics around pricing and the launch are unclear.
Some of the uncertainty will be cleared up Monday when Apple hosts its "Spring Forward" event at the Yerba Buena Center in San Francisco. First unveiled in September, the Apple Watch is expected to be the focal point of Monday's affair, and company watchers will look for new details on watch models and pricing, applications and the formal release date.
For Apple's fiscal 2015, which ends in September, analysts' estimates for Apple Watch-related revenue range between $1 billion and $7 billion. For fiscal 2016, estimates range from $6 billion to $19 billion. According to Piper Jaffray analyst Gene Munster, who sees an overall average selling price of between $550 and $600, Apple can sell 8 million devices in the 2015 calendar year for between $4 billion and $4.8 billion in revenue. By comparison, Apple generated $1.84 billion in iPhone-related revenue in fiscal 2008, the first full year it was available.
Jim Cramer's charitable trust Action Alerts PLUS is long Apple. Read what AAP has to say here.
Research firm Oppenheimer, which is admittedly optimistic on the watch's market potential, finds itself sandwiched in the middle. The firm expects device sales of around 6 million units and revenue of $3.3 billion during fiscal 2015, and is even more positive about the future. "We believe in the long-term, when display and input challenges are overcome, the Watch will likely replace the smartphone as the primary mobile computing device," Oppenheimer analyst Andrew Uerkwitz wrote in a recent note.
Not all are sold just yet on such an ambitious vision. Up for debate is whether the watch will be a must-own device for the masses or just a fancy new toy for Apple's most loyal followers.
Apple will sell the watch in three lines: Apple Watch Sport, Apple Watch and Apple Watch Edition. Sport is likely to be the base model with prices starting at $349, but exact pricing on the other two lines is still to be determined. Piper Jaffray's Munster estimates the mid-level Apple Watch will sell for $499 to $549 and expects that the Apple Watch Edition will start at $4,999.
"[Apple] will sell a few million [watches] just because it is Apple's shiny new product," Van Baker, a research analyst at Gartner, said. "The challenge will be to continue to sell the Apple Watch after the fan boys have bought it. It will be a couple of quarters before we really know what the sustainable sell through rate will be."
Apple has asked suppliers to make as many 6 million watches for the first quarter after launch, with half the orders allocated to the Sport model, according to The Wall Street Journal.
As it stands, wearable technology is still something of a mystery.
Research firm Canalys reported that manufacturers shipped 4.6 million smart wearable bands in 2014, with Android Wear devices, which run the watch operating system developed by Google (GOOG) - Get Alphabet Inc. Class C Report (GOOGL) - Get Alphabet Inc. Class A Report, accounting for 720,000 shipments. Things are expected to change dramatically in the next few years, however. Research firm Gartner predicts the entire wearable technology market would see 68.1 million units shipped in 2015, with smartwatches accounting for nearly a third of those sales, at 21 million. By 2020, the wearables market is expected to be worth $27 billion with around 400 million wearable devices sold that year, according to market-research firm Ovum.
Here's what others on Wall Street expect from Apple Watch:
Piper Jaffray analyst Gene Munster (Overweight, $160 price target): Munster expects Apple Watch sales of 8 million units in the 2015 calendar year, with the average selling price ranging from $550 to $600, depending on whether Apple can sell multiple bands to customers. The firm thinks it's fair to assume Apple can sell 10,000 of its highest-priced Apple Watch Edition devices in the same period. Rolex sells between 600,000 and 750,000 watches per year by Piper Jaffray's estimate. Apple, if it sells 10,000 Apple Watch Edition units in the first year, would be about 2% the size of Rolex. "We believe this is a reasonable potential first-year size as high-end consumers weigh the power of the Apple brand versus other luxury watches and the trade-off of quickly depreciating technology in an Apple Watch versus other more traditional luxury watches that may hold value better," Munster said.
Citigroup analyst Jim Suva (Buy, $135 PT): Citigroup is modeling watch sales of 3.1 million units between April and June at an average selling price of $350 for $1 billion in revenue and gross margin of 17%. For Apple's fiscal 2015, Citigroup estimates revenue of $2.4 billion, based on sales of 7 million watches. For 2016, it expects sales of 20 million watches for $6.3 billion in revenue. "We believe continued iPhone 6 sales, coupled with purchases of higher memory configurations, are more material to earnings," Suva said.
BMO Capital Markets analyst Keith Bachman (Outperform, $135 PT): Bachman is projecting sales of 19 million units of the watch by the end of the year, with more than 10 million Apple Watch sales in the last three months of 2015. He expects that by the end of fiscal 2016, the Apple Watch will reach as much as 17% of iPhone 6 owners. "We remain bullish on the Apple Watch, while we think investors remain skeptical," Bachman wrote in a Feb. 13 note.
Cantor Fitzgerald analyst Brian White (Buy, $160 PT): Cantor expects Apple Watch sales of 20.6 million units in the first year after the device goes on sale. It's modeling revenue of almost $3.2 billion from sales of 6.8 million units in fiscal 2015. For 2016, it expects sales of 25.1 million units for revenue of $11.7 billion. "We believe Apple has a big opportunity to lead this nascent market in 2015 and (Apple Watch can) become Apple's fastest selling new product category during the first year on the market, surpassing the iPad," Fitzgerald wrote in a Jan. 28 note. He also noted that he thought the firm's estimates were conservative.
Wells Fargo analyst Maynard Um (Market Perform, $105 - $115 PT): Wells Fargo, assuming a conservative average selling price of $320, is modeling fiscal year 2015 watch revenue of $1.12 billion based on sales of 3.5 million units.
BTIG analyst Walter Piecyk (Buy, $150 PT): Piecyk estimates that Apple will sell 20 million Apple Watches during the fiscal year with 6.25 million device sales between April and June. "We have forecast $2.5 billion in (revenue in) the June quarter and $5.0 billion in the September quarter," Piecyk wrote in a Jan. 28 note.