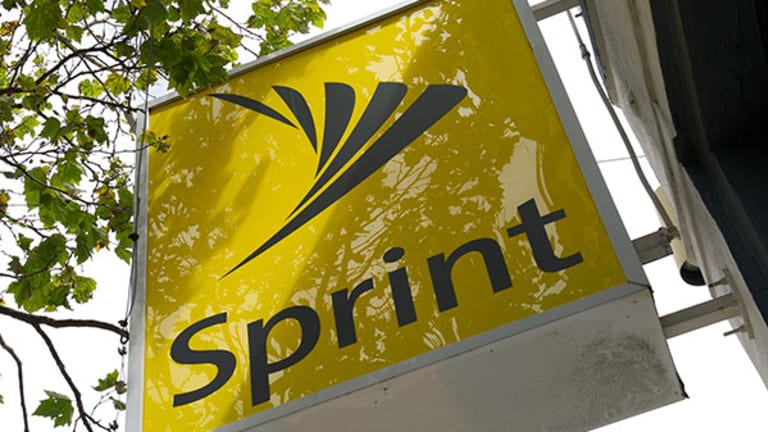 Here's How Desperate Sprint Is to Win Your Wireless Business
Sprint, the nation's No. 3 cell phone carrier, is now offering a family plan deal with more data, on more phones, at a lower price, than AT&T, Verizon or T-Mobile.
NEW YORK (TheStreet) -- Sprint (S) really wants your family's business, and it's offering its best deal ever to win your hearts, minds and phones.
For $90 a month, Sprint customers can have as many as 10 lines with unlimited talk, text and 12 GB of 4G, high-speed data to share -- what Sprint boasts is the best family-plan deal available among the national carriers. The discount offer will be available through March 11.
The new deal is meant to undercut the latest offering from smaller rival T-Mobile (TMUS) .
Bill Menezes, an analyst with Gartner, says the latest move proves "Sprint is following, not leading" in the mobile phone business. "Sprint really needs a reason for getting people to return after losing lots of customers," Menezes said over the phone. "Sprint must deliver a good user experience to win customers back to the fold."
No. 4 carrier T-Mobile's best family deal gives customers 10 GB of shared 4G data for $100 a month. Wireless leader Verizon (VZ) and No. 2 U.S. cell carrier AT&T (T) both offer 10 GB family plans at $160 a month. And all but Sprint limit their deals to four handsets.
In the latest numbers from Statista, Verizon and AT&T were virtually tied with each accounting for around 34% of U.S. wireless subscribers in the third quarter of 2014. Sprint was in third place with 16% and T-Mobile very close behind with a 15% share. The wireless telecommunication market in the United States was worth an estimated $205 billion last year.
Morningstar analyst Michael Hodel wrote in a research note that Sprint has not been able to keep up with the competition with regards to discounts. "Sprint has sputtered as promotional activity across the industry has escalated," Hodel wrote in the note. "Dealing with competitive pressure has made the task of improving the network and rebuilding momentum behind the Sprint brand all the more difficult."
Sprint shares were off 5.6% to $4.56 in mid-afternoon trading in New York.
For new customers who bring along their old numbers and activate on a plan with 12 GB of data or more a month, Sprint is also offering to "buy out" their contracts with their previous carriers; the company will give them an American Express Reward Card worth up to $350 per line after 45 days on a new Sprint plan.
Sprint is also reducing its data access charge on the $90 Family Share Pack plan from $25 to $15 for handsets. For customers switching their numbers to Sprint from another carrier, Sprint will waive the access charge for handsets, tablets and mobile broadband devices on 12 GB (or higher) data allowances for up to 10 lines for one year. The company estimates a family of four could save more than $700 in data access fees for the year.
According to analyst Craig Moffett of MoffettNathanson, Sprint's offer marks "the first time since the advent of shared data plans that a carrier has essentially waived all per-device charges in favor of a shared data bucket only. I guess you could say it's a very slippery slope, but then again, this takes per-device pricing to zero so it's not like it leaves you much further to fall."
Brian Haven, senior research analyst at IDC says "churn is up" in the industry and Sprint is working hard to retain its customers." Haven noted that Sprint's new Family Plan offering was "a step in the right direction" and that it "will help with convincing current subscribers to stay where they are." 
Must Read:Sprint Earnings Report: Q3 2104
- Written by Gary Krakow in New York.
To submit a news tip, send an email to
.
Gary Krakow is TheStreet's Senior Technology CorrespondentThis article is commentary by an independent contributor. At the time of publication, the author held no positions in the stocks mentioned.