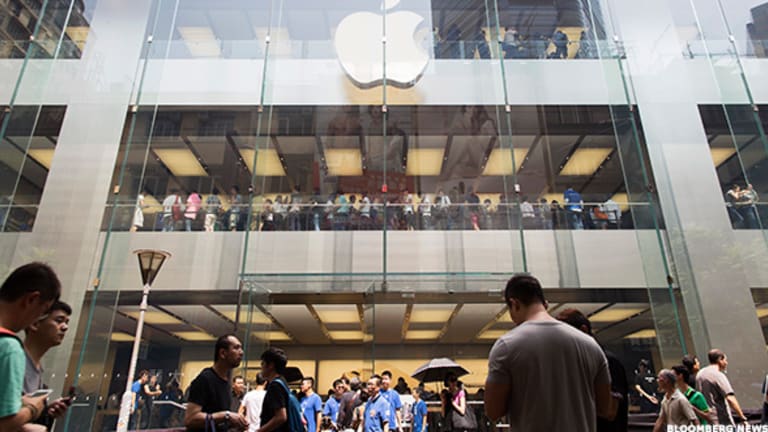 Here's What Apple Can Do to Reach a $1 Trillion Valuation
iPhones, watches, television sets and electric cars: Cantor Fitzgerald expects big things from Apple and predicts the stock price will rise over the next year.
SAN DIEGO (TheStreet) -- With Apple's (AAPL) - Get Apple Inc. Report stock price creeping toward $130 a share, the company's value is hovering around $750 billion. Now, analyst firm Cantor Fitzgerald is projecting Apple can cross the $1 trillion-threshold in just 12 months.
Monday, Cantor Fitzgerald upped its 12-month price target for Apple to $180 per share, from $160, based on confidence in the company's forthcoming Apple Watch, continued success of the iPhone in China, and other yet-to-be announced new businesses. The new target implies a market capitalization of $1.07 trillion based on Apple's 5.8 billion outstanding shares.
"Apple will enter its first new product category in five years," Cantor Fitzgerald analyst Brian White wrote in the research note. "Also, we believe Apple's iPhone portfolio and position in China have never been stronger. Finally, Apple has shown its commitment to returning cash to shareholders, and we expect more in April. We believe the combination of these forces will drive the market to reward Apple's stock."
Apple Watch will go on sale April 12 and ship on April 24. Cantor is modeling sales of 20.6 million units in the first year of its availability. For Apple's fiscal 2016, the firm expects sales of 25.1 million watches, revenue of $11.7 billion, and an earnings per share contribution of around 67 cents. For comparison, analysts' estimates for fiscal 2016 watch sales range from $6 billion to $19 billion. 
Apple's wearable isn't the only new product category Cantor is excited about. The firm is also salivating over the opportunity electric vehicles present, citing a Bloombergreport on Apple's desire to produce its first car by 2020. Cantor estimates that electric vehicles represent a $549 billion opportunity in the U.S. market. The firm also believes that Apple's newly rumored web TV service, said to launch in September, could prove a "stepping stone" for a full blown television. "The LCD TV market is approximately a $100 billion a year industry, and we would expect an Apple TV to sell at a premium," White wrote.
Of course, the only sure thing on Cantor's list of stock boosters is Apple's iPhone, which proved a monstrous hit in Apple's fiscal 2015 first quarter. The Cupertino, Calif-based company sold a record 74.5 million iPhones for $51.2 billion in revenue, accounting for 69% of total revenue during the three-month period. Cantor expects Apple's supersized iPhone 6 and 6 Plus models to become even more popular in China.
"Within the next five years, we believe 15% to 20% of the mobile subscribers in China could be candidates for a higher-end smartphone such as the iPhone, representing an opportunity for Apple that we estimate at approximately $133 billion to $178 billion," White said.