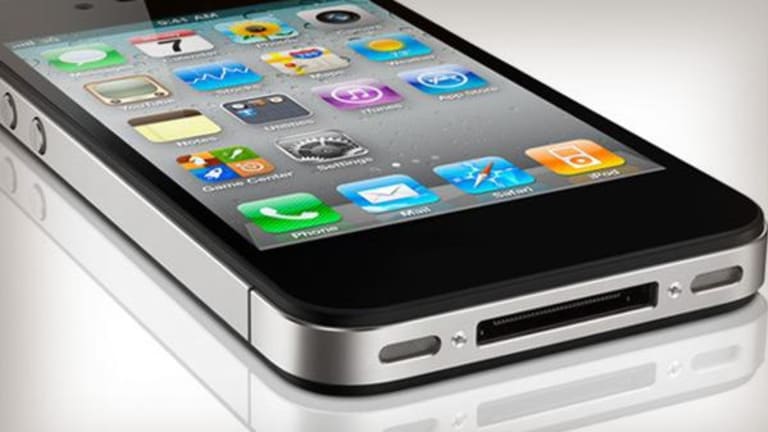 Here's Why U.S. Spending in Apple's App Store Jumped 15% in 2016
The success of Apple's services businesses and hardware unit are intertwined.
Apple's (AAPL) - Get Apple Inc. (AAPL) Report  App Store seems to have an app for everything -- and users are snatching them up.
iPhone users in the U.S. spent an average of $40 on iOS App Store purchases in 2016, up from $35 in 2015, data-tracking firm Sensor Tower reported this week.
More than 80% of the revenue generated in 2016 by the domestic App Store was in the "games" category, Sensor Tower said. Revenue per active iPhone user rose from $25 to $27 year-over-year. 
In second place in terms of the amount of money spent in the App Store was the "Music" category, which saw a slight increase to $3.60 spent individually in 2016, up from $3.40 the prior year. 
The third-highest grossing category -- and the category that showed the highest growth in 2016 -- was the "entertainment" unit, which included apps from Time Warner's (TWX) HBO Now and Hulu, which is part-owned by Disney (DIS) - Get Walt Disney Company Report and Netflix (NFLX) - Get Netflix, Inc. (NFLX) Report . Individual spending soared 130% year-over-year for that category, from $1 to $2.30.
Apple is a holding in Jim Cramer's Action Alerts PLUS Charitable Trust Portfolio. Want to be alerted before Cramer buys or sells AAPL? Learn more now.
The data comes as Apple has said it wants to double its services business, which includes the App Store, iTunes, Apple Music, Apple Pay and iCloud by 2020, according to CEO Tim Cook's comments during the company's first quarter earnings call last month. The services business hit $7.17 billion for the December quarter. 
The services business will be one of the "faster growth" areas for Apple going forward, even outpacing some of its hardware, Morningstar senior analyst Brian Colello said. This is welcomed news for Apple, considering its main growth engine, the iPhone, is pretty much done when it comes to finding first-time customers. "The story for Apple and the iPhone is now about returning customers and repeat purchases," Colello said. 
SensorTower's data is a "positive" for Apple because it means iPhone users are buying more apps and engaging with them more, Colello noted. This means there's a higher likelihood that those iPhone users will keep using a higher-end iPhone, rather than switching to a cheaper smartphone from a different manufacturer. "That's what's important about this news -- that its services business is linked to its hardware business," he said.
The jump in App Store spending comes as Apple recently reported a new record for iPhone sales for its fiscal first quarter. The company sold 78.3 million iPhones, helped by the release of the iPhone 7 in September. In addition, revenue for Apple's Services segment increased to an all-time high of $7.17 billion vs. $6.01 billion for the same quarter last year. 
The growth in the App Store's entertainment category also gives rise to more speculation about Apple potentially buying Netflix, especially since Apple has a large cash pile of about $250 billion. But Morningstar's Colello said he would rather Apple build its own content service because it has a larger user base than Netflix, plus it would be an "extremely" expensive deal. "We want it to build, not buy," he said.
Apple's iPhone user base is thought to be between 520 million and 630 million. In addition, Apple Music has more than 20 million paying subscribers after launching in June 2015. Meanwhile, Netflix has 93.8 million subscribers worldwide. The streaming service would go for about $50 billion if a significant premium was added to its current market value, Fortune.comreported.
Apple has been speaking more openly about its own plans to get into the original content space. Last month, Apple said it would begin offering original content to its $10-per-month Apple Music subscribers to help boost subscriber growth on the platform. So far it has a reality competition show about apps called Planet of the Apps slated for a spring debut and the CBS' television series Carpool Karaoke that it acquired last summer slated for an April debut. The series features unscripted interviews with celebrities in a car led by the host of CBS' (CBS) The Late Late Show with James Corden. 
Investing in original content to support its Apple Music subscriber base is a worthwhile goal, although it may take Apple a few years to build it out, Colello said. These investments are taking more of the spotlight as investors understand that the iPhone is not expected to grow at an exponential pace anymore. 
Some analysts argue that Apple's growth has been hurt by a lack of innovation since co-founder Steve Jobs passed away in 2011, but Colello disagrees. Much of the recent innovation in the iPhone is "under the hood," such as more advanced processors, chips and sensors. People are thrown off because the advancements are packed in the "same five-inch rectangle" because that's what the industry standard is, he noted. In addition, the Apple Watch, Apple Pay service and the new Air Pods are all unique products. 
"That's a misplaced accusation," he said. "The main thing to take away from this is that the app purchases can help support iPhone sales. And if the iPhone starts to lose market share, then the services business might decline too."