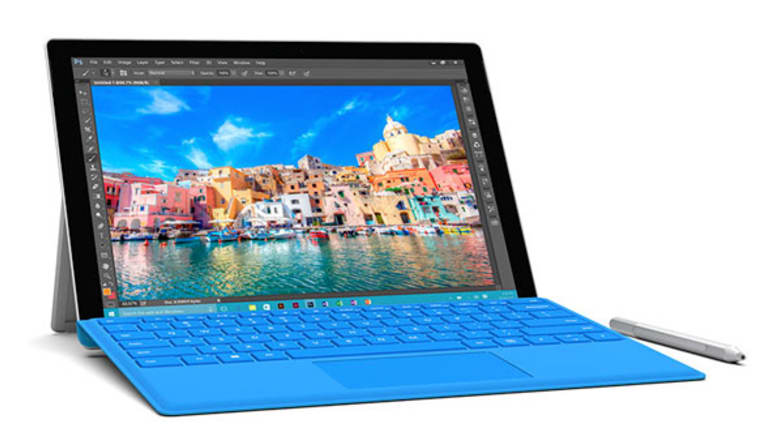 Here's Why the Microsoft Surface Pro 4 Is Better Than the iPad Pro
Microsoft has continued to improve its Surface Pro tablet/laptop while others are now joining the fray.
While others are trying to duplicate Microsoft's Surface Pro 4 -- such as Apple (AAPL) - Get Apple Inc. Report , with the recently released iPad Pro, and Alphabet (GOOGL) - Get Alphabet Inc. Class A Report (GOOG) - Get Alphabet Inc. Class C Report with the Android-based Google Pixel C -- Microsoft's (MSFT) - Get Microsoft Corporation Report fourth-generation Surface Pro 4 is still the two-in-one to beat.
At first glance, the latest Surface Pro looks a lot like last year's model, but it offers subtle but substantial differences. The new Surface Pro 4 has sixth-generation, Intel (INTC) - Get Intel Corporation Report multi-core processors, better cameras (8 MP and 5 MP), a much better keyboard/Type Cover (a $130 option) and perhaps most important of all, it runs Windows 10 right out of the box.
The new version is a tiny bit heavier than last year's model, but it has a slightly larger screen, 12.3-inches compared to last year's model's 12-inch screen. Inside, you can pick your power level, choosing either the m3, i5 or i7 processor, 4 GB, 8 GB or 16 GB of RAM, and from 128 GB to 1 TB of solid-state storage.
Microsoft makes a point to let you know it's spent a lot of time and effort to improve the touch sensitivity of the new Surface Pro's touchscreen. The new display is more sensitive to the touch, which is especially important when you're using the device to handle intensive graphics tasks. We found the new pen/screen system to work very well and react quickly to our touch commands. It even made our signature look good, which can be a near impossible feat.

We were hoping Microsoft would come up with some miraculous way to improve battery life in the Pro 4 but that's not what we found. We were able to stretch nearly seven hours from a fully charged internal battery before having to find an open AC outlet. Last year's Surface Pro was able to provide nearly an hour more of use from the similar design.
The Surface Pro 4 is slim, sleek and as super-fast as you might expect from the combination of the latest processors and lots of speedy memory. In its least expensive configuration, at $899,  the 4 is workable, but spending an extra $100, you get a better computer with a Core i5 processor. Bumping up to an i5, 8GB and a 256GB SSD will set you back $1,299, and that's the minimum configuration we recommend for the best performance-to-price ratio. 
If that's not enough, you can order a Surface Pro 4 with an Intel i7, 16 GB of RAM and 1 TB of SSD storage. Be ready to fork over a mind-numbing $2,699 for all that power in tablet form.
While you could make a hardware comparison with iPads or Android devices, it's really Surface Pro's Windows 10 operating system software that sets it apart. When it comes to handling computer-intensive tasks Windows 10, running on an Intel processor, is still hard to beat.
The Surface Pro 4 is the best, overall tablet/laptop you can buy. At least for now.
Overall Score: 8.8/10

Buy the Surface Pro 4 on Amazon.
This article is commentary by an independent contributor. At the time of publication, the author held no positions in the stocks mentioned.