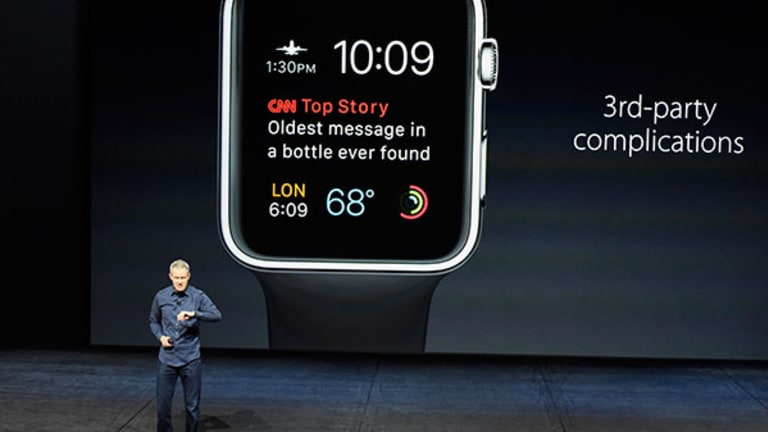 Here's Why the Apple Watch Will Have a Huge Holiday Shopping Season
Want an Apple Watch for Christmas? You're not alone. That's why Apple will win the holiday season, starting with Black Friday.
Want an Apple Watch for Christmas? You're not alone. That's why Apple (AAPL) - Get Apple Inc. Report will win the holiday season, starting with Black Friday.
The tech giant heads into the holiday shopping season with a lineup that, according to a note from Drexel Hamilton analyst Brian White, will be "tough to beat." The Apple Watch, on the market since April, is poised to fare especially well and will likely be under more than one Christmas tree come December.
White points to IBM's just released Watson Trend app as proof that the Apple Watch will be a hit Black Friday and beyond. The app, which scours the internet to discover product trends and decipher consumer purchasing decisions, gives the device the top trend score of 100, on a scale of 0-100.
"We have previously voiced our view that the Apple Watch will be a big hit this holiday season and data from the IBM Watson Trend App is supportive of our opinion," White wrote. "We believe this holiday could be the inflection point for the Apple Watch, driving an acceleration in the adoption rates in 2016 and beyond."
On Apple's fiscal fourth quarter conference call, CEO Timothy D. Cook said sales of the Watch were "just getting going" and that the Cupertino, Calif.-based company was "in the very early innings of this promising new part of our business."
Other popular products for the holidays, according to Watson Trend, are Samsung TVs, Sony TVs, Microsoft Surface Pro 4, LG TVs, Star Wars Legos, Canon Cameras and Apple iMac computers.
Holiday spending trends have a major impact on Apple, and this year, sales are expected to rise. The National Retail Federation (NRF) projects that holiday sales will grow 3.7% this season to $630.5 billion. Last year, sales were up 4.1%. The 10-year average is 2.5%.
And shoppers will be out in droves on Black Friday. Nearly 60% of respondents to the NRF's Preliminary Thanksgiving Weekend Survey said they "definitely will or may shop on Thanksgiving, Black Friday, Small Business Saturday and/or Sunday." Moreover, 79.6% said they plan to or may shop on Cyber Monday.
As to what they'll be buying, it may very well be tech. The Consumer Technology Association anticipates record-setting tech sales during Black Friday week, with an estimated 91 million Americans planning to purchase tech or tech accessories. Video game consoles, televisions and tablets are expected to be among the top buys, as are smart watches.
Apple is yet to release complete numbers on its Apple Watch sales, though the device's performance in the market appears to be on the right track. "I think we will set a new [sales] record this quarter; so things are going well," said CEO Tim Cook in a recent interview with The Telegraph.
Drawing from Apple's annual report with the SEC, VentureBeat estimated Apple sold at least $1.7 billion in watches through September.