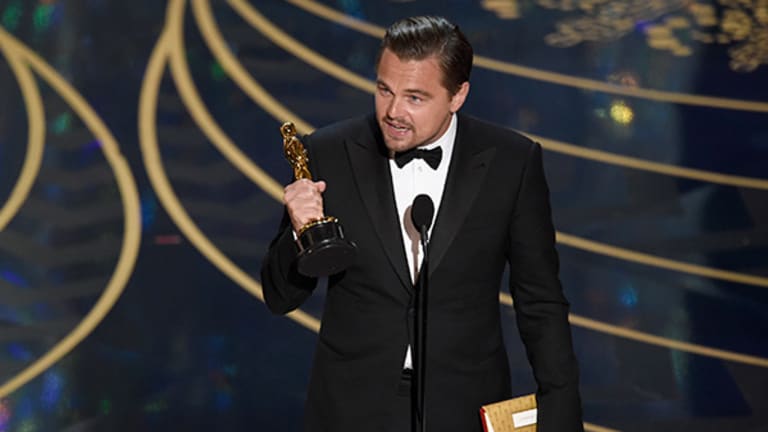 Publish date:
Here's Who The Real Winner of This Year's Oscars Was
Maybe it's not 'Hooray for Hollywood' anymore, but Hooray for Silicon Valley instead. Here's how the Oscars played out on Facebook, Twitter, Snapchat and Instagram.
Maybe it's not 'Hooray for Hollywood' anymore, but Hooray for Silicon Valley instead. Here's how the Oscars played out on Facebook, Twitter, Snapchat and Instagram.
Updated from 11:18 a.m. to include stats from Instagram in the seventeenth paragraph.
Maybe it's not "Hooray for Hollywood" anymore but Hooray for Silicon Valley instead.
After a night of glitz, glamour and a Leonardo DiCaprio win for Best Actor for The Revenant, it's clear the big winner of the night was social media. Facebook (FB) - Get Report , Facebook-owned Instagram, Twitter (TWTR) - Get Report and Snapchat were the place(s) to be to talk about all things Oscar, with several of them launching new services around the broadcast.
Los Angeles-based Snapchat used the event to debut its web browser app, letting users share snaps straight from their computer, which may be a welcome sign for advertisers. The Evan Spiegel-led company had exclusively been mobile up until this point, with its app currently ranked as the fourth most downloaded in the Apple App Store, ahead of competitors Facebook, Instagram and Twitter.
On the Snapchat homepage are some snaps of the Red Carpet, with stars such as DiCaprio, Matt Damon, Kerry Washington and more all walking the red carpet in their awards show best.
Facebook and Twitter are holdings in Jim Cramer's Action Alerts PLUS Charitable Trust Portfolio.

Exclusive Look Inside:
You see Jim Cramer on TV. Now, see where he invests his money and why Facebook & Twitter are core holdings of his multi-million dollar portfolio.
Want to be alerted before Jim Cramer buys or sells FB, TWTR?Learn more now.
Snapchat, which is thought to have close to 200 million monthly active users, has been particularly active on the video front, having surpassed 6 billion video views every day, according to a January report from The Financial Times, a sign that usage is increasing.
By launching a web browser application, Snapchat appears to be making it easier for all demographics to use the platform.
 For all of its business problems, Twitter had a night in style thanks to the Academy Awards, including beating its most-talked about event ever, the Ellen selfie.
DiCaprio's win for Best Actor generated more than 440,000 Tweets per minute, beating Ellen's tweet by nearly 75%, demonstrating that not only do the ladies love Leo, but a host of others do as well, making him the "king of the world," at least for last night. Other buzzed-about moments include the upset win for Best Picture, with Spotlight beating out The Revenant, Mad Max: Fury Road, The Big Short, Bridge of Spies, The Martian, Room and Brooklyn.
Despite not winning for Best Picture, it certainly was a "lovely day" for Mad Max: Fury Road, which took home six Oscars, including Sound Mixing, Sound Editing, Production Design, Makeup and Hairstyling, Film Editing and Costume Design. 
Facebook was the exclusive live streaming partner for The Academy and not only will it help Facebook boost its enormous presence in video, but will help to serve CEO Mark Zuckerberg's fascination with live video.
The Menlo Park, Calif.-based Facebook said 24 million had 67 million interactions related to the Oscars, with the top five moments being DiCaprio's win, Spotlight winning Best Picture, Lady Gaga singing Til It Happens to You, Alejandro G. Iñárritu winning Best Director and Mark Rylance winning Best Supporting Actor.
Last week, the company announced that Android users can produce their own Live content, starting in the U.S., rolling out to other countries. Currently, iOS users in 30 countries can share Live video. "Live video is one of the things I am most excited about, because it's so raw and so visceral," CEO Mark Zuckerberg said at a town hall Q&A held last Friday.
Instagram also had its day in the sun, not only launching its Live Oscars Video platform, but also demonstrating its strength as the place to be on Oscars Sunday.
The photo-centric social network, which now has over 400 million monthly active users and recently surpassed 200,000 advertisers, linked up with actor Mark Ruffalo to discuss how important investigative journalism is. Ruffalo played a Boston Globe journalist in Spotlight, a movie about a priest molesting young boys.
"We have to hold our institutions accountable," Ruffalo said in the Instagram blog. "One very good and efficient way of doing that is through the power of journalism."
Nineteen million accounts had over 64 million interactions on Instagram, with the most viewed videos coming from host Chris Rock, as well as Ryan Seacrest. The top three hashtags were #oscars, #leonardodicaprio and #oscars2016.
Instagram may have also had a signature moment, with Jacob Tremblay, the child actor nominated for his role in Room, taking an insta of his mother and father on the way to the show, with some fawning over how attractive his parents are.