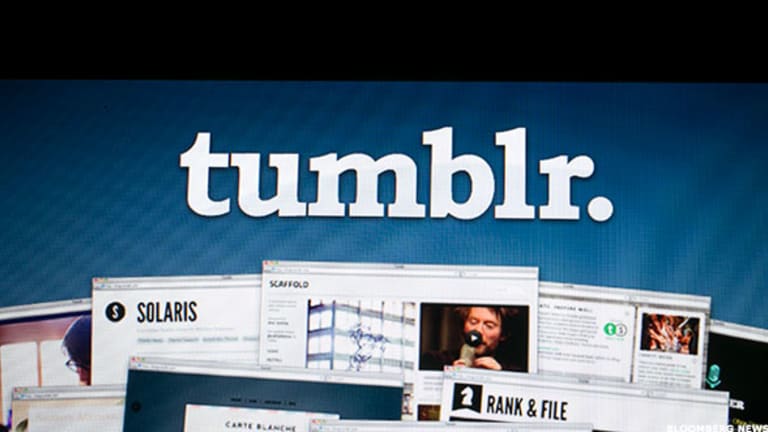 Here's Who Might Buy Tumblr if Yahoo! Decides to Sell It
Three years of mismanagement doesn't change the fact that the blogging platform could still be worth a lot to a company like Google or Twitter.
Of the various Yahoo!  (YHOO) products and services that have fallen short of expectations in the Marissa Mayer era, perhaps none looms larger than Tumblr.
The blogging platform/social network was acquired for $1.1 billion in 2013, and -- following a $230 million write-down disclosed in February and a $482 million write-down disclosed on Monday -- is officially valued at about one-third of that after years of ham-fisted efforts to improve Tumblr's core services and monetize its content.
But Yahoo's missteps could end up working to the benefit of an Alphabet (GOOGL) - Get Report or a Twitter (TWTR) - Get Report, who may have a chance to buy a still-intriguing social media platform at a discount.
Alphabet and Twitter are holdings in Jim Cramer's Action Alerts PLUS Charitable Trust Portfolio. Want to be alerted before Cramer buys or sells GOOGL or TWTR? Learn more now.
One of the interesting sub-plots to the lengthy sale process for Yahoo!'s "core" business is that some of the company's assets could end up being sold piecemeal. There have already been reports that some of the bids Yahoo! has seen, including from Verizon, exclude the company's patents and real estate. Bloomberg reports today Yahoo! has received standalone bids for its patents, including one from a group of patent trolls.
Beyond that, given the potential value of various Yahoo! Internet properties on a standalone basis, there's been much speculation some of those assets will be sold piecemeal -- particularly if one or more private-equity firms end up buying Yahoo! Possibilities include photo-sharing site Flickr, mobile analytics/ad services firm Flurry and yes, Tumblr.
With any Tumblr sale likely involving a price below the $1.1 billion Yahoo! paid for it, there could be tax benefits to a sale. Meanwhile, Tumblr still has a lot going for it. The number of blogs set up on Tumblr -- not all of them are active --- stood at an estimated 291.7 million as of April, up 28% annually. Tumblr also claimed 550 million monthly visitors as of late 2015 -- an impressive number, even if many of the visitors aren't registered users -- and stated last September that 78% of its audience accesses Tumblr via mobile devices. Cumulatively, 136.9 billion posts have been published via Tumblr.
There's clearly a lot for an acquirer to work with, especially if it can improve the product and ad sales execution issues Tumblr has seen in recent years. An in-depth Mashable column in June provided a good look at the management turmoil and turnover that have kept Tumblr from reaching its potential. Meanwhile, poor ad execution has led Tumblr to not only miss a $100 million 2015 revenue target, but (as disclosed on Monday by Mayer) led it to partly outsource ad sales to Facebook's mobile ad network, for which Facebook gets a 30% sales cut.
Such an arrangement could be ended quickly if Alphabet's Google were to buy Tumblr -- Google's AdMob unit runs one of the largest mobile display ad networks, and Google's ad execution has historically been superb. Moreover, Tumblr would give Google the social media footprint and social data it has long craved, and at a much lower price than it would have to pay to buy Twitter. And Google could leverage Android, YouTube and other assets to boost Tumblr's flagging user growth.
Tumblr also holds a lot of potential value for Twitter, as the platform's support for lengthier blog posts neatly complements Twitter's ultra-short-form material, and provides an avenue for reaching out to a broader base of social media users. Already, Twitter is rumored to be prepping a feature that lets users write longer posts that can be accessed by clicking or tapping on a regular tweet. This feature could easily be used to show Tumblr posts.
There's also a chance a smaller online media firm such as InterActiveCorp (IAC) - Get Report would deem Tumblr an undervalued asset worth acquiring. So might Facebook, but the overlap that exists with public Facebook pages could act as a deterrent. 
Regardless, it's quite likely that if Yahoo! or its acquirer puts Tumblr on the block, some well-known Internet companies will come calling. Three years of mismanagement doesn't change that.