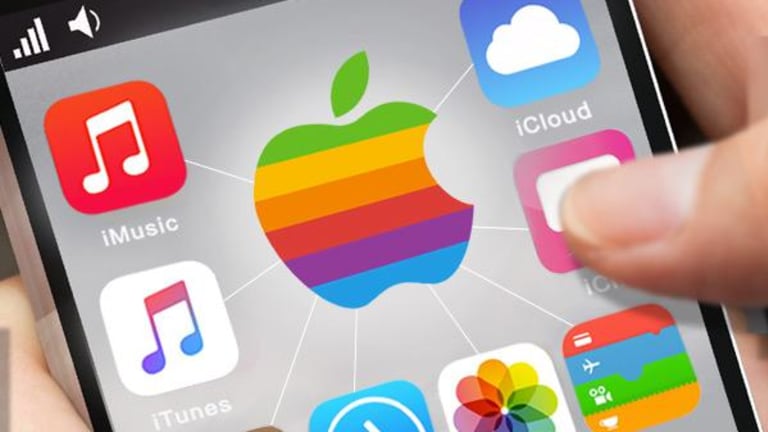 Here's How Many Apple iPhones Are in Use Today -- Tech Roundup
It's estimated that there are 715 million iPhones currently in use, a number that's expected to grow to more than 800 million by the end of the year.
Editors' pick: Originally published March 6.
Just how many iPhones are out there? According to some estimates, analysts have pegged that number at a whopping 715 million. Oh, and that's not just how many have been sold. That estimate is for the actual number of devices currently in use.
That number only appears to be growing too. Last summer, Apple (AAPL) - Get Free Report told us that it had sold its one-billionth iPhone. Since then though, the momentum hasn't slowed, with last quarter alone clocking 78.3 million devices as sold.
The analyst behind the 715 million estimate is Tim Long of BMO Capital Markets. He estimates that that number grew 20% from the prior year, and will grow an additional 13% this year. If that ends up being the case, a total of 808 million iPhone devices will be in use.
He also estimates that the figure will climb by 9% in 2018, bringing the total to 880 active iPhones.
How come these numbers aren't higher, given the big expectations for the iPhone 8? Consider that many buyers of the iPhone 8 will be current iPhone users already. Instead of being a new Apple user, they will likely upgrade from older devices.
However, all those users are certain to be a boon for Apple's Services business, its high-margin unit that collects sales on iTunes, iCloud, the App Store and others. With an expected 800+ million iPhones, plus countless iPod, iPad and Mac users, Apple is surely to rake in the cash in the years to come.
Shares of Apple closed at $139.34 Monday, down 0.3%.
Apple, Alphabet and Facebook (see next items) are holdings in Jim Cramer's Action Alerts PLUS Charitable Trust Portfolio. Want to be alerted before Cramer buys or sells AAPL, GOOGL or FB? Learn more now.

According to some sources, over 1 million email accounts for both Alphabets' (GOOGL) - Get Free Report Gmail service and Yahoo! (YHOO) are now up for sale on the so-called "dark web."
Supposedly, the seller is listing massive chunks of email login credentials -- anywhere from 100,000 accounts to 500,000 accounts -- including user names and passwords.
The login information has been apparently lifted from various hackings over the years, although the data has not been independently verified. The sale is being asked for in Bitcoin, but the asking price is not very much. In actual dollars it comes out to about $10.75 to $28, depending on how many accounts are involved. The different lots including bulk sales of 100,000, 145,000 and 500,000 accounts.
So as you can see, the price tag is relatively low. But the goal here is to sell the account information and let someone else do the dirty work, like identify theft.
While most people don't think twice about logging onto the internet to watch YouTube, read the news or send a few emails, the truth is it can be a pretty dangerous place. Between hacking financial information or using identify theft, some users can be vulnerable to a lot of risk.
That's why more and more companies have been shoring up their digital protection, looking to keep their names out of the headlines in the event of a large-scale hacking. We've seen companies like Home Depot (HD) - Get Free Report , Target (TGT) - Get Free Report and most recently Yahoo! in the news for just that.
Shares of Yahoo! closed at $45.64 Monday, down 0.6%.
Facebook (FB) - Get Free Report may be getting its fake-news issue in line after all. The company is apparently slapping stories with a label warning readers about its contents and accuracy. That is, if it's disputed by a third-party fact checker.
Of course, when one of the most controversial events in history unfolds, with billions of comments, stories and shares, fake news can spread faster than a wild fire.
That was the issue for Facebook, as it boasts billions of active users in what turned out be a very divided and heated presidential election.
But it's not as simple as just shutting stories down. Facebook explained that it needs to be careful with its fake-news vetting, because of the not-so-black-and-white difference between satire, opinion and factual news pieces.
As a result, the company's taking a step in the right direction with its labeling efforts and hopefully over time it is able to build on its fake news policies.
Shares of Facebook closed at $137.42 Monday, up 0.2%.
This article is commentary by an independent contributor. At the time of publication, the author held no positions in the stocks mentioned.